Food + Recipes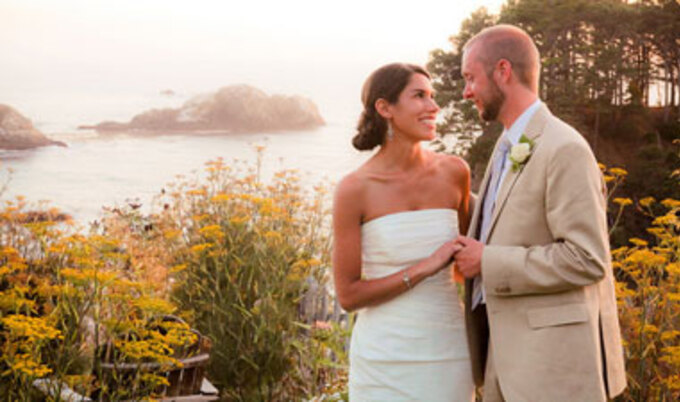 Vegan Weddings 2009 (Katie Donaldson & Dan Paul)
From a picturesque California coastal ceremony to a magnificent backyard masquerade ball in Virginia, this year's vegan wedding couples shatter stereotypes and exceed their own expectations for "the big day."
---
Katie Donaldson & Dan Paul
Elk, CA
Guests: 23
Pricetag: $15,000
Best wedding gift: "An extraordinarily sunny day and the kindest words from our family and friends"
Honeymoon: Mendocino, Calif.
Tip for success: "Don't overlook the significance of your vows. They're the heart of every wedding ceremony and their value is priceless."
Their story: The picture-perfect college town, a weekend party, and a fateful introduction—this stereotypical silver-screen set-up came to life for Katie and Dan while both were studying at the University of Colorado at Boulder. Looking back, Katie remembers their first kiss as a defining moment, saying, "It felt like the beginning of forever." Boy-meets-girl quickly evolved into something more complex, especially when they discovered a shared passion for animals. Throughout their transition into adulthood, the couple's connection grew stronger. While vacationing in Costa Rica one New Year's Eve, Dan surprised Katie with his proposal. "It's the ultimate moment when you know that you're meant to be together forever," says Katie.
Wedding highlights: An invite to the Donaldson-Paul wedding was like a coveted golden ticket, guaranteeing entry to a weekend-long celebration that left guests as pampered and honored as the newlyweds. The couple wanted an intimate ceremony that truly included the guests, rather than putting on a production for them. The group spent three days at the Harbor House Inn, surrounded by scenic Northern California views, good food, and great company. In addition to the wedding reception, friends and family were spoiled with goodie baskets and three additional gourmet meat-free meals, "which definitely exceeds the number of vegan meals most of them had experienced in their lives," says the bride.
The Menu
Appetizers
Vegetable ravioli with roasted Roma tomato sauce
Grilled hearts of romaine and radicchio salad with balsamic vinaigrette
Main Course
Roasted mushroom risotto with leeks, roasted cherry tomatoes, and sweet onion broth
Dessert
Dark-chocolate cake with espresso buttercream frosting
Lemon-poppy seed cake with lavender filling, seasonal berries, and peach-mint coulis
Meet all of our 2009 Vegan Wedding Couples:
Carmen Flora & Harry Pianko (Bloomfield Hills, Mich.)
Ginger Burr & Marion Davis (Lynn, Mass.)
Brandy Humes & Richard Brooks (Hamilton, ON)
Katie Donaldson & Dan Paul (Elk, Calif.)
Robin Henderson & Nathan Williams (Roxbury, NY)
Amanda Whitt Cohen & Edward Newman Smith, III (Fredericksburg, Texas)
Megan Flora & Nathan Downs (Leesburg, Va.)
Jennifer Jones & Barry Horton (Fort Bragg, Calif.)
For a complete list of caterers, dressmakers, and photographers from each of this year's wedding couples, visit our 2009 Guide to Vegan Weddings.
Interested in being a part of next year's VegNews Wedding Feature? Apply here!
Want more of today's best plant-based news, recipes, and lifestyle?
Get our award-winning magazine!
Subscribe