Home + Lifestyle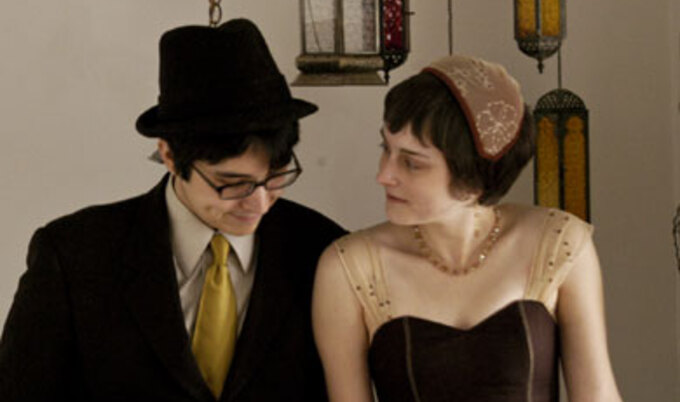 Vegan Weddings 2009 (Megan Flora & Nathan Downs)
From a picturesque California coastal ceremony to a magnificent backyard masquerade ball in Virginia, this year's vegan wedding couples shatter stereotypes and exceed their own expectations for "the big day."
---
Megan Flora & Nathan Downs
Leesburg, Virg.
Guests: 94
Pricetag: $2,700
Best wedding gift: "An amazing pottery sculpture from our friend Jason Borders, a student at Columbus College of Art and Design."
Honeymoon: New Zealand
Tip for success: "Don't feel like you have to spend a fortune. Be creative about your resources."
Their story: Dissatisfied with their college's veg dining options, Megan and Nathan began their courtship over culinary creations their freshman year. "I guess you could say Nathan wooed me with his Thai stir-fry," says Megan. Bonding over broccoli quickly evolved into a deeper connection that survived and thrived throughout their college careers. With each other's support, the duo transitioned to veganism and became well-known for their cupcakes at campus potlucks. After graduation, they couldn't imagine parting ways, and it became clear that this wasn't just young romance. Both hungry for adventure, the two vowed to set out and see the world—together.
Wedding highlights: After a private civil ceremony in the summer, the couple hosted two spectacular receptions. Family and friends gathered in the backyard of their 18th century home for an afternoon garden and tea party, followed by an evening masquerade ball for close friends. Creative costumes and masks adorned guests, and Megan wore her own unique masterpiece: a gorgeous, vintage-inspired gown she designed, and was later lovingly sewn by her mother. The chic, handmade style reached every corner of the evening, including Nathan's picture-perfect cupcake-style cakes. For the savory side, the groom's mother crafted sensational Thai dishes as an homage to both his heritage and his favorite meals. What couldn't be made by hand was found second-hand, dramatically cutting waste and costs and giving a unique feel to the festivities. With an energized atmosphere to match the vibrant young couple, it's no surprise guests couldn't quit saying, "Every wedding should be like this!"
The Menu
Appetizers
Garlic naan with sun-dried tomato, caper, olive, or sweet-pepper hummus
Mixed green salad with nuts, cranberries, and miso poppy seed dressing
Gypsy soup
Fried spring rolls with peanut and chili sauce
Roasted beet and chickpea salad
Fried spring rolls with peanut and chili sauces
Main Course
Quinoa-stuffed butternut squash
Basil fried rice
Pad Thai
Panang curry
Masaman curry
Dessert
Chocolate-ginger cake with chocolate mousse
Green-tea cake with green-tea buttercream frosting
Maple cake
Meet all of our 2009 Vegan Wedding Couples:
Carmen Flora & Harry Pianko (Bloomfield Hills, Mich.)
Ginger Burr & Marion Davis (Lynn, Mass.)
Brandy Humes & Richard Brooks (Hamilton, ON)
Katie Donaldson & Dan Paul (Elk, Calif.)
Robin Henderson & Nathan Williams (Roxbury, NY)
Amanda Whitt Cohen & Edward Newman Smith, III (Fredericksburg, Texas)
Megan Flora & Nathan Downs (Leesburg, Va.)
Jennifer Jones & Barry Horton (Fort Bragg, Calif.)
For a complete list of caterers, dressmakers, and photographers from each of this year's wedding couples, visit our 2009 Guide to Vegan Weddings.
Interested in being a part of next year's VegNews Wedding Feature? Apply here!
Want more of today's best plant-based news, recipes, and lifestyle?
Get our award-winning magazine!
Subscribe