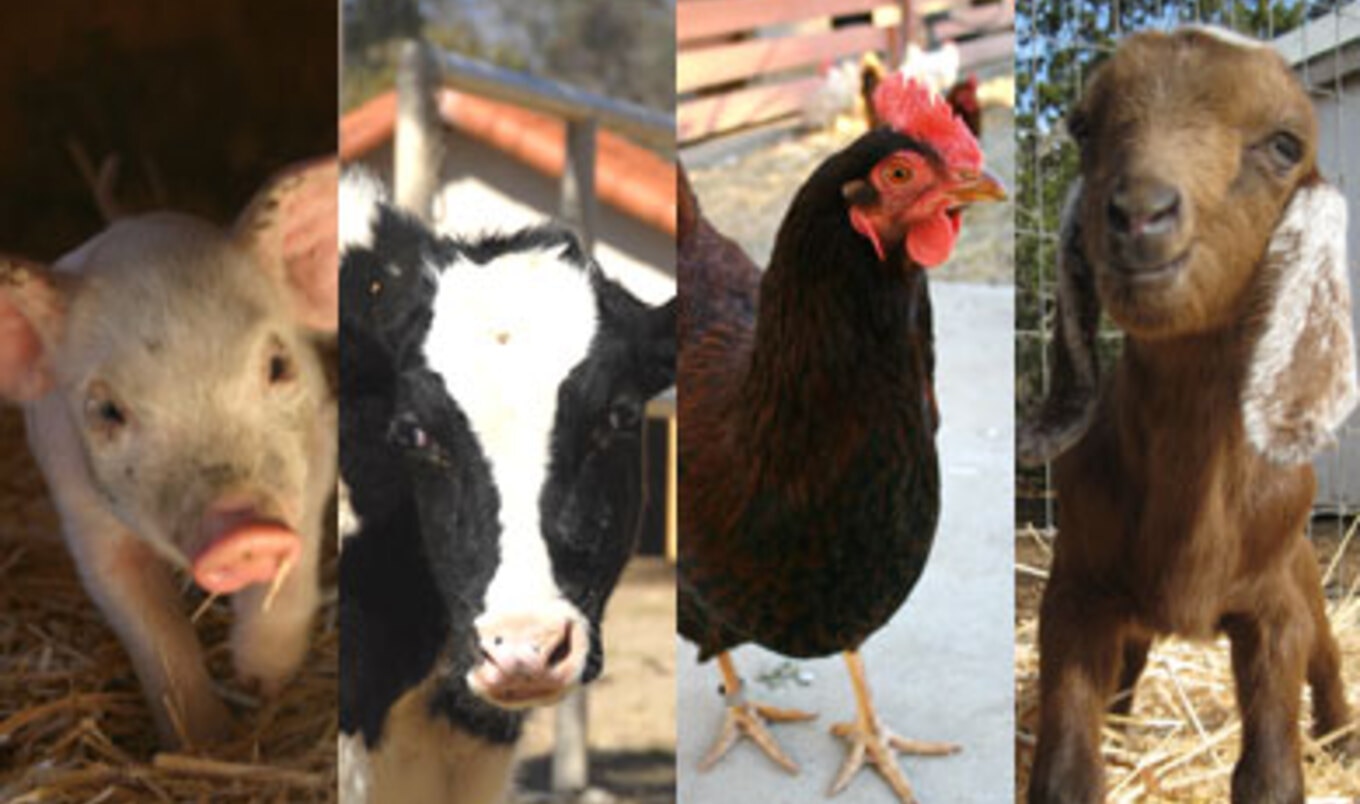 The animals at Los Angeles' Animal Acres sanctuary have personality! Meet new rescues each week.
July 11, 2009
---
Living an urban life doesn't always leave much time for getting down to the farm. We often hear about farmed animals in lifeless statistics, but what about the individuals behind the numbers? They've got personality!

Here are some brief profiles from Animal Acres in Acton, Calif. Just who will steal your heart in this compilation of adorable critters? Good luck with picking a favorite—each of these profiles is sure to leave you in a cuteness coma.

Jumper the Pig
Jumper's story: This little piggy was the runt of the litter at a crate facility in Southern California. She was constantly picked on by the other piglets and even suffered bite wounds. It was a worker who took pity on Jumper and contacted Animal Acres, and she was rescued when she was four weeks old. Jumper is currently the smallest and youngest pig at the sanctuary, but her size certainly doesn't keep her from running the show!
Favorite food: Chicken feed.
Best way to get at said chicken feed: Wait by the courtyard gate until a new and unsuspecting volunteer opens it. Then, make a beeline for the chicken feed and never look back.
Favorite activity: Rolling over for a nice, long belly rub. She contently snorts while you scratch!

Pinto the Cow
Pinto's story: Baby Pinto was found in a crate, unable to stand during an undercover investigation of a California calf ranch. The young calf was rushed to Animal Acres for emergency veterinary care and, with treatments and lots of love, made a full recovery. These days Pinto can be found playing chase games with his best buddy Punky and napping in his straw-filled barn.
Best attribute: Pinto's soulful eyes. They charmed an avid hunter named George on an episode of 30 Days.
Favorite food: Apples—and lots of 'em!
Favorite thing ever: Never-ending chin scratches.

Judy the Chicken
Judy's story: Judy was brought to Animal Acres by a family that could no longer care for her, which saved her from the fate of ending up at a livestock auction. Judy has adjusted well and has grown to be very comfortable around people, so much so that she doesn't mind grabbing a snack from their plates!
Alias: "Picnic chicken," because of her picnic table antics—she loves to grub on other's meals when Animal Acres has lunch guests.
Favorite food: Coleslaw smothered in tasty Vegenaise.
Favorite way to get coleslaw: Stealthily approach and jump onto the picnic table if the scent of Vegenaise is in the air. Then, proceed to shamelessly devour the yummy dish in front of the poor lunch guest.

Faith the Goat
Faith's story: Faith's mother, Hope, was severely emaciated when she was rescued from an abandoned home. Shortly after arriving at Animal Acres, Hope went into labor and was somehow able to give birth to Faith. Sadly, Hope died after the birth, but Faith was able to thrive and became the center of attention. After being doted on for so long, Faith seems to prefer the company of humans over fellow goats.
Favorite game: King of the Mountain. Faith loves to run to the top of the hill and "defend" her territory from the other goats and sheep.
Most mischievous activity: Always running away when it's time for bed. All goats and sheep are tucked safely into their barn at night, but Faith thinks she's the exception! She has to be picked up and carried back to the barn, and some suspect it's her sneaky way of getting an extra snuggle.
Need more cute? Check out the recent rescues at Pigs Peace, Animal Place, Farm Sanctuary, and Woodstock Farm Animal Sanctuary.