Home + Lifestyle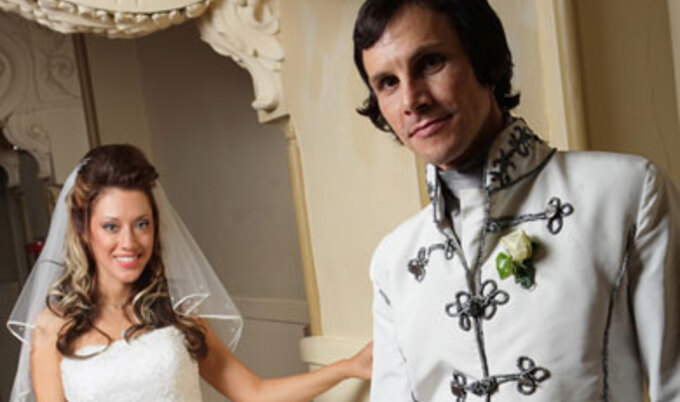 Vegan Weddings 2008 (Amanda Moeckel & Jon Christopher (JC) Callender)
From the picturesque Blue Ridge Mountains to the sun-dappled City by the Bay, vegan weddings are becoming the new standard for progressive would-be marrieds.
---
Amanda Moeckel & Jon Christopher (JC) Callender
Worcester, Mass.
Guests: 200
Honeymoon: Mexico
Best wedding gift: "Amanda is really psyched about The George Foreman Grill for making vegan waffles. And, we really appreciated that our friends took up a collection to put towards our honeymoon."
Their story: When you both show up for activist boot camp wearing vegan boots, you know you've met your "sole" mate. No joke—Amanda and JC met at a training camp for activists in 2000, and began dating when they worked together at The Ruckus Society in Oakland. In serendipitous fashion, their first date took place on St. Valentine's Day, now their favorite holiday. While Amanda considered herself an equal-opportunity dater, when Cupid struck, she felt their common diet exemplified how similar their ideals were. "We agreed on everything philosophically," says Amanda. "I couldn't imagine anyone more perfect for me." JC popped the question at San Francisco's delectable Millennium restaurant, but Amanda was so excited she can't recall what she ate that night.
Wedding highlights: Since the couple spends every weekend on the dance floor, they really wanted their wedding to rock. To that end, they booked a symphony hall as their venue, played a pipe-organ version of Aerosmith's "Dream On" in place of the bridal march, hired a famous rock groupie and author as their officiant, and used classic rock tunes throughout the ceremony. ("Pour Some Sugar on Me" played during the cake-cutting ritual.) To fuel the killer dance party, they flew in San Francisco DJ Richie Panic and served plenty of southern-inspired soul food. In addition to the three-hour, non-stop groove fest on the dance floor, Amanda and her mother performed a mother-daughter number, and the women from Amanda's hometown danced a modern piece that symbolizes the coming of age for women. Rock on!
The Menu
Appetizers
Sweet potato spread and plum tomato crostini with balsamic drizzle
Endive and apple haroseth salad
Fresh fruit skewers
Veggie brochettes with mushrooms, zucchini, and red bell pepper romesco
Main Course
Southern-inspired fried "chicken" with barbecue sauce
Seitan meatloaf with mushroom gravy
Collard greens and garlic mashed potatoes
Dessert
Chocolate cake with raspberry filling and chocolate ganache frosting
Meet all of our 2008 Vegan Wedding Couples:
Dawnielle Patino & Thomas Gerard Selden (Laguna Beach, Calif.)
Doh Driver & Dennis Buffaloe (Seattle, Wash.)
Amanda Moeckel & Jon Christopher Callender (Worcester, Mass.)
Sharon Troy & Tim Moore (San Francisco, Calif.)
Marisa Miller & David Wolfson (New York City, NY)
Rebecca Collura & Ali Aslam (Lincoln, Mass.)
Kimberly Nevitt & James Pizzirusso (Wintergreen, Va.)
Antonia Glenn & Scott Horstein (Crockett, Calif.)
For a complete list of bakeries from each of this year's wedding couples, visit our 2008 Guide to Vegan Bakeries.

Interested in being a part of next year's VegNews Wedding Feature? Apply here!
Want more of today's best plant-based news, recipes, and lifestyle?
Get our award-winning magazine!
Subscribe