Home + Lifestyle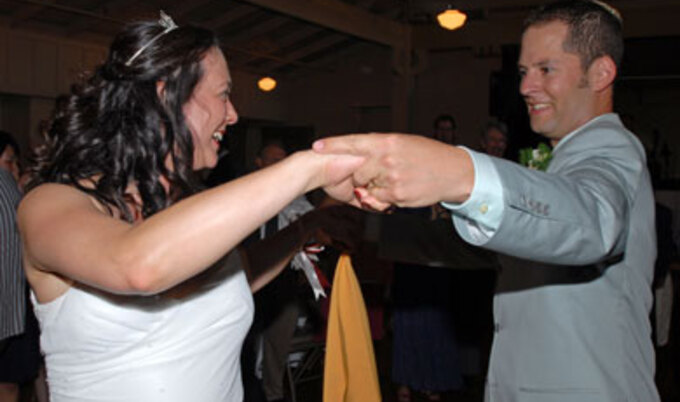 Vegan Weddings 2008 (Antonia Glenn & Scott Horstein)
From the picturesque Blue Ridge Mountains to the sun-dappled City by the Bay, vegan weddings are becoming the new standard for progressive would-be marrieds.
---
Antonia Glenn & Scott Horstein
Crockett, Calif.
Guests: 135
Honeymoon: The California Coast
Best wedding gift: "Antonia's sister provided the wedding dress and tiara for us, and the donations guests made to Animal Acres made us feel really good."
Their story: Antonia and Scott met in graduate school at UC San Diego while they were both studying theater, but didn't start dating until they were living in different cities. They dated long distance for so long that when they finally moved in together in West Hollywood, they were "constantly surprised to see each other in such close proximity." Antonia knew Scott was the man for her when he saved a baby duck who got stuck in traffic on Sunset Boulevard. "Scott stopped all the cars, scooped up the duckling, and safely returned him to a nearby pond," says Antonia. Although Scott wasn't vegetarian when they met, he's vegan now and can be found at Antonia's side at animal-rights events chanting, "Two, four, six, eight, tofu dogs are really great!"
Wedding highlights: Lucky guests of the Glenn-Horstein wedding enjoyed a whole weekend of feasting that included an all-vegan barbeque at the bride's parents' house, a vegan rehearsal dinner at New World in Oakland, Japanese hors d'oeuvres and Indian cuisine at the wedding, and a vegan brunch at a Buddhist temple the morning after. In addition to the many meat-free menus, the couple strove for green details such as Scott's cotton suit and recycled tie, Antonia's dress sewn from vegan fibers, and her hair and make-up, which were styled using cruelty-free Aveda products. The intercultural wedding blended Jewish, Buddhist, and Scottish traditions. "While most of our extended families had never met, they bonded while dancing the Hora," said Antonia. "I was particularly delighted to see so many of my Japanese relatives joining the dance circle."
The Menu
Appetizers
Vegetable maki and tempura rolls
Main Course
Crispy Indian naan
Golden fried samosas and pakoras
Creamy spiced eggplant
Aromatic chickpea curry
Spiced spinach and potatoes
Fresh curried vegetables
Crisp green salad
Sweet and tangy mango chutney
Dessert
Carrot cake with "cream cheese" frosting, vanilla cake with raspberry frosting, coconut cake with coconut frosting, chocolate cake with raspberry frosting, and chocolate cake with chocolate frosting
Meet all of our 2008 Vegan Wedding Couples:
Dawnielle Patino & Thomas Gerard Selden (Laguna Beach, Calif.)
Doh Driver & Dennis Buffaloe (Seattle, Wash.)
Amanda Moeckel & Jon Christopher Callender (Worcester, Mass.)
Sharon Troy & Tim Moore (San Francisco, Calif.)
Marisa Miller & David Wolfson (New York City, NY)
Rebecca Collura & Ali Aslam (Lincoln, Mass.)
Kimberly Nevitt & James Pizzirusso (Wintergreen, Va.)
Antonia Glenn & Scott Horstein (Crockett, Calif.)
For a complete list of bakeries from each of this year's wedding couples, visit our 2008 Guide to Vegan Bakeries.

Interested in being a part of next year's VegNews Wedding Feature? Apply here!
Want more of today's best plant-based news, recipes, and lifestyle?
Get our award-winning magazine!
Subscribe