Home + Lifestyle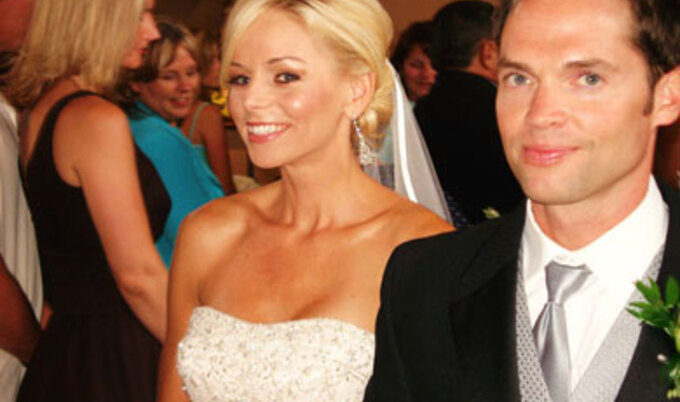 Vegan Weddings 2008 (Dawnielle Patino & Thomas Gerard Selden)
From the picturesque Blue Ridge Mountains to the sun-dappled City by the Bay, vegan weddings are becoming the new standard for progressive would-be marrieds.
---
Dawnielle Patino & Thomas Gerard Selden
Laguna Beach, Calif.
Guests: 180
Honeymoon: France, Seychelles, Kenya, and England
Best wedding gift: "Rich and KC, the owners of the house, gave us the wedding reception of our dreams at their gorgeous estate. Rick, a contractor, even built a gazebo down by the pond, amongst other impressive renovations just for the event. And, unbeknownst to everyone, two of Tommy's sisters and their husbands donated airline miles to help cover costs of getting all of Tommy's family out to California from Pittsburgh."
Their story: When Tommy knocked on Dawnielle's door after answering her ad on roommates.com, who would have guessed they'd find themselves standing side by side at the altar? As roommates, they were both busy looking for love in all the wrong places. But after a few months spent getting jealous of each other's dates, they realized that they had already found love and companionship—without ever having to leave the house. Tommy moved out so they could give their courtship a go in the more usual order, but maybe sharing kitchen clean-up duty before dating isn't such a terrible prerequisite. Two years later, far from home on a tiny, uninhabited island off the Jamaican coast, Tommy proposed to Dawnielle as the sun set into the sea
Wedding highlights: Following an afternoon church ceremony, the newlyweds celebrated at a dreamy estate, the home of the bride's close family friends, in the hills of southern California. After a poolside, lounge-style cocktail hour with passed hors d'oeuvres, guests enjoyed a candlelit dinner under a billowy tent. Most of Tommy's large family (he's one of 10 siblings) had never heard of vegan food, so what better way to introduce them to this new concept than to have their wedding catered by their favorite restaurant, Madeleine Bistro? Tommy's brother Joey, who describes his family as "big meat eaters," says he didn't see too many plates go by that weren't empty. He also noted how well the garlic mashed potatoes went over with the family. "We're part Irish," he says, "so the potatoes are very important to us." After dinner, they returned to the pool area to dance the night away beneath a canopy of stars.
The Menu
Appetizers
Faux farmer's cheese and caramelized onions in puff pastry
Tofu-cheese-filled dates wrapped in crispy smoked portobello bacon
Chilled corn-lemongrass soup shots
Tomato risotto cakes
Seitan fingers with tamarind dipping sauce
Caesar salad
Red beet tartare atop a warm tofu-cheese crouton
Main Course
Classic Wellington with bordelaise sauce
Grilled lemon-rosemary mock chicken
Garlic mashed potatoes
Sautèed vegetable ragout
Seitan fingers with tamarind dipping sauce
Kids' meals: Truffled mac 'n' cheese
Dessert
Chocolate and lemon cakes with buttercream frosting
Meet all of our 2008 Vegan Wedding Couples:
Dawnielle Patino & Thomas Gerard Selden (Laguna Beach, Calif.)
Doh Driver & Dennis Buffaloe (Seattle, Wash.)
Amanda Moeckel & Jon Christopher Callender (Worcester, Mass.)
Sharon Troy & Tim Moore (San Francisco, Calif.)
Marisa Miller & David Wolfson (New York City, NY)
Rebecca Collura & Ali Aslam (Lincoln, Mass.)
Kimberly Nevitt & James Pizzirusso (Wintergreen, Va.)
Antonia Glenn & Scott Horstein (Crockett, Calif.)
For a complete list of bakeries from each of this year's wedding couples, visit our 2008 Guide to Vegan Bakeries.

Interested in being a part of next year's VegNews Wedding Feature? Apply here!
Want more of today's best plant-based news, recipes, and lifestyle?
Get our award-winning magazine!
Subscribe