Home + Lifestyle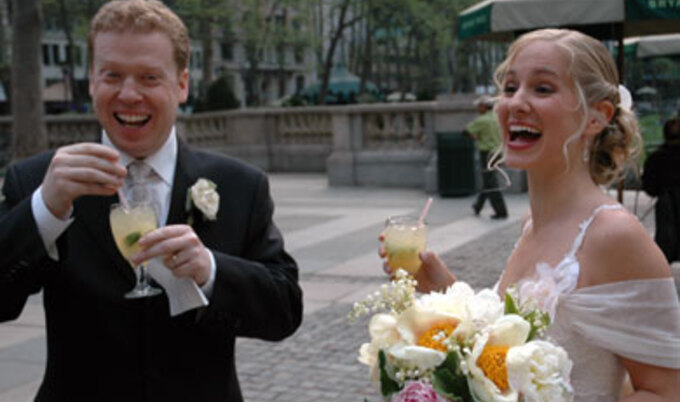 Vegan Weddings 2008 (Marisa Miller & David Wolfson)
From the picturesque Blue Ridge Mountains to the sun-dappled City by the Bay, vegan weddings are becoming the new standard for progressive would-be marrieds.
---
Marisa Miller & David Wolfson
New York City, NY
Guests: 160
Honeymoon: Hong Kong, Cambodia
Best wedding gift: "We ended up raising around $8,000 in donations for Farm Sanctuary, Global Green Foundation (now Kind Green Planet), and Children International."
Their story: Marisa and David locked eyes from across the room at a Farm Sanctuary forum and rally. Marisa was in the audience. David—a lawyer who counsels Farm Sanctuary—was speaking from the podium. Marisa was so "charmed by his English accent, self-deprecating jokes, and knowledge of all things bovine and porcine" that she even crashed a few of his animal-law classes. The friendship sparked into romance when David asked Marisa out via e-mail. On their first date, they journeyed up the Empire State Building on a Sunday night to find they had the place completely to themselves, then sat on a Central Park bench talking until sunrise, falling head over heels for each other in the city that never sleeps.t.
Wedding highlights: When Marisa found out that the bridal shop where she fell in love with a flower-adorned wedding dress (reflecting her love of nature) was about to open a fur gallery, her inner activist was awoken. She penned an anti-fur manifesto and sent it to the store's CEO, bought the gown directly from the designer, and requested it be lined with cotton instead of silk. The couple's passion for compassion shined throughout the ceremony (conducted by both a rabbi and a vegetarian Unitarian Universalist minister), which incorporated a reading from the children's book The Velveteen Rabbit and a statement on the injustice of gays not being allowed to marry. Reception highlights included a Cinco De Mayo-themed cocktail hour, a full-blown dance party, and fair-trade chocolate favors.
The Menu
Appetizers
Fresh Middle-Eastern falafel with rich tahini sauce
Crisp vegetable samosas
Spring rolls with soy-ginger dipping sauce
Avocado and cucumber sushi with pickled ginger and wasabi
Toasted bruschetta with vine-ripened tomatoes and olive oil
Main Course
Refried black beans and tomato rice with guacamole
Sweet plantains and corn tortillas with pico de gallo
Grilled vegetables
Country salad of field greens with sliced pears
Spiced walnuts and haricot verts with Dijon vinaigrette
Couscous, chickpea, and sun-dried fruit salad
Vegetable Thai curry with steamed quinoa
Peppers stuffed with rice and vegetables
Pasta served with roasted-tomato sauce
Dessert
Chocolate and vanilla cupcakes with chocolate, lemon, and vanilla icing
Meet all of our 2008 Vegan Wedding Couples:
Dawnielle Patino & Thomas Gerard Selden (Laguna Beach, Calif.)
Doh Driver & Dennis Buffaloe (Seattle, Wash.)
Amanda Moeckel & Jon Christopher Callender (Worcester, Mass.)
Sharon Troy & Tim Moore (San Francisco, Calif.)
Marisa Miller & David Wolfson (New York City, NY)
Rebecca Collura & Ali Aslam (Lincoln, Mass.)
Kimberly Nevitt & James Pizzirusso (Wintergreen, Va.)
Antonia Glenn & Scott Horstein (Crockett, Calif.)
For a complete list of bakeries from each of this year's wedding couples, visit our 2008 Guide to Vegan Bakeries.

Interested in being a part of next year's VegNews Wedding Feature? Apply here!
Want more of today's best plant-based news, recipes, and lifestyle?
Get our award-winning magazine!
Subscribe