Home + Lifestyle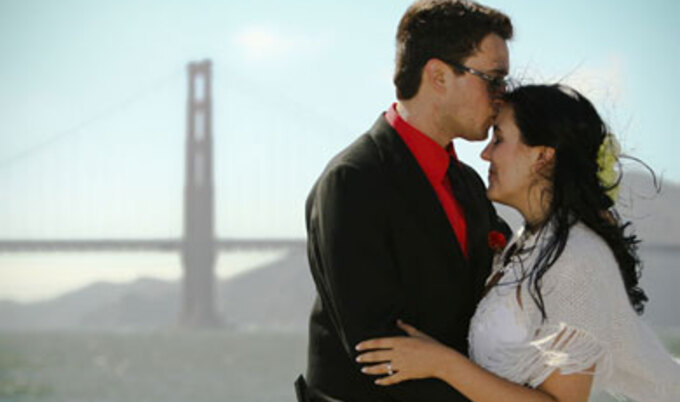 Vegan Weddings 2008 (Sharon Troy & Tim Moore)
From the picturesque Blue Ridge Mountains to the sun-dappled City by the Bay, vegan weddings are becoming the new standard for progressive would-be marrieds.
---
Sharon Troy & Tim Moore
San Francisco, Calif.
Guests: 70
Honeymoon: Mendocino, Calif.
Best wedding gift: "We register with charities through changingthepresent.org, and the reception donations went to rebuilding The Warming Hut."
Their story: Sharon and Tim, both new to the West Coast, met first online through okcupid.com, then in person at the SF Pride Parade in 2005. According to Tim, they knew they were going to spend forever together by about 2:30 that day. While Sharon was vegetarian at the time, Tim inspired her to "step things up." Even though the tofu cheesecake they made on date #3 totally flopped, Tim was just impressed that she was so eager to go vegan. When it came to having the vegan wedding conversation with her skeptical family, Sharon remembers "a freak-out moment" when she yelled, "I will not have chicken at my wedding!" In the end, her family enjoyed the food so much that Sharon's mother even tried recreating one of their wedding recipes for the family's Thanksgiving meal.
Wedding highlights: Sharon and Tim dreamed up a perfect DIY wedding full of creative and ethical projects. On a sandy stretch of the Presidio National Park, with the Golden Gate bridge behind them, Sharon and Tim planted a little redwood tree as part of their marriage ceremony, symbolizing their commitment to nurturing their joined lives in the state of California and to the environment. The bride wore her mother's wedding dress, while the groom wore second-hand attire, and the flowers were organic and locally grown. The DIY theme extended to the nuptial decorations, handmade by the bride and groom from reused art supplies. The music playlist was designed by the groom, and guests received wedding-mix CDs in exchange for donations to rebuild The Warming Hut, a cafè in the Presidio destroyed by fire that has since reopened.
The Menu
Appetizers
Heirloom tomato bruschetta
Yukon Gold croquettes with chive crème
Grilled summer-vegetable brochettes with herbs and lemon-basil oil
Main Course
Baby greens with candied walnuts, stone fruit, and balsamic vinegar
Exotic-mushroom phyllo roulade with smoked-paprika crème
Penne primavera with seasonal vegetables, shallots, and sage oil
Herb-roasted root vegetables
Artisan bread and dipping oil
Dessert
Chocolate cake with chocolate ganache and buttercream
Meet all of our 2008 Vegan Wedding Couples:
Dawnielle Patino & Thomas Gerard Selden (Laguna Beach, Calif.)
Doh Driver & Dennis Buffaloe (Seattle, Wash.)
Amanda Moeckel & Jon Christopher Callender (Worcester, Mass.)
Sharon Troy & Tim Moore (San Francisco, Calif.)
Marisa Miller & David Wolfson (New York City, NY)
Rebecca Collura & Ali Aslam (Lincoln, Mass.)
Kimberly Nevitt & James Pizzirusso (Wintergreen, Va.)
Antonia Glenn & Scott Horstein (Crockett, Calif.)
For a complete list of bakeries from each of this year's wedding couples, visit our 2008 Guide to Vegan Bakeries.

Interested in being a part of next year's VegNews Wedding Feature? Apply here!
Want more of today's best plant-based news, recipes, and lifestyle?
Get our award-winning magazine!
Subscribe