News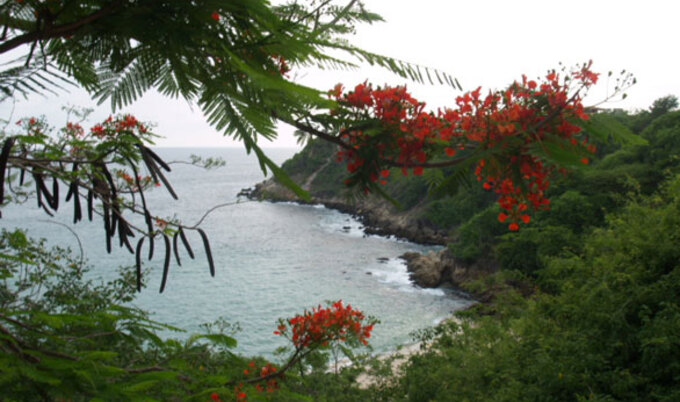 Veg Restaurant WaterCourse Foods Expands to Mexico
Veg powerhouse WaterCourse Foods expands its empire to Mexico.
August 2, 2009
---
Imagine waking up well-rested in a beachside cabin, steps from the Pacific Ocean. After taking a few deep breaths of crisp ocean air, you work your way through an energizing breakfast: fresh-squeezed juice, granola, soy yogurt, homemade pastries, and locally roasted coffee. After fueling up and taking in your share of Puerto Escondido's ocean views, you debate how to spend the day—surf the famous "Mexican Pipeline," take a culinary tour, or perhaps lounge in a hammock and relax with a good book. Now imagine enjoying all of this for as little as $15 per night. You're not dreaming: This is Osa Mariposa.

Translated to mean "Bear Butterfly," Osa Mariposa is the easy-going, good-natured cousin to WaterCourse Foods, a veg landmark in Denver, Colo. Owned by Daniel and Michelle Landes, WaterCourse Foods maintains an award-winning reputation for comfort cuisine, with menu items such as the Buffalo Tofu Sandwich and a selection of vegan milkshakes. The international travel hostel joins the ranks of the Landes' other successful endeavors, including WaterCourse Bakery and City O' City. Their first international venture, Osa Mariposa offers guests affordable lodging in a peaceful, scenic town, complete with an on-site chef. Opened with partner Dave Paco, the Landes' vacation destination is slated for success. VegNews caught up with Daniel to get the dish on this new vacation hot spot.

VegNews: Where does the name "Osa Mariposa" come from?
Daniel Landes: We wanted it to reflect our love of Colorado and Mexico. My wife Michelle has had many incredible encounters with bears in Colorado and Dave connects with butterflies. So there it is—Osa Mariposa.

VN: What inspired you to open an international hostel? How did you choose your location?
DL: Our inspiration came from my family's love of traveling south and an unquenchable sense of adventure. Michelle, our sons Charley and Henry, and I have been traveling down to Mexico and Central America for the past 10 years. An ex-employee and her husband spent the last few years building the hostel and then decided to become missionaries and had to relinquish all their obligations outside the mission, including the hostel. They called us to see if we interested in purchasing it—we were. We went down to Oaxaca, fell in love, and somehow made it work.

VN: What features make the hostel special?
DL: Our restaurant's menu is by me and other chefs from our famous vegetarian restaurants, WaterCourse Foods and City, O' City, in Denver, Colo. Our bar features the local liquor Mezcal, a smokier and mellower version of tequila. Oaxaca itself is a magical destination with lots to explore.

VN: What does the future hold for Osa Mariposa?
DL: Our hopes for Osa Mariposa are for it to become a real destination place for world travelers. I envision nights under the palapa with tables full of people speaking different languages and partying together. I would love for Osa Mariposa to give back to the Oaxaca community; we are seeking out worthy community-service projects to contribute to. I see Osa Mariposa being important to many people's lives.

Destination Details
What:
Osa Mariposa, international travel hostel
Where:
Puerto Escondido, Oaxaca, Mexico
How much:
$15 to $20/night for shared room, $35 to $55/night for private cabin. Prices vary according to season.
Pet-friendly?
"Only for friendly pets."
Sample dinner:
Three-potato tostado with avocado-tomatillo salsa
Bean-stuffed squash-blossom enchilada
Napolito and cabbage coleslaw
Black beans

Want more of today's best plant-based news, recipes, and lifestyle?
Get our award-winning magazine!
Subscribe