Food + Recipes
Pasta e Fagioli
Ignore how the title is spelled—this homey Italian classic is called "pasta fazool."
---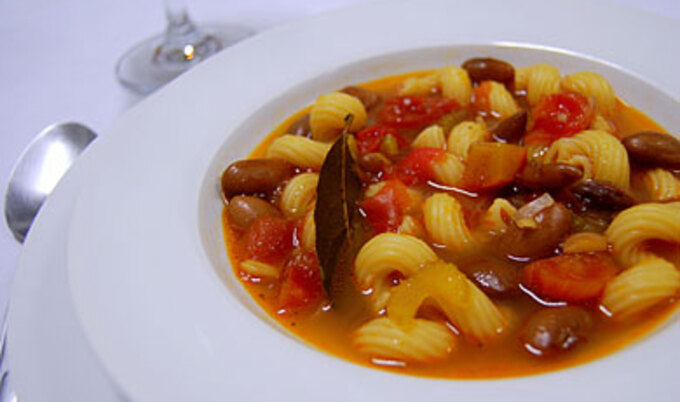 Somewhere between a stew and a pasta dish, this incredibly simple, totally satisfying meal is the perfect dish for when fall's chill sets into the air. Serve with a side of rustic bread and a glass of Chianti, and you might just feel like you're dining in Tuscany.

Serves 4

What You Need:
2 tablespoons olive oil
2 or 3 garlic cloves, minced
1 28-ounce can crushed tomatoes
1 16-ounce can cannelini beans, drained and rinsed
1/4 teaspoon dried oregano
1/4 teaspoon dried basil
1 bay leaf
2 cups water (or more, if needed)
Salt and freshly ground black pepper
8 ounces ditalini or other small-shaped pasta
1 tablespoon fresh parsley, minced
What You Do:
In a large pot over medium heat, heat olive oil. Add garlic and cook until softened, about 2 minutes. Reduce heat to low and stir in tomatoes. Add beans, oregano, basil, bay leaf, water, and salt and pepper to taste. Simmer over low heat for about 30 minutes.
In a pot of boiling salted water, cook pasta, stirring occasionally, until it is just al dente (about 5 to 6 minutes). Drain well and add to the bean mixture along with the parsley. Simmer gently for 10 minutes to blend flavors and finish cooking the pasta. Season more if desired.