Food + Recipes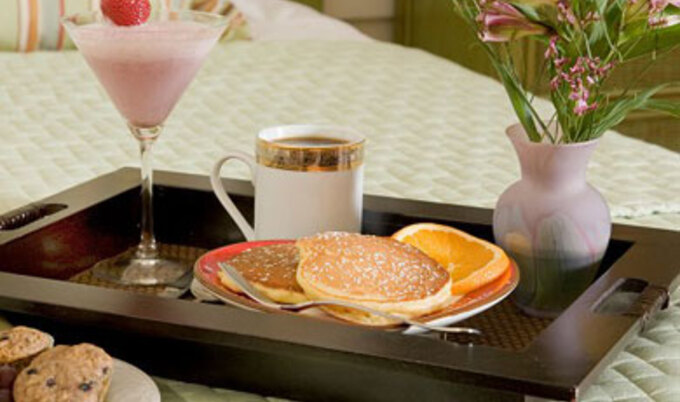 16 Quick and Easy Vegan Breakfasts
In a rush? Try one of these quick breakfast fixes to get you through the day.
---
When it comes to breakfast, we've all mumbled the same tired excuses: My alarm didn't go off, I'm good with coffee, I'm just not a breakfast person, and so on. But just like getting up on the right side of the bed, what you eat for breakfast can determine how you will function the rest of the day. According to the Mayo Clinic, individuals who eat breakfast are more likely to eat more vitamins and minerals and less fat throughout the day. This doesn't give you a free pass to eat whatever's in reach as you rush to make the train. The Mayo Clinic also says in the morning it's important to get healthy servings of fiber, whole grains, vegetables, fruits, and proteins, and to stay away from high-sugar (more than 13 grams per serving) and high-caloric items. Choosing the right meal can improve your productivity and focus, as well as promote weight loss and even act against heart disease. No matter how much time you have in the morning, there's a breakfast solution for you. When Mom said that breakfast was the most important meal of the day, she wasn't kidding. VN serves up some easy breakfast solutions with a side of delicious.
Whip It Up
Even if it means waking up 10 minutes earlier (the horror), taking time to whip up a quick breakfast can leave you satisfied and ready to start the day in the best way. Cold mornings this time of year call for hot cereals, which are also packed with antioxidants to fight off colds, and fiber to keep you going, to name a few benefits. This Power Breakfast will keep you active for hours, Cranberry Walnut Oatmeal or Hearty, Healthy Oatmeal combines all the nutrients you need, and quinoa for breakfast? Yes please.
Simple, delicious scrambles take only minutes to make, and can provide the perfect means to get nutrients from veggies in the morning. Chickpea Scramble packs in the protein while a tofu scramble loaded with spinach fortifies you with iron. Don't shy away from breakfast staples, such as a healthy fruit plate or yummy peach yogurt.
Take it To Go
Despite our purest of intentions, there are some days (read: almost every day) when we simply cannot get out of bed any earlier than we absolutely need to. But don't let your breakfast or your belly suffer in the name of a few extra z's. Instead, bring breakfast with you on your morning commute. Nothing's easier to tote than homemade bars that you can prepare over the weekend and munch on all week, such as these yummy Protein Bars or All-Out Best Oatmeal Breakfast Bars. Also great for making before the morning rush are breads—smear some Earth Balance on hemp breakfast muffins, whole wheat banana muffins, or be really impressive and make your own whole-grain bread, topped with a little jam—on-the-move perfection! And don't forget the old smoothie stand-by, the ultimate way to get virtually every nutrient you need in a heartbeat, such as a Peanut Butter Split Smoothie, Cherry Almond smoothie, or a Seasonal Smoothie.
Saturday Morning: The best time of the week
While we at VN might be pressed for time Monday through Friday, we find there's nothing better than slow, scrumptious Saturday mornings when we can make the breakfast foods we've dreamed of all of week. The next leisurely weekend morning you have, indulge in one of these classics:
Yummy Whole Wheat Pancakes
Chocolate Orange Scones
Maple Pecan French Toast
Spiced Banana Pancakes
Roasted Potatoes
Banana Nut Donut Holes
Take the few extra moments for breakfast after you rise, and you'll be sure to shine all day long.
Want more of today's best plant-based news, recipes, and lifestyle?
Get our award-winning magazine!
Subscribe