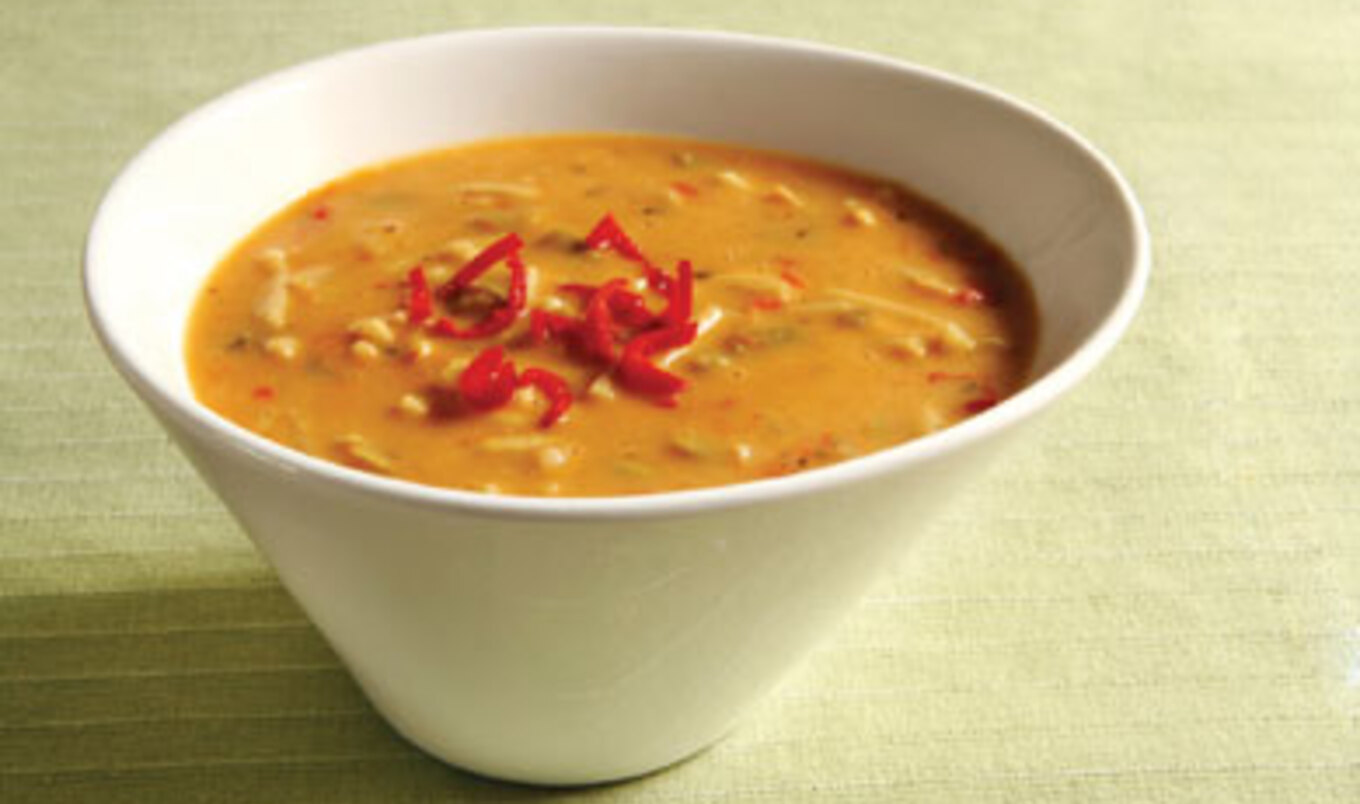 Bold flavors and clean ingredients make this soup spectacular.
October 16, 2010
Inspired by Singapore, this recipe combines various laksa elements for a luscious soup that is both refreshing and satisfying.
Serves 4
What you need:
8 ounces dried rice noodles
1 cup shallots, coarsely chopped
1 stalk lemongrass, white part only, crushed
2 teaspoons Asian chile paste, plus more to serve
2 teaspoons fresh ginger, grated
2 teaspoons ground coriander
2 teaspoons curry powder
1 teaspoon paprika
1/2 teaspoon ground turmeric
1/2 teaspoon cayenne
1 tablespoon canola oil
3-1/2 cups vegetable stock
1 tablespoon sugar
1 teaspoon salt
1/4 teaspoon freshly ground black pepper
1 14-ounce can coconut milk
8 ounces extra-firm tofu, cubed
1 cup bean sprouts, blanched
3 scallions, sliced
1 cucumber, peeled, seeded, and chopped
1 bunch cilantro, chopped
1 cup pineapple, chopped
Lime wedges, to serve
What you do:
In a bowl of hot water, soak the rice noodles. In a food processor, combine the shallots, lemongrass, chile paste, and ginger, and process to a paste. Add the coriander, curry powder, paprika, turmeric, and cayenne, and process until blended.
In a large pot over medium heat, heat the oil. Add the shallot mixture and cook, stirring, for 3 minutes, adding a small amount of stock to prevent burning. Stir in the remaining stock and bring to a boil.
Reduce heat to medium and add the sugar, salt, and pepper. Simmer for 20 minutes then stir in the coconut milk and heat until hot, without boiling. Add the rice noodles and tofu and simmer for 7 minutes.
To serve, divide the bean sprouts and scallions among four soup bowls and ladle in the soup. Garnish with cucumber, cilantro, and pineapple. Serve with lime wedges and additional chile paste.