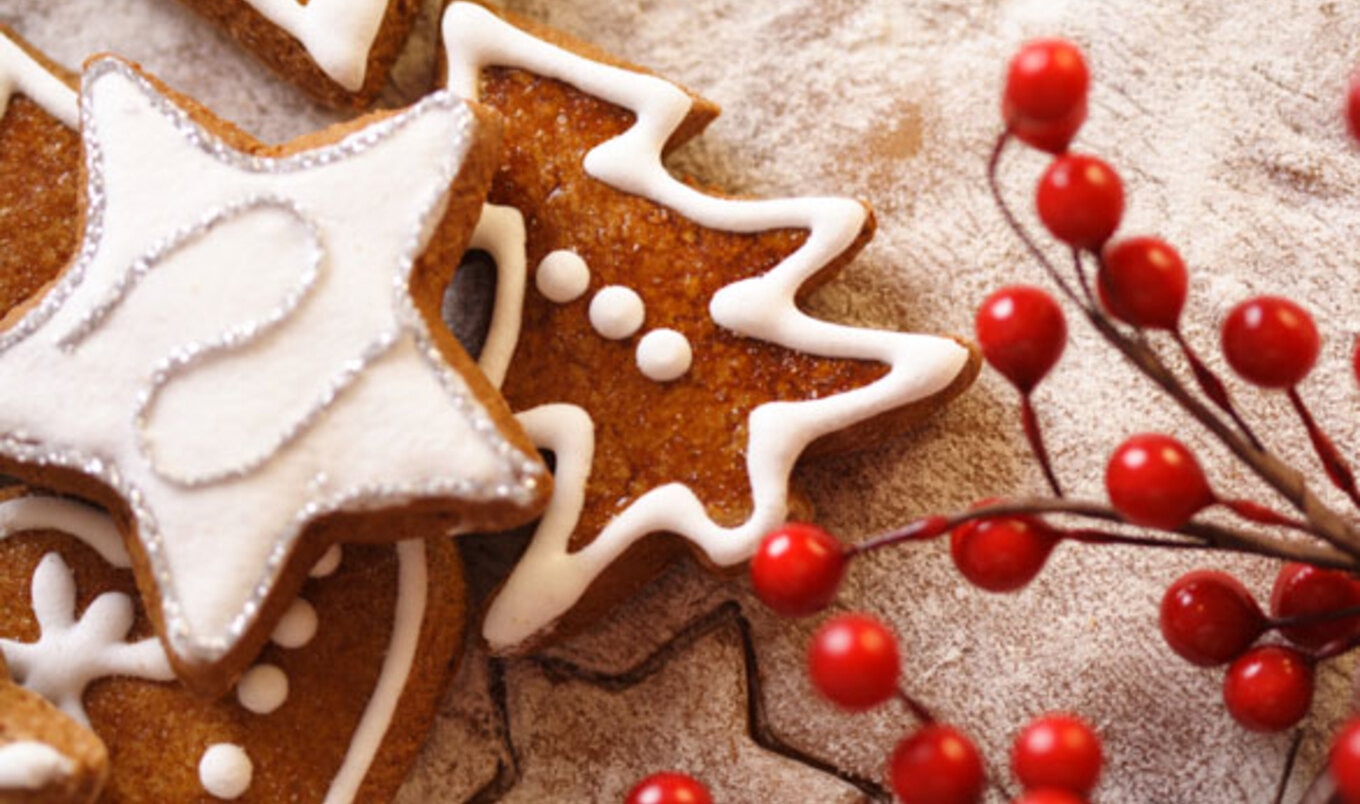 From eco-friendly fire option to festive food for all, VN has your holiday needs covered.
November 28, 2010
---
The worst part of the holiday season is getting stuck at a party with no savory veg nibbles in sight, no refuge at the dessert table, and nothing in your belly but resentment for the jolly cocktail waitress making the rounds with trays of pigs-in-a-blanket. To guarantee that you, too, get to stand around the water cooler complaining about gaining the traditional five pounds this holiday season, why not just host your own delicious, veganized ho-ho-holiday party? There's no greater holiday gift you can give your friends and family than a warm gathering during the cold season.
The Décor
Before you deck the halls, consider this startling eco-stat: according to the EPA, household trash in the US increases by 25 percent between Thanksgiving and New Year's Day, from 4 million to 5 million tons. Don't feel like contributing to the landfill problem? Try our eco-friendly ideas for dressing up your space without trashing the planet.
Bring the Outdoors In
For decor that's as stylish as it is sustainable, Kimberly Nolder of Eco-Event Planning in Adamstown, PA, suggests asking your local Christmas-tree farm for branch trimmings. (You can usually get these for free.) String your fragrant greenery with twinkly holiday lights and use it to frame doorways. When the party's over, "you can even recycle live trees and use in mulch piles," says Nolder.
Fire it Up!
Consider the Java-Log. Made from used, dried coffee grounds (waste from the coffee industry) and vegetable wax, Java-Logs burn as long or longer than wood logs and produce 87 percent less carbon monoxide. They also divert 20 million pounds of coffee grounds that would otherwise wind up in landfills each year. CleanFlame logs are made entirely from wax-coated produce boxes, of which 600,000 tons are sent to landfills annually after use. Goodwood fire logs, made with woodchips and sawdust waste from various sources, claim to create up to 50 percent fewer emissions with no added binders, as the natural resins in the wood bind the log through the compression process. Contributing to global warming is the last thing you need to think about when relaxing by the fireplace.
The "Wow!" Centerpiece
For table decor, Nolder suggests piling your prettiest plate with candles, followed by walnuts, cranberries, and sprigs of greenery. If you're feeling really crafty, steal an idea from the '70s and add sweet-smelling orange-and-clove pomanders by poking whole cloves into an intact orange or tangerine. Add to your plate of candles and breathe deeply.
Get Crafty
Nolder recommends using recycled paper (such as holiday gift wrap or greeting cards) to create simple origami birds to add to a centerpiece, hang from the ceiling, or tuck into that inventible holiday gift: the poinsettia plant. Not feeling that crafty? Try scaling down your eco-footprint with a bonsai tree strung with a simple strand of cranberries.
The Menu
Planning a dinner party for a few friends—no problem. But a dinner party for a few friends, their dates, your whole office, your family, and the lone neighbor you invited in the elevator? Not so easy. Before confining yourself to the kitchen for an extended spell—then checking yourself into a clinic for exhaustion—try these simple menu suggestions that'll dazzle even your self-proclaimed "blood-thirsty" aunt from Transylvania.
The Festive Drink
Any of these delicious, warming drinks will keep your friends and family cozy and content. Whether or not you add a holiday spirit (aka booze!) is up to you!
The Celebratory Hors d'oeuvres
Roasted Red Pepper Dip—Just try and find any remnant of this addictive spread once the party's over
Pesto Crostini—A perfect complement to the red pepper dip, this classic green-hued treat keeps the season's colors in theme.
Almond Cheese—Is there anything more impressive than homemade vegan cheese? Nope!
Marinated Mushrooms—These tasty bites come together super quickly, which makes them a perfect, quick party appetizer.
The Irresistible Main Course
These incredible centerpiece dishes are sure to wow your guests and fill their bellies for the long, wintery nights ahead. Starting a new tradition for the holidays that reflects your compassionate lifestyle has never been this delicious!
The Yuletastic Dessert
It just doesn't get any more festive than a Holiday Spiced Crème Brûlée. VN contributor Chloe Coscarelli shares her simple, show-stopping dessert. When you're having your hand at it, just make sure the blowtorch is in the hands of someone who has not yet indulged in the spiked eggless nog. Safety first!

A huge happy holidays from all of us at VegNews!