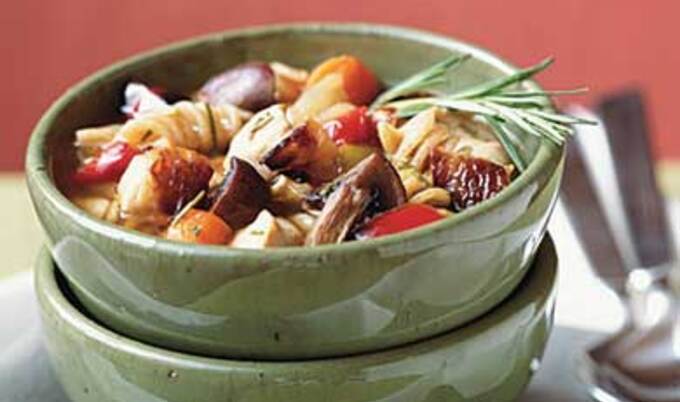 Moroccan Tagine
Warm up from the inside out with this flavorful, one-pot meal.
November 7, 2010
Fragrant spices and dried fruits lend a Moroccan flavor to this stew inspired by the classic tagine, but this Westernized version requires no special pot. Serve over couscous accompanied by a small bowl of harissa sauce for those who like it spicy hot.
Serves 4
What you need:
1 tablespoon olive oil
1 yellow onion, chopped
1 carrot, chopped
1 small bell pepper, chopped
1 garlic clove, minced
1 teaspoon minced fresh ginger
1/2 teaspoon ground cinnamon
1/2 teaspoon ground cumin
1/2 teaspoon turmeric
1/2 teaspoon salt
1/4 teaspoon paprika
1/4 teaspoon cayenne
8 ounces green beans, trimmed and cut into 1-inch pieces (about 1-1/2 cups)
1-1/2 cups cooked or one 15-ounce can chickpeas, drained and rinsed
1 14.5-ounce can diced tomatoes, drained and chopped
3 cups vegetable stock
1 tablespoon fresh lemon juice
1 cup dried apricots, or other dried fruit
1/2 cup frozen peas, thawed
2 tablespoons minced fresh cilantro or parsley
What you do:
Heat the oil in a large pot over medium heat. Add the onion, carrot, bell pepper, and garlic. Cover and cook until softened, about 5 minutes. Stir in the ginger, cinnamon, cumin, turmeric, salt, paprika, and cayenne and cook, stirring for 30 seconds to bring out the flavors. Add the green beans, chickpeas, tomatoes, stock, and lemon juice. Reduce heat to low, cover, and simmer for 30 minutes.
While the stew is cooking, soak the apricots for 30 minutes in hot water. Drain, cut in half, and add to the stew. Cook the stew, uncovered, about 30 minutes longer. About 10 minutes before serving, stir in the peas, and cilantro or parsley. Taste to adjust the seasonings and serve hot.
Click here for more delicious recipes:
Moroccan Eggplant Salad
Moroccan Carrots & Parsnips
Vegetable Couscous
Love vegan food and cooking as much as we do?
Get the BEST, editor-tested recipes inside every issue of VegNews Magazine. Find out why VegNews is the world's #1 plant-based magazine by subscribing today!