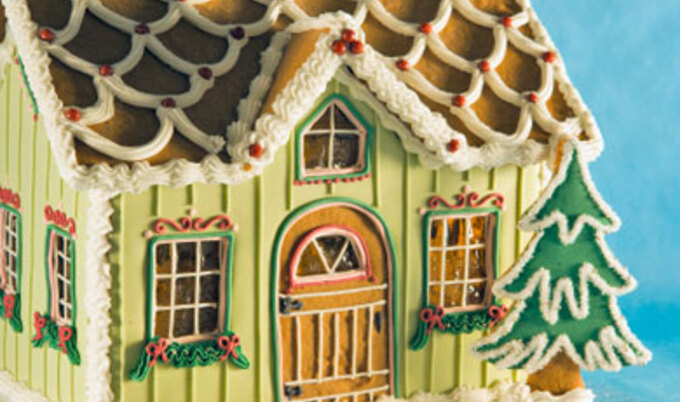 Perfect Vegan Gingerbread Cookies
These cookies are exactly what they claim—perfect.
This time of year, there are two kinds of cookies: the kind for eating and the kind for artistry. These gingerbread cookies fit into either category (they make excellent gingerbread houses!), and we're sure no matter what your use for them, you'll find them seasonally delicious.

Makes 24 Cookies
What you need:
2-3/4 cups pastry flour
1-1/2 teaspoons baking powder
1 tablespoon ground ginger
1/2 teaspoon ground cloves
1 teaspoon cinnamon
1/2 teaspoon salt
3/4 cup non-hydrogenated margarine, softened
3/4 cup molasses
1-1/2 cups light brown sugar, packed
2 tablespoons soymilk
1/2 teaspoon vanilla
What you do:
Preheat oven to 325 degrees and grease a cookie sheet.
In a bowl, combine pastry flour, baking powder, ginger, cloves, cinnamon, and salt. In a large bowl, whisk together margarine, molasses, and brown sugar together until smooth. Add soymilk and vanilla and whisk thoroughly.
Add dry ingredients to wet and mix with spatula to form a dough. Cover and refrigerate for at least two hours.
Roll out dough onto a floured board, 1/8- to 1/4-inch thick, depending on desired texture (thinner cookies will be crispier, thicker cookies will be chewier). Cut into shapes with cookie cutters and place on prepared cookie sheet. Bake for 10 to 12 minutes, depending on thickness. Go crazy with frosting and decorations!
Love vegan food and cooking as much as we do?
Get the BEST, editor-tested recipes inside every issue of VegNews Magazine. Find out why VegNews is the world's #1 plant-based magazine by subscribing today!
Subscribe