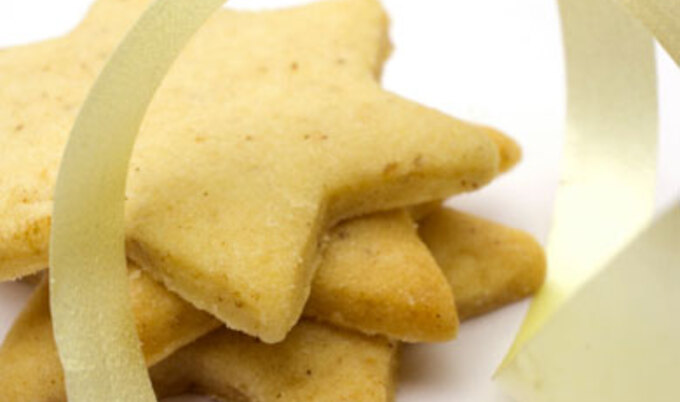 Pistachio Sugar Cookies
VN's Beverly Lynn Bennett's sugar cookies turn grown up with a pop of pistachio.
These cookies marry classic sugar cookie dough with an unexpectedly sophisticated twist—ground pistachios. Perfect for eating straight out of the oven and either dusted with powdered sugar or frosted to your heart's content, these treats are sure to become a staple in your traditional holiday cookie roster.

Makes 5 to 7 dozen
What you need:
1-1/2 cups non-hydrogenated vegan margarine
1 cup unbleached cane sugar
6 tablespoons water
1 tablespoon vanilla
3-1/2 cups unbleached flour
1 cup ground pistachios
3/4 cup tapioca flour
1/2 teaspoon sea salt
What you do:
In a large bowl, beat together margarine, sugar, water, and vanilla until light and creamy. Add the remaining ingredients and stir well to form a smooth dough. Cover and chill for 1 hour or until firm. Divide the dough in half, work with one half at a time, and keep the remaining dough covered.
On a floured work surface, roll the dough out to desired thickness (1/8-inch for crispy cookies or 1/4-inch for soft), cut into shapes with a knife or cookie cutters, and carefully transfer the cookies with a spatula to ungreased cookie sheets.

Bake at 350 degrees for 8 to 10 minutes or until lightly browned around the edges. Allow cookies to cool slightly before transferring to a rack to cool completely. Store in an air-tight container.
Click here for more delicious recipes:
Sugar Cookie Dough
Pinwheels
Orange Sugar Cookies
Let's get FABULOUS! Order your copy of the hot-off-the-press VegNews Guide to Being a Fabulous Vegan - filled with everything you need to know to live a super-fabulous vegan life (including our all-time favorite recipes)!
Order Now