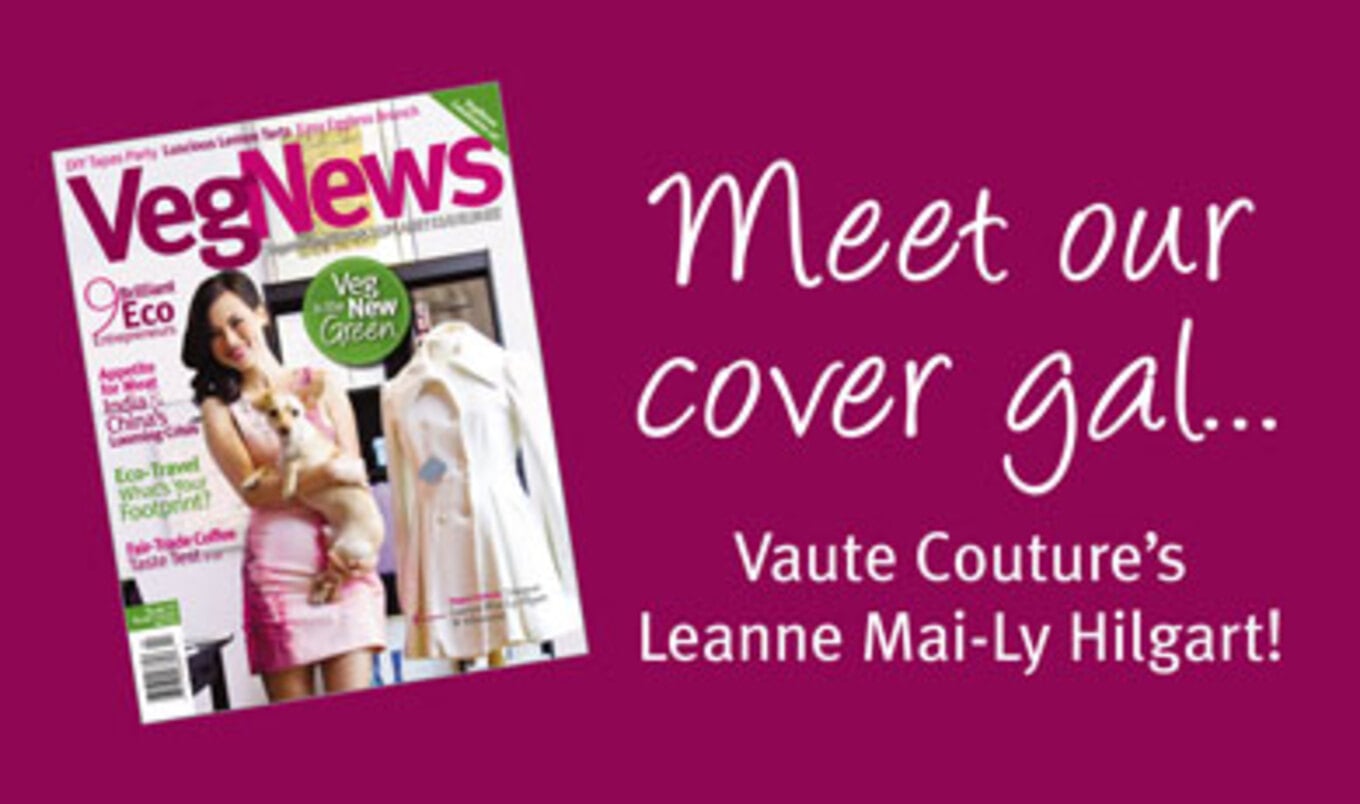 Vegan eco-entrepreneur Leanne Mai-ly Hilgart graces the cover of our March+April issue.
February 16, 2010
---
Inder Bedi of Matt & Nat, Leanne Mai-ly Hilgart of Vaute Couture, and Elizabeth Olsen of OlsenHaus were all contenders for the cover of our March+April issue, but today we are thrilled to announce that Hilgart is our cover gal! We are absolutely beside ourselves with glee about featuring this vegan busniess owner—and her adorable pup, Whitman!—on one of our most exciting issues of the year. Of course, it would have been an honor to feature any of our finalists, but sadly we only had cover space for one. Read on to see what all three finalists have to say about green business, vegan ethics, and more in this sneak preview of the exclusive VN interviews, and look for the full feature story on the eco-friendly masterminds in our new issue, which comes out next week!
VegNews: What green initiatives do your businesses have in place?
Inder Bedi: Our handbag linings are made from 100-percent recycled water bottles. We are working on finding more applications for fibers that are the result of recycling water bottles, as well as other recycled fabrics.
Leanne Mai-ly Hilgart: Fabric research is the heart of Vaute Couture. The liner fabric is 100-percent recycled closed loop zero waste, which means it recycles into the same fabric without any deterioration of quality and without creating any waste. The shell fabric is made in the US and is 100-percent recyclable using Patagonia's Common Threads Recycling Program. Of course, we do the small things too, including using sustainable businesses to print our postcards, hangtags, and a US-based sustainable screenprinter for our 100-percent-organic cotton tees.
Elizabeth Olsen: I try to hire and support other vegan professional as much as possible, so obviously anyone at the office gets soymilk and vegan food for meetings. I produce as close to the US as possible to reduce emissions. The shoeboxes are recycled, and in the office everything is via email or digital. For the product, we are working with recycled materials and continuing to develop new components.
VN: Why did you decide to complement your vegan business with green ethics?
IB: I would like to think that being a vegan also means being aware of all consequences of your decisions.
LH: I believe in the whole goodness—good to the animals, the earth, and the people. In each decision I make, these are on my mind as to how I can take a step further for the industry in meeting these, while reaching new milestones in performance and design at the same time.
EO: Eco-vegan fashion was a natural merging of philosophy, creativity, and experiences with a mission to exposure the truth. I started OlsenHaus to be an example of a company that shows compassion and cruelty-free is the truest form of style, and to educate about what is happening to animals and the environmental destruction that effects us all.
VN: What is one green thing every vegan should do?
IB: Reduce the amount of garbage you throw out every week. Recycle, compost, [and strive for] waste-free homes as much as possible.
LH: Being vegan is one thing every eco-conscious person should do. But every vegan should take more public transportation and share more. Buy quality that will last forever, that's sharing with yourself.
EO: Educate, educate, educate, and invite without pretense. Find a way to relate to friends, family, strangers, and introduce them to veganism in a non-confrontational, non-judging way.