Food + Recipes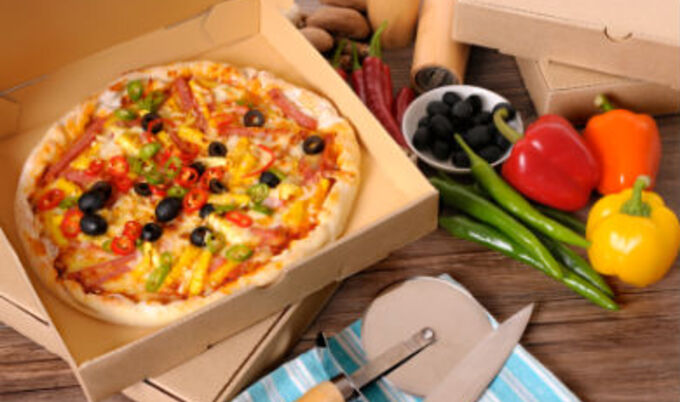 Vegan Pizza is Taking Over the World
From thin-crust to deep-dish, vegan pizza has officially taken over the country.
---
It seems like with each year, vegan pizza options are getting better. With more established pizzerias than ever offering vegan cheese and soy meats, and all-vegan pizza joints sprouting up everywhere, it's becoming easier to satisfy those late-night pizza cravings—and harder to watch that waistline. Here's a slice of the vegan pizza options available across the country.

Completely Vegan Options

Cruzer Pizza and Pasta, Los Feliz, CA
When Cruzer set out to experiment with vegan options, it had such a positive reaction that the Los Feliz location is now exclusively vegan.
Pizza Pi, Seattle, WA
A staple in the all-vegan pizzerias, Pizza Pi has introduced four new pizzas including the Tropic Thunder pizza, which includes vegan Canadian bacon, pineapple, and shredded coconut.
Peace o' Pie Gourmet Vegan Pizza, Allston, MA
Vegan owned-and-operated, Peace o' Pie strives to take care of the earth by using strictly vegan ingredients, and only accepted eco-friendly building materials during its remodeling.
Veg-Friendly Pizzerias
Amici's East Coast Pizzeria, Multiple locations across California
President Peter Copperstein remembers trying many different vegan cheese options but being unsatisfied with the reaction to brick-oven heat. That is, until he tried Daiya. Now, Amici's offers vegan pizza at all its locations.
Mellow Mushroom, More than 100 locations, mostly throughout the South and Southwest.
Mellow Mushroom is currently hosting its VooDoo tour—customers can vote for the VooDoo van to come to their local Mellow Mushroom for music, merchandise, and more.
Pala Pizza, New York, NY
Pala pizza doesn't just offer vegan cheese for a standard veggie pizza—it supplies an entire vegan menu from salad to pasta to pizza.
Patxi's Chicago Pizza, Bay Area, CA
Patxi's brings Chicago-style pizza to the West coast, and now offers a new vegan menu. Additionally, Patxi's doesn't charge extra for vegan cheese like some pizzerias, unless you order extra cheese.
Pi Pizzeria, St. Louis, MO
Pi Pizzeria is a rapidly growing vegan-friendly pizza chain in St. Louis with three locations—and a fourth slated for development. Grab a fresh vegan pizza, complete with Daiya and meat-free toppings.
Pizza Fusion, located in seven states, from California to Connecticut
Pizza Fusion takes its motto, "Saving the Earth One Pizza at a Time," seriously, offsettng power consumption through wind energy certificates, use hybrid cars for delivery, and offer organics classes for kids.
Pizza Luce, Minneapolis, MN
Pizza Luce touts five vegan pizza options. To top it off, it offers a vegan Chocolate Peanut Butter bar and the Molly Bar—a vegan and gluten-free brownie.
The Rebellion Pizza, Denver, CO
Unsure what your favorite vegan cheese is? At Rebellion, pizza is offered with five different varieties of vegan cheese to try.
Slice, The Perfect Food, New York, NY
Slice, opened in 2005, aims to provide customers with pizza made from quality, wholesome ingredients, including vegan options. It now partners with various philanthropies such as "Coalition for Healthy School Lunches."
zPizza, 16 states across the country
One of the most popular pizzerias boasting vegan options, zPizza commits to natural ingredients. The chain also protects the environment by utilizing reusable pizza boxes.
Top It Off
At a loss on how to top off your perfect pie? Take a cue from some VN staffers with their favorite toppings:
Associate Publisher Colleen Holland: Pesto, garlic, artichoke hearts
Managing Editor Elizabeth Castoria: Soyrizo and pineapple
Associate Editor Liz Miller: Black olives, spinach, and sun-dried tomatoes
Office Manager Lyndsay Orwig: Daiya, jalapeños, and mushrooms
Editorial Assistant Gabrielle Pope: Roasted garlic and potatoes
Want more of today's best plant-based news, recipes, and lifestyle?
Get our award-winning magazine!
Subscribe