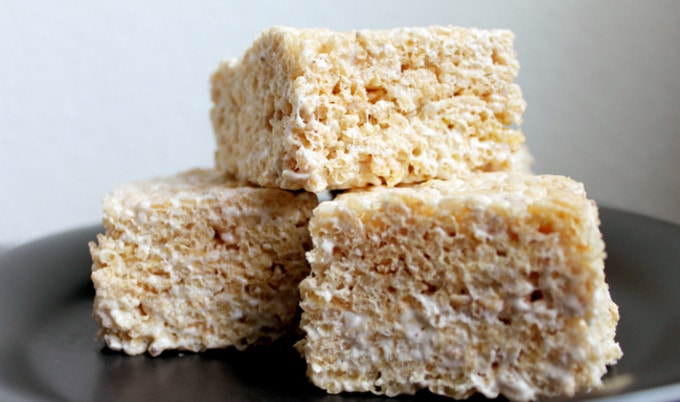 Crispy Cereal Bars
Better by far than standard crispy bars, these pack a protein-filled punch.
Crunchy, sweet, and full of protein, these scrumptious treats will keep your energy up during a long hike or satisfy afternoon sugar cravings. They come together in a snap, and are our favorite take on crispy bars—plain rice and marshmallow is so out!

Makes 9 bars
What you need:
2 cups crispy rice cereal
1/3 cup raisins
1/3 cup dried cranberries
1/4 cup finely chopped walnuts or almonds
1/4 cup pumpkin seeds
1/4 cup sunflower seeds
1/2 cup almond butter
1/2 cup brown rice syrup
1 teaspoon pure vanilla extract
What you do:
Lightly oil a 9-inch square pan and set aside. In a medium bowl, mix cereal, raisins, cranberries, nuts, pumpkin seeds, and sunflower seeds.
In a small saucepan, combine almond butter and brown rice syrup. Cook over low heat for 1 to 2 minutes, stirring occasionally until warm and bubbly. Remove from heat and stir in vanilla. Pour over cereal mixture and stir until thoroughly coated.
Transfer mixture to a prepared pan. Dampen hands slightly with water and press mixture evenly and firmly into pan. Chill for 30 minutes. Cut with a sharp knife into nine squares.