Food + Recipes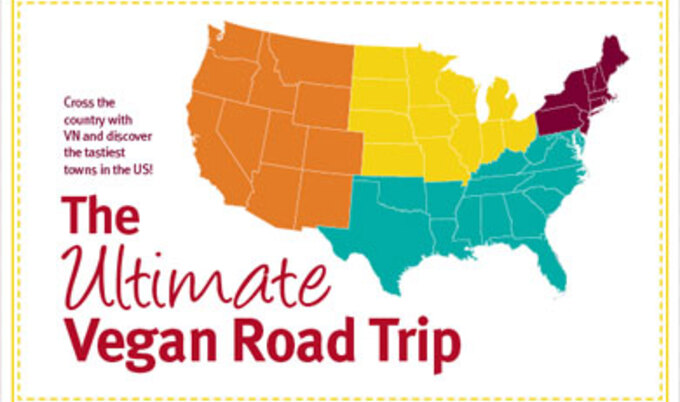 The Ultimate Vegan Road Trip: The South
During week 2, head south for warm weather, pristine beaches, and delectable vegan nosh.
---
It's week two on The Ultimate Vegan Road Trip, which means it's time to head south down on I-95 and across I-10 into the Deep South, known for comfort food, a bit of spice, and some serious heat (both in temperature and food, people). After a stop in our nation's capital (the Smithsonian Institution is a must-visit), head on down to beautiful beaches, historic landmarks, and the Happiest Place on Earth (complete with vegan cupcakes!). As always, there are plenty of furry friends to visit with (The White Pig; Pigs, a Sanctuary; and Kindred Spirits are all in the area), and a strange sight or two—we see you, 85-foot tall dresser in High Point, North Carolina. But most importantly, there's plenty of delicious vegan food to eat! Here are 20 pit stops you need to make while you're south of the Mason-Dixon line (and hey, a little bit north of it too).
States: Alabama, Arkansas, Delaware, Florida, Georgia, Kentucky, Louisiana, Maryland, Mississippi, North Carolina, Oklahoma, South Carolina, Tennessee, Texas, Virginia, West Virginia
Itinerary:
Bottletree Café (Birmingham, AL): Stop by for a tofu dog topped with vegan chili, and get some entertainment too—Bottletree hosts live music acts almost every night.
Garden Secrets (Hot Springs, AR): This 100-percent vegan restaurant's offerings include chick'n Alfredo, veggie turkey wraps, and a Southwest guacamole burger served with fries, chips, or salad. Oh, and there's turtle cheesecake for dessert.
Hobos Restaurant and Bar (Rehoboth Beach, DE): Nosh on avocado, tomato, guacamole, and cheddar quesadillas from Hobos' custom vegan menu.
Darbster (West Palm Beach, FL): Managing Editor Elizabeth Castoria has tried the palm cakes from this south Florida site, and she's obsessed.
Sublime (Ft. Lauderdale, FL): The food at this restaurant lives up to its name. The frito misto (crispy, sweet-and-spicy cauliflower) and Florasian sushi roll are not to be missed.
Soul Vegetarian (Atlanta, GA): Soul Vegetarian's Kalebone sandwich with soy-cheese sauce is a must-try and a crowd favorite. And for dessert? Ice cream!
Morels Vegan Food Truck (Louisville, KY): This 100-percent roaming vegan food stop offers banh-mi hotdogs, faux chicken salad sliders, and Rooibee red tea. It also offers seconds.
The Wandering Buddha (New Orleans, LA): Traditional vegan Korean food is the name of the game at this Big Easy eatery, bibimbap included.
Great Sage (Clarksville, MD): Stop by at brunch for breakfast burritos filled with scrambled tofu, cheese, and tempeh bacon. Or a vegan crab cake Benedict. Or blueberry poundcake. Or all three.
Main Squeeze (Oxford, MS): One of this juice bar's offerings, the Green Zinger—made with cucumber, celery, green apple, spinach, parsley, lemon, and ginger—is the perfect antidote to seven straight hours behind the wheel.
VegHeads Vegetarian Drivethru (Asheville, NC): You don't even have to get out of your car to enjoy VegHeads' Korean barbecue tempeh wrap (though you might want to stretch your legs).
Luna's Living Kitchen (Charlotte, NC): Visit this raw vegan restaurant, located in Charlotte's historic South End neighborhood, for lasagna made with zucchini noodles and parfaits made with coconut-milk yogurt.
Matthew Kenney OKC (Oklahoma City, OK): Voted one of America's Best New Restaurants by Forbes, this raw restaurant serves up creative dishes like beet gnocchi and a bento box filled with dumplings, seaweed salad, and pickled veggies.
Daily Dose Café (Charleston, SC): Daily Dose is off the beaten path, but its food is right on. The vegan wraps are huge, filled with fresh veggies, and absolutely scrumptious.
The Wild Cow (Nashville, TN): Vegan queso? Sweet potato tacos? French Quarter dips? Deciding what to eat at this Music City, USA stop will be harder than deciding where to listen to live music.
Counter Culture (Austin, TX): Stop by Counter Culture on your way to Town Lake or the Texas Hill Country for faux tuna sandwiches and kale-Caesar salads.
Green Seed Vegan (Houston, TX): Offering vegan cheesesteaks, chipotle garbanzo tempeh paninis, and barbecue jackfruit sandwiches, Green Seed Vegan proves everything is bigger in Texas—cruelty-free fare included.
Sunflower Vegetarian Restaurant (Falls Church and Vienna, VA): How can one decide between an avocado and jicama panini and and Japanese-style barbecue kabobs garnished with mixed greens and crispy noodles?
The Blue Moose Café (Morgantown, WV): This veg-friendly stop has lots of veggie options that can be made vegan (veggie Reuben? Yes please.), an art gallery, and open-mic nights.
Sticky Fingers (Washington, DC): The grilled cheese sandwich at this Cupcake Wars-winning bakery is one of our favorites in the country. Order one, and at least one cupcake for dessert!
Want more of today's best plant-based news, recipes, and lifestyle?
Get our award-winning magazine!
Subscribe