Food + Recipes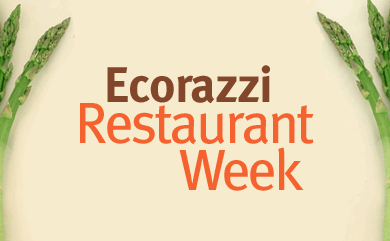 Ecorazzi Restaurant Week
More than 30 restaurants across the US are celebrating Ecorazzi's fifth anniversary with a week of specials.
---
Pop a bottle of Champagne at your favorite veg restaurant—Ecorazzi has just turned five! In celebration, today marks the start of the environmentally focused celebrity blog's Ecorazzi Eats Restaurant Week—more than 30 restaurants across the US are offering specials in honor of the occasion from October 12 to 19. We chatted with Ecorazzi Co-founders Rebecca Carter and Michael d'Estries about the cross-country celebration.
VegNews: Ecorazzi has just turned five. How has reporting on veganism changed in the past few years?
Michael d'Estries: When we first started Ecorazzi, we had a very narrow focus covering only those stories that dealt directly with entertainment and the environment. The more we learned about our niche, the more we discovered how much food factored into that equation. It didn't take long to then connect the dots to factory farming, animal welfare, and overall good health. Michael Parrish DuDell, who joined the site a year after its creation as a senior editor, is a longtime vegan and furthered our education and content tremendously. Overall, veganism has exploded in popularity, with more notables than ever before throwing the spotlight on the lifestyle. We applaud anyone willing to become conscious of where their food comes from, and take those next steps to embracing more vegetables and meat-free dishes.
VN: How will Ecorazzi Eats Restaurant Week help connect readers to veganism?
MD: We sometimes feel that vegan food has this stereotypical reputation of being bland and unappetizing. Ecorazzi Eats is one way to shine the spotlight on all of these amazing restaurants, throw some discounts out there, and hopefully get some vegan virgins chomping down on some amazing grub. The most perfect way to connect with food is to enjoy it—and we think millions of minds would approach the vegan scene differently with a little first-hand education.
Rebecca Carter: For those who aren't already vegan, Ecorazzi Eats is a way of learning about the issues, the celebrities involved, and even delicious recipes. For Restaurant Week, nearly half of the restaurants that have signed up to participate are 100-percent vegan. This is a great opportunity for vegans and the veg-curious to get a great deal some incredible, beautiful, healthy food. This is the first time that we've really tried to connect with our audience offline and we are very excited about it!
VN: What has the response from restaurants and readers been so far?
RC: Vegan and sustainable food at fantastic prices in restaurants across the country—of course readers are excited! In some regions, like Southern California, we have enough participating restaurants to eat at one or more places every single day of Ecorazzi Eats Restaurant Week, without ever repeating a location. We'll be holding a Twitter Photo Contest during the week, which will be a great way to see what people are eating. The tweet will enter you into a giveaway with eco-fabulous prizes.
VN: Will you hold more events like this in the future?
RC: Ecorazzi is ever-evolving! We do hope to make Ecorazzi Eats Restaurant Week a recurring event. We're just so excited to get the first one kicked off.
Vegan Restaurant Guide
From coast-to-coast, vegan restaurants have hopped on Ecorazzi's discount bandwagon to celebrate. Here's a state-by-state guide of participating vegan eateries. Just mention Ecorazzi Eats to your server (and don't forget to tip!).
California
Cinnaholic
Berkeley
Special: free "old skool roll" with the purchase of any regularly priced roll
Euphoria Loves Rawvolution
Santa Monica
Special: free appetizer with the purchase of any entrée
One World Vegetarian Cuisine
West Covina
Special: one free dessert with at least a $10 purchase
Seabirds Food Truck
Orange County
Special: $5 off any purchase of at least $20, cupcakes excluded
Sugar Plum Vegan Café
Sacramento
Special: free dessert or iced tea with any purchase
SunPower Natural Organic Café
Studio City
Special: free lettuce taco for each diner
Urban Food Crawl
Los Angeles
Special: bonus dessert for participants on the October 15 crawl
Florida
Ethos Vegan Kitchen
Orlando
Special: free cookie with any food purchase
Hawaii
Peace Cafe
Honolulu
Special: free miso soup or cookie with the purchase of any sandwich or entrée
Maine
Taste of Eden Vegan Café
Norway
Special: free piece of pie with the purchase of an entrée
Massachusetts
Peace o' Pie
Allston
Special: the Night Out special includes an order of cheesy breadsticks, a medium two-topping pie, two drinks, and two cookies or cupcakes for a discounted price of $28
Michigan
Cacao Tree Cafe
Royal Oak
Special: free raw chocolate with a purchase of $25 or more
New York
Candle Café
Manhattan
Special: 10-percent discount on dine-in bill
Texas
Counter Culture
Austin
Special: $1 off any purchase of at least $8
Veggie Garden
Richardson
Special: buy one dinner entrée and drink, get 50 percent off a second entrée
Utah
Sage's Café
Salt Lake City
Special: one free carrot butter crostini appetizer with the purchase of two entrées
Vertical Diner
Salt Lake City
Special: one free piece of Shoofly Cake—Pennsylvania Dutch crumb cake—with the purchase of two entrées
Please support independent vegan media and get the very best in news, recipes, travel, beauty, products, and more.
Subscribe now to the world's #1 plant-based magazine!
Subscribe