Food + Recipes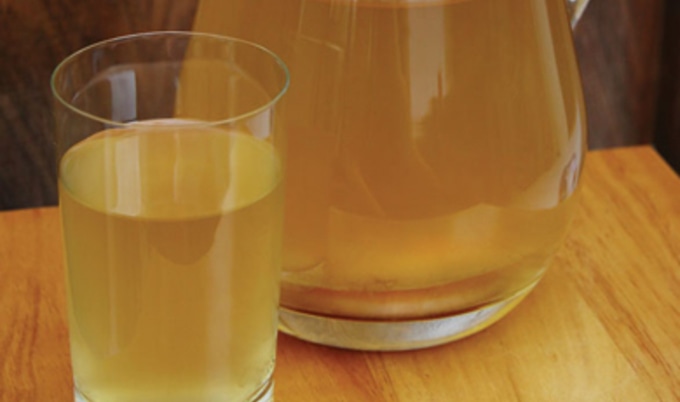 Kombucha Remix
New methods of brewing, mixing, and imbibing put the fun back into this fermented favorite.
---
Tart and effervescent, polarizing and mystical, kombucha has taken the fermented beverage market by storm with its uniquely vinegary flavor and alleged ability to treat everything from arthritis to dull hair to liver disease. Whether concocted in your kitchen, sipped in a cool cocktail, or slipped into a culinary creation, this versatile elixir made from tea goes way above and beyond natural-foods market shelves. Here are a few new ways to enliven your obsession with this quirky quencher.
Brew Your Own Batch
Many find this fizzy drink's invigorating qualities near addictive, but at $3 to $4 (or more) per bottle, it can be an expensive habit. Fortunately, DIY methods are simple and cost-efficient, requiring only a few ingredients and a kombucha mother or "SCOBY"—Symbiotic Culture Of Bacteria and Yeast, that is. If you can get your hands on a SCOBY, filtered water, a cup of sugar, a few bags of black, green, or white tea, and a bit of patience, you are well on your way to VegNews-approved homemade kombucha. Mix up a batch and you can start calling yourself a brewmaster in about six to 12 days, when you can reap the tangy rewards. The longer the concoction brews, the stronger it will become.
Spike Your Spore
Kombucha naturally contains a low amount of alcohol—0.5 percent or slightly higher—due to the fermentation process, making it a natural choice for subbing in on cocktails. Kelly of Raw Food, Real People (and now Frugal Vegan Mom) came up with the super-simple combo of kombucha, vodka, and tonic for a refreshing, customizable mixed drink, or try The Live Green Smoothie Diet's Sparkling Mango Margarita with Kombucha for a fruit-laced taste of the Tequila-spiked classic. Kombucha devotee resource KombuchaKamp also features an array of cocktail recipes, including some from Culture Shock, a bar in Ithaca, NY, that specializes in gourmet cocktails made from the fermented refresher. Try the Dark and Devoted, a unique play on the Dark and Stormy that fuses fresh muddled ginger, simple syrup, dark rum, sour mix, and ginger kombucha into a spicy-sweet sipper. If you're a whiskey warrior, check out The Cultured Pickle Shop's sassafras-blood orange kombucha spiked with bourbon over ice.
Punchy Potion
Let kombucha rock the punch bowl at your next soirée or picnic—it adds a unique, sparkly spin to sangria or jungle juice. Vegan Culinary Crusade whipped up Weeknight Socialite Sangria, a sunset-colored mix of ginger kombucha with fresh orange juice, grapes, and plum, for this year's edition of Vegan MoFo. Natural-foods blog Pure Homemaking devised a similar punch, but with the bonus of optional peach schnapps if you want to take it off the kids' table. For a more traditional sangria, kombucha also mixes well with wine—give Kombucha Lovers' recipe a try if you love bubbly, or Free People's (yes, the clothing company!) deep red kombucha sangria with a pleasing medley of mixed fruit.
Elaborate Elixir
Kombucha makes killer drinks, but did you know that it can also make its way into other cuisine? While it may still be paving its way in the culinary world, many chefs have already caught on to it as a useful ingredient for a variety of dishes. It has already made its way into treats like homemade focaccia, where its probiotic qualities let it shine as a sourdough starter, or as the light subtle broth for a raw, vegan version of ramen. Its vinegary flavor also makes it a great touch for dressings, like Nourished Kitchen's Spiced Kombucha Vinaigrette. Kombucha's many uses don't stop there. This talented tonic can also moonlight as a shampoo, leaving hair soft, shiny, and voluminous, or if your home brew ends up too acidic to drink, it can also double as an eco-friendly, all-purpose household cleaner, not unlike white distilled vinegar.
This unique tonic does more than just wet your whistle; its probiotic properties and tangy taste make it a worthy contender as a do-it-all wonder potion.
Want more of today's best plant-based news, recipes, and lifestyle?
Get our award-winning magazine!
Subscribe