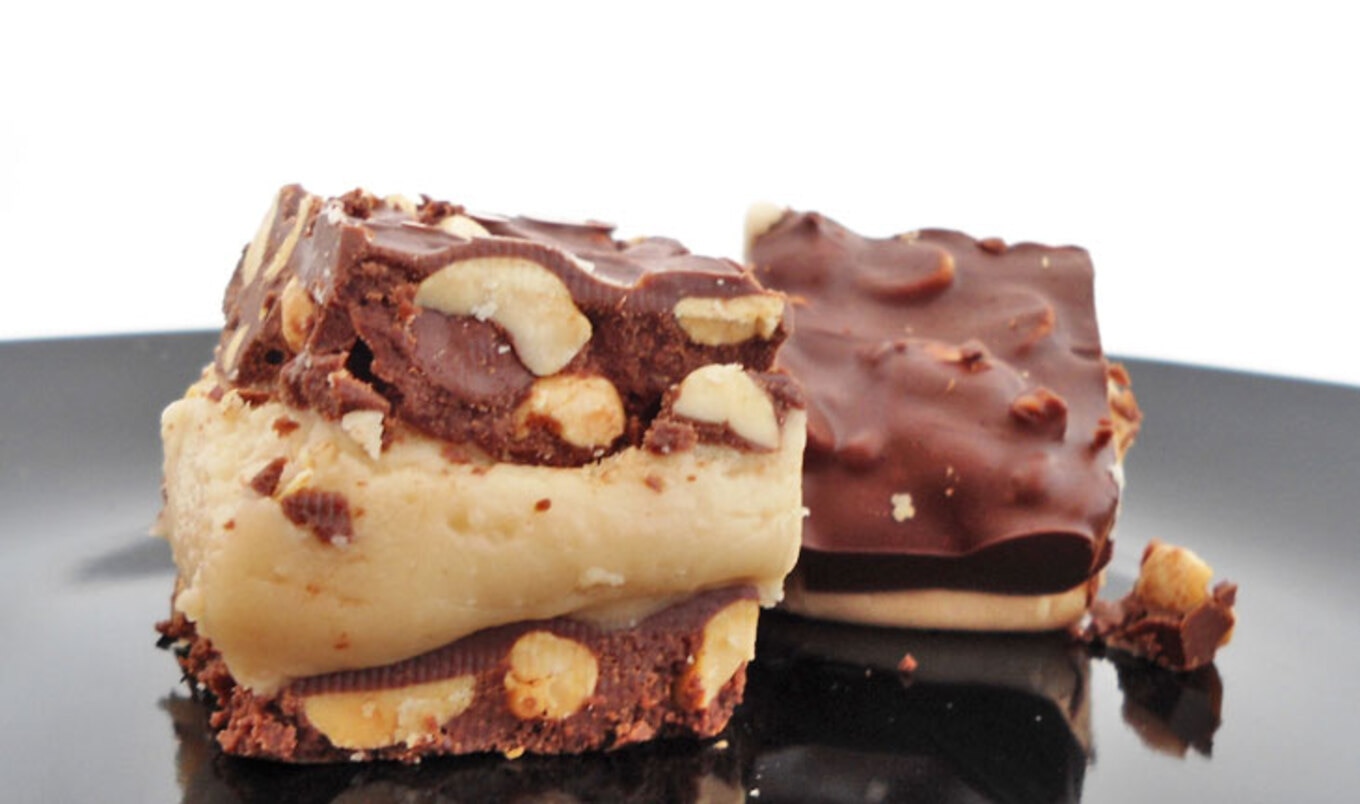 For a truly decadent dessert, these maple-filled chocolate peanut butter bars are super simple to make and devour.
December 19, 2011
Packed with peanut butter, these bars are perfect peanut-studded chocolate layers between a sugary maple filling for a wonderful gift-giving treat for everyone on your holiday list. Adapted from a family recipe, these veganized bars are similar in taste to Pearson's Nut Goodie Bar candy bars.
Makes about 80 bars
What you need:
2 12-ounce packages vegan chocolate chips
1 18-ounce jar creamy peanut butter
2 cups dry-roasted peanuts
1/4 cup dry vanilla pudding mix
1 cup margarine, melted
1/2 cup unsweetened almond milk
4 cups powdered sugar
1 teaspoon maple flavoring
What you do:
1. In a large bowl, add in chocolate chips and peanut butter and microwave in 30-second intervals, stirring to combine, until melted. Stir in peanuts. In a 9 x 13-inch parchment-lined pan, spread half chocolate mixture. Place pan in refrigerator to cool and set.
2. In a saucepan over medium-high heat, combine pudding mix, margarine, and almond milk. Bring to a boil and let boil for 1 minute.
3. To a large bowl or stand mixer, transfer pudding mixture. Stir in powdered sugar and maple flavoring, and beat until smooth. Remove chocolate pan from refrigerator and spread pudding mixture onto cooled chocolate layer.
4. Spread remaining chocolate mixture evenly over pudding mixture. Chill in refrigerator for several hours or overnight. For easy cutting, remove bars from pan with parchment paper lining, and place on a cutting board. Cut into 1 x 1.5-inch squares.
Photo: Anna Peraino