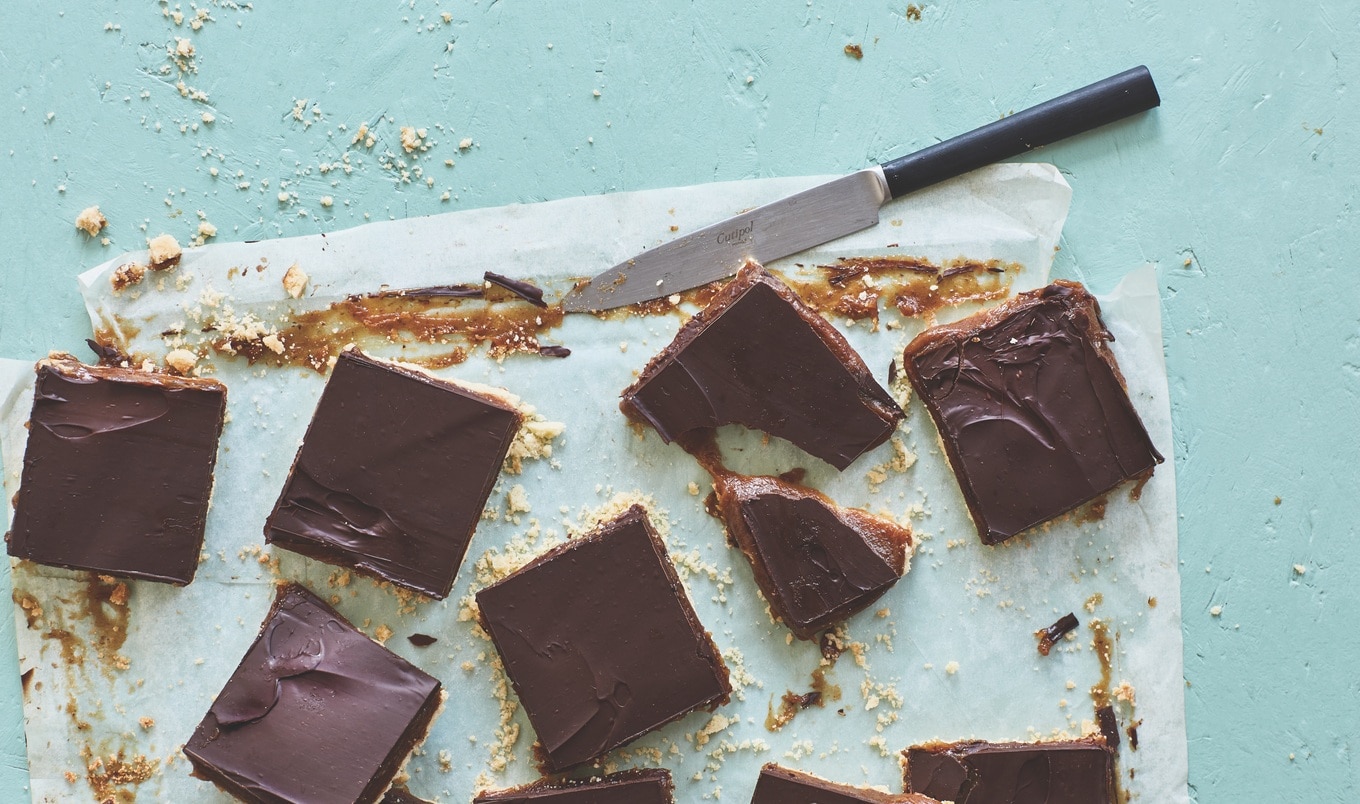 The combination of a buttery shortbread crust, thick vegan cookie butter-caramel sauce, and snappy dark chocolate make for one unbeatable dessert.
December 29, 2022
This classic UK dessert is easily veganized with this recipe from the Speedy BOSH! cookbook. Make extra of the caramel layer for drizzling over sundaes, stirring into cookie dough, or eating straight from the jar.
What you need:
For the shortbread:
1¼ cups flour
½ cup vegan butter
¼ teaspoon salt
¼ cup sugar
For the caramel:
1¼ cups pitted dates
2½ tablespoons boiling water
⅓ cup vegan butter
½ cup light brown sugar
½ cup plus 2 tablespoons maple syrup
2 teaspoons vanilla extract
½ cup vegan cookie butter
2 (3.5-ounce) dark chocolate bars, roughly chopped
What you do:
Preheat oven to 350 degrees. Grease and line an 8 x 11-inch baking dish with parchment paper.
For the shortbread, into a mixing bowl, add flour, butter, salt, and sugar. Lightly combine until resembles a crumble texture. Into prepared dish, add mixture and lightly press down with fingers until evenly spread. Bake on middle shelf of oven for 12 minutes. Remove and set aside to cool.
For the caramel, into a food processor, add dates and water. Blend until smooth. Add butter, sugar, syrup, vanilla, and cookie butter, and blend until smooth.
Into microwaveable bowl, add chocolate. Melt in microwave in 30-second intervals. Once melted, stir until smooth.
Dollop caramel over shortbread and gently spread into an even layer. Pour a layer of melted chocolate over top. Let cool, then transfer to refrigerator to set for 2 hours. Remove from refrigerator, slice into squares, and serve.