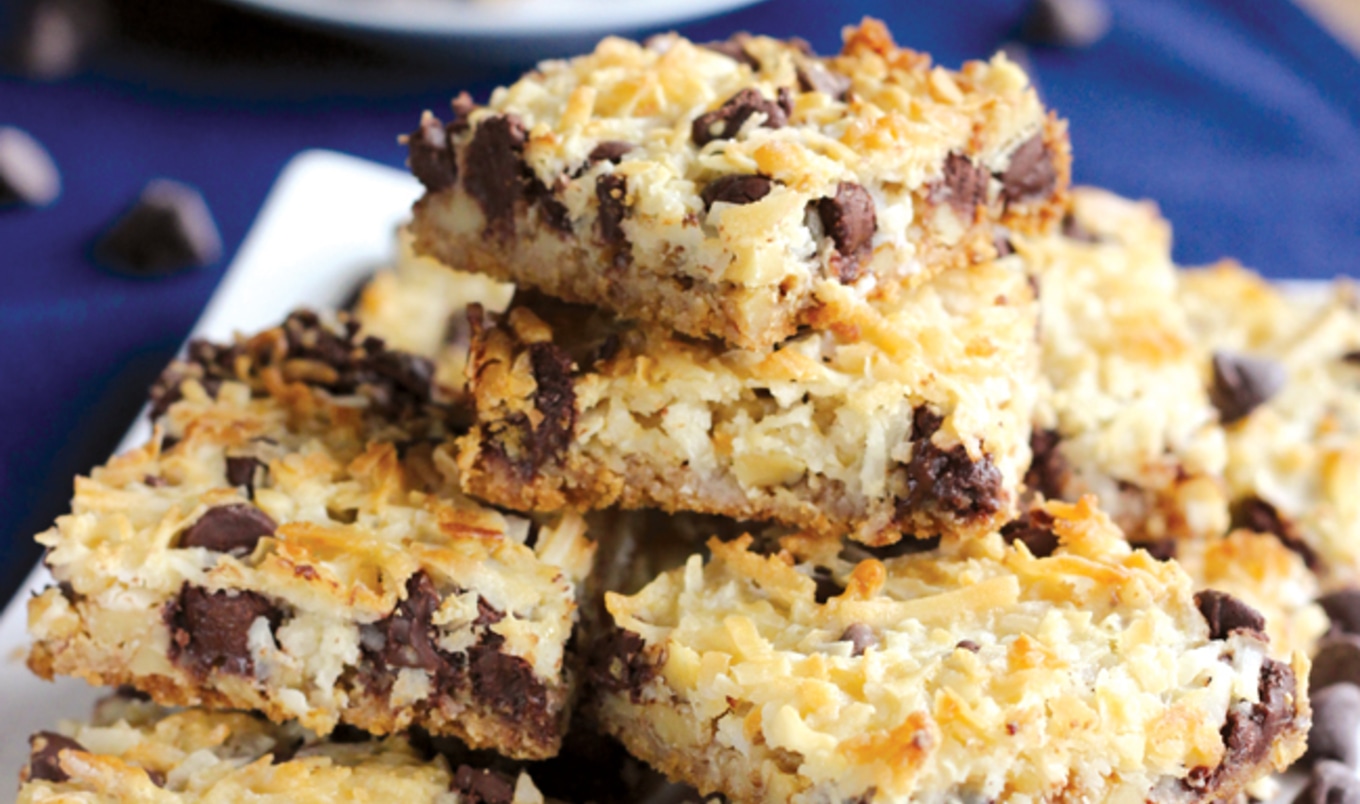 Layers of graham crackers, walnuts, chocolate chips, and shredded coconut make these bars one of our favorite desserts.
August 22, 2021
What you need:
For the Sweetened Condensed Milk:
1½ cups vegan milk, plus more if needed
3 tablespoons vegan butter
½ cup coconut sugar or granulated sugar
1 teaspoon vanilla
For the bars:
1 cup vegan butter, melted
1½ cups graham cracker crumbs
1 cup chopped walnuts
1 cup semisweet chocolate chips
1⅓ cups unsweetened shredded coconut
14 ounces Sweetened Condensed Vegan Milk (recipe above or canned vegan condensed milk)
What you do:
1. For the sweetened condensed milk, into a slow cooker, place milk, butter, and sugar, and stir well. Cook on high for 1½ hours, uncovered, stirring every 30 minutes. Add vanilla and mix. Pour in a measuring cup to ensure you have 14 ounces, adding more milk if necessary. Alternatively, use canned vegan condensed milk.
2. For the bars, preheat oven to 350 degrees. Into a 9 x 13-inch baking pan, pour melted butter and sprinkle graham cracker crumbs, walnuts, chocolate chips, and coconut. Evenly drizzle condensed milk over top to cover entire pan.
3. Bake for 25 minutes, and let cool in pan for 15 minutes. Chill for 1 hour, cut into bars, and serve.
Chef's Tip
Canned vegan condensed milk has become readily available! Here are two of our favorite brands:
Let's Do…Organic
Nature's Charm
And want to order all of your ingredients online? Here's how to do it!
Almond Milk
Chocolate chips
Coconut sugar
Graham crackers
Shredded coconut
Sweetened condensed milk
Vanilla
Walnuts