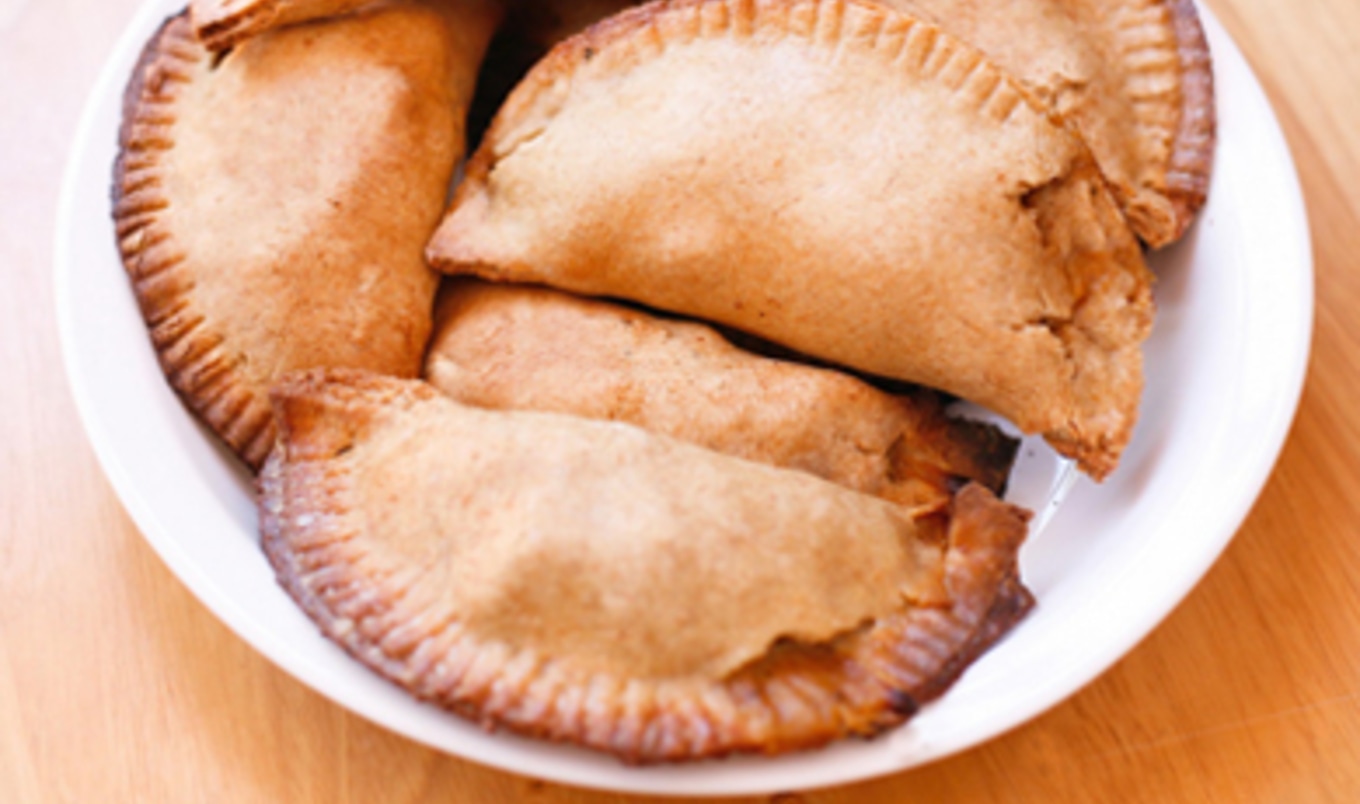 These peppy pastry pockets are packed full of the flavors of dates, garlic, olives, and pine nuts.
December 23, 2011
---
Miniature empanadas make the perfect savory hors d'oeuvre for an evening of special celebration.
Serves 12 to 14
What You Need:
 For the dough:
⅓ cup vegan margarine
¼ cup vegan sour cream
3 tablespoons vegan cream cheese
½ cup all-purpose unbleached flour
1 cup whole wheat pastry flour or spelt flour
¼ teaspoon salt
½ teaspoon baking powder
1 teaspoon sugar
For the filling:
1 clove garlic, finely chopped
¼ teaspoon dried thyme, plus more for garnish
1 tablespoon olive oil, plus more for brushing
½ cup chopped Kalamata or Spanish olives, plus more for garnish
¼ cup pine nuts, toasted
3 Medjool dates, pitted and finely chopped
1 teaspoon red wine vinegar
⅛ teaspoon salt
1 teaspoon flour
What You Do:
1. Preheat oven to 400 degrees. Line a cookie sheet with parchment or a Silpat liner. Set aside. In a large bowl, mix together margarine, sour cream, and cream cheese. Add both flours, sea salt, baking powder, and sugar.  Whisk until smooth, about 3 minutes. Be careful not to over-mix.
2. For the filling, in a separate bowl, combine all filling ingredients. Stir to combine and set aside.
3. On a lightly floured surface, roll half the dough into 2-inch circles, 1/4-inch thick. With a biscuit cutter or rim of a glass, cut out circular shapes.
4. Onto each round, place 1 to 2 tablespoons of filling and fold over edge into a half circle shape. With a fork, press to seal around edges of dough. Repeat for all. Brush with a small amount of oil before baking.
5. Place the empanadas on baking sheet. Bake for about 18 to 20 minutes or until golden. Garnish with thyme and olives.
JUST LAUNCHED! Get our 10 Easy Vegan Summer Meals recipe book as a FREE instant download.
JUST LAUNCHED! Get our 10 Easy Vegan Summer Meals recipe book as a FREE instant download.