Travel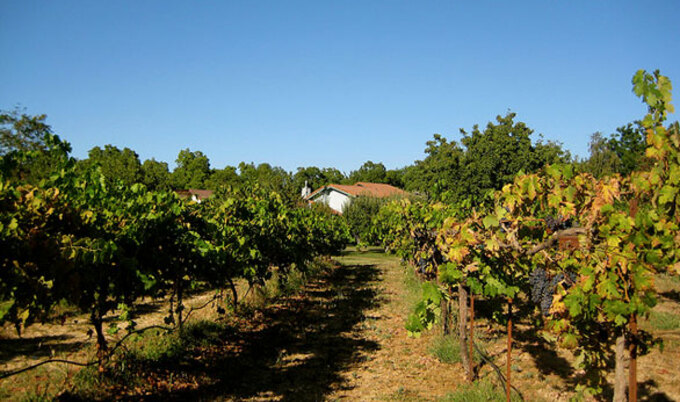 Sustainable Communities Doing Eco-Friendly Right
Explore eco-friendly communities around the country, where energy-efficient homes meet natural landscapes.
---
All four of these sustainable communities were designed with conservation in mind, highlighting the best of their natural settings and climates, promoting pedestrian and bike traffic, and offering plenty of veg-friendly sights and bites nearby. Wander through large green fields, preserved forests, or desert landscape and learn about creative, compassionate living from neighborhoods that actively participate in saving the environment.
Davis, California
On the west side of Davis, Calif., you'll find a small residential neighborhood of solar-powered homes, pedestrian and bike paths weaving through gardens, a community pool, small vineyards, and plots of vegetables, fruits, and flowers. You can even pick the seasonal fruits right off the branches (just pay attention to signs for private trees!). This oasis nestled in one of the bike-friendliest towns in the country is called Village Homes. Open to everyone, it offers large green lawns where you'll find dogs playing catch and kids playing mini-football games. After trekking through this sustainable neighborhood, fill your stomach with delicious food just a quick drive (or bike ride) away. Grab a Curry Tofu sandwich from Delta of Venus, stop by Mishka's Café for a soy latte, and finish off with a cupcake from Let Them Eat Cake. Plan a visit in early May when the city celebrates its Whole Earth Festival, full of veg-friendly vendors and food options.
Grayslake, Illinois
A beautifully planned conservation community, Prairie Crossing has it all—gazebo concerts, farmers' markets, beach cookouts during the summer, and more. The site is linked by trails to the Liberty Prairie Reserve, a 3,200-acre area of protected land inhabited by 14 threatened and endangered species. Explore the area by foot or bike; trails go through wetlands, forests, and tallgrass prairies alike. The community is also centered around a 90-acre farm, where organic produce is grown year round, providing vegetables, fruits, and flowers each season. Also included is the Prairie Crossing Learning Farm, which is open daily for visits. Get a bite to eat at the weekly Friday Farm Market to purchase the community's produce from Sandhill Organics, along with several other organic vendors.
Chesterton, Indiana
Located near the southern shores of Lake Michigan is Coffee Creek Center, a neighborhood continuously recognized as one of the best places to live. Planned around an ecological reserve that runs through the middle of the community, the homes blend city and country living. All of the buildings use only energy-efficient materials, and follow the Environmental Protection Agency's Energy Star guidelines. Pedestrian and bike trails also weave throughout the community, so it's easy to take a relaxing walk or ride alongside the creek, through maple forests filled with wildflowers, and around prairie land. Visit the Village Green, where stores and eateries blend into the scene. For veg-friendly clothing and accessory options, check out Glad Rags, and after you're done modeling new outfits, grab a black-bean burger from Octave Grill a short drive away.
Tucson, Arizona
For a different scene of conservation, visit Civano, a community developed to embrace its desert landscape. You won't see front yards with lawns here—instead mesquite trees, various cacti, and other tall desert plants surround the homes. Evidence of sustainability is everywhere, from two solar-powered community pools to public greens irrigated with recycled water. Many of the houses are also made with energy efficiency in mind, using materials such as adobe, rammed earth, and straw bales. Using only half the water than other Tucson neighborhoods, Civano succeeds at conserving. While taking in the unique surrounding, stop in Sue Becque Fine Art for eco-friendly jewelry, cards, and art, or visit the Farmers' and Artisans Market, which occurs every Sunday. For a delicious, budget- and veg-friendly eat, drive over to Tucson for lunch at Lovin' Spoonfuls.
From coast-to-coast these beautiful and inspiring communities will have you thinking twice about where and how you live.
Want more of today's best plant-based news, recipes, and lifestyle?
Get our award-winning magazine!
Subscribe