News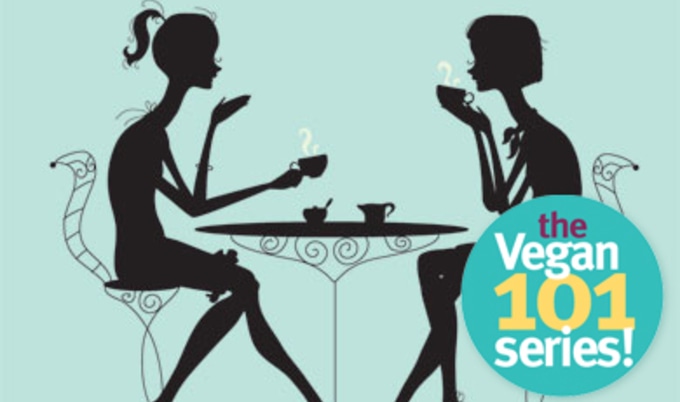 Vegan 101: Social Situations
Our final installment of the Vegan 101 series gives you the how-to for living vegan out in the world.
May 1, 2011
---
How do you deal with being vegan in day-to-day life? Here are some tips for handling social situations from talking to non-vegans about veganism to finding great veg role models.
Letting People Know What's Up
Deciding to go vegan is an excellent first step toward a compassionate lifestyle, but let's not forget the second, and just as important, step: Coming out as vegan to friends, family, and the world. Keeping a secret like that is hard when eating food is a more than a daily occurrence. If your loved ones are already veg, then great—it's time for celebration! But most likely, those close to you are also close to their meat, and letting them know you're cutting out all animal products from your diet and life can be like extraditing yourself from them. Approach the topic with a positive attitude (see below for tips on manners), and it will likely be reflected back at you.
Mind Your Manners
Being a polite vegan can be tough when people are eating meat in front of you or believe bacon is their right. Remember that you're vegan/vegetarian for so many great reasons, but also keep in mind that others might not share the same opinions, or might not have the same background. Being able to recognize that people can make their own choices will make eating with your non-veg friends a more pleasant experience. Instead of force feeding them condescending lines like, "You're killing the environment, your health, and sentient beings by eating meat!," try offering suggestions and interesting, though not stifling facts, like "Did you know that eating a more vegetarian-based diet might lower your chances of heart disease and diabetes?" Veganism is all about compassion, and being compassionate to those who have not yet embraced the lifestyle is key.
Handling Restaurant Woes
When you're not dining at an all-vegan establishment, ordering vegan food can be more complicated than solving a calculus problem (especially if you're a math wiz). First off, assume that the wait-staff does not fully understand what vegan is, and have a condensed explanation ready at hand. "No animals and nothing that comes from them, including milk, butter, and eggs," is a good starter. Make sure to read the menu carefully as well. That pasta with marinara sauce? It might come with shavings of parmesan on top. When it comes to fried food, always ask what the food is fried in, especially in more mainstream restaurants. Check out all the vegan smart-phone apps that will also help you know what's OK to get at fast food joints. The popular blog Vegansaurus.com also has a useful (and funny) guide to ordering food.
Veg Dating <3
When it comes to vegan dating, there are all sorts of logistics to figure out. How do you pick up a vegan? Do vegans only date other vegans? What are some great date ideas? Are there any veg-specific dating sites? Well, VN has the answers. We've compiled our top 10 pick-lines, excellent veg dating sites, and love stories that will have you crying with joy (and jealousy). Need ideas for veg-friendly activities to do with your special someone? Check out our vegan Valentine's ideas, and make any day one for love. And don't forget the plant-based aphrodisiacs to spice it up!
Activism Now
Take your veganism to the next level by getting active in veg-communities, at your local shelter, or for larger nonprofits such as Humane Society of the United States (HSUS), Mercy for Animals (MFA), People for the Ethical Treatment of Animals (PETA), Compassion Over Killing (COK), and Physicians Committee for Responsible Medicine (PCRM). Not sure where to start? Take a look at our 2011 Activism Resolutions for inspiration. Whether you're volunteering, hosting a bakesale, or reading up on the latest vegan news, being an active part in the community will help not only those in need, but will have you even more strongly connected to the lifestyle.
Super Vegans
There's a vegan role model out there for everybody, whether you're an aspiring chef, animal activist, environmentalist, writer, or other. Notables include Wayne Pacelle, president of HSUS, who now adds "best-selling author" to his list of accomplishments. Isa Chandra Moskowitz, Terry Hope Romero, Tal Ronnen, Hannah Kaminsky, and Robin Robertson are all talented vegan cookbook authors who know how to whip (and write) up a great meal. Need some uplifting words for inspiration? Look no further than those penned by Melisser Elliot, Kris Carr, or Kathy Freston. If you're searching for vegans who share their lifestyle through more mainstream channels, it's hard to deny that Ellen DeGeneres, Russell Simmons, Biz Stone, Lisa Bloom, and Alicia Silverstone are some of the most admirable. Search around, because many vegans are worthy of role model status.
Go-To Resources
For up to date news on animal-rights work, HSUS, MFA, COK, and PETA all maintain great websites and news channels. Vegan blogs are also a great place to figure out what to prepare for dinner, where to get stylish vegan shoes, or various happenings pertaining to the veg world. A few of our favorites include Ecorazzi, Post Punk Kitchen, and Our Hen House. If you're looking for events where you can meet other vegans, take a look at our VegEvents guide. VegJobs is also perfect for those in the market for a vegan-friendly career.
Want to know even more about the vegan lifestyle? Check out the rest of the VegNews Vegan 101 Series here.

Want more of today's best plant-based news, recipes, and lifestyle?
Get our award-winning magazine!
Subscribe