Food + Recipes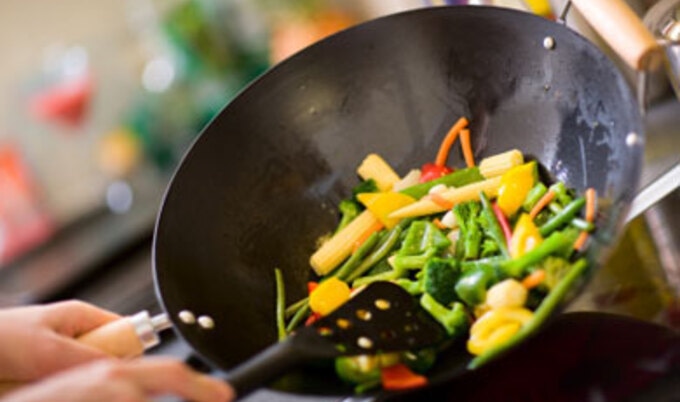 Q & A with Vegan Chefs
Get inside the heads—and kitchens—of three stellar veg chefs from across the US.
---
Ever wanted to take a glimpse into the pantries of your favorite veg chefs? Knowing what to have on-hand can be the difference between a gourmet dinner and bowl of cereal. Take a tip from these all-star chefs, and even on your most hectic weeknight you'll be able to pull together a satisfying meal.
Fran Costigan
Instructor at The Natural Gourmet Institute, NYC
"I have a tiny apartment in New York City, so if I can do it, anybody can," says Costigan. This baking queen hates to start cooking only to realize she is out of something, so she keeps a variety of vegan baking materials in her pantry, including the best organic and natural flours, chocolate and cocoa, expeller pressed oils, and sweeteners. But that's just the beginning of the story—Costigan works her pantry like a well-oiled machine. Beyond the basics, she even keeps cake layers, ganache, truffles, and cake crumbs in the freezer for last-minute desserts, and makes sure to have granola and spiced nuts on hand. Sometimes Costigan is just too tired to work that hard, but never resorts to junk. "When I am really slammed, I plug in my blender and make a smoothie—frozen fruit, soy or rice milk or tofu, nut butter or nuts, and maybe some sweetener."
Ann Gentry
Founder, Real Food Daily, Los Angeles
"For years, my husband and I came home to empty cupboards because we ate at the restaurant, but now that I have kids, I have to have food in the house. Kids are particular; they won't eat leftovers. Something inside them knows that fresh equals quality." Gentry keeps Earth Balance spread, coconut oil, agave, Vegenaise, and mustard, and even a few pre-made sauces like teriyaki on hand. She checks her pantry at least once a month and replaces grains and beans, and shops often at the farmers' market. "I can put quinoa, couscous, or millet on to cook, then steam, sauté, or roast vegetables, make salad, and then go back and make a quick plant protein, like tempeh with tamari, ginger, miso, or mirin, all in about 45 minutes. I can be in a funky mood and go into the kitchen and it will change."
Eric Tucker
Chef/Co-owner, Millennium Restaurant, San Francisco
Poke your head inside Tucker's pantry and you'll see staples like curry pastes from Thailand and India and cans of coconut milk. To create interesting, tasty meals in a pinch, he suggests learning the fundamentals of various cultures' cuisines. "How they season, cooking techniques, etc. Then you've got a base of culinary knowledge you can pull from for quick, satisfying meals." This renowned chef says preparing food is more than just a means to an end: "Cooking is immediately gratifying. You can feel the effects of what you put into your body immediately. When you cook for someone, it is the easiest and most immediate way to show that you care about them—or don't care, if you feed them junk."
Want more of today's best plant-based news, recipes, and lifestyle?
Get our award-winning magazine!
Subscribe