Food + Recipes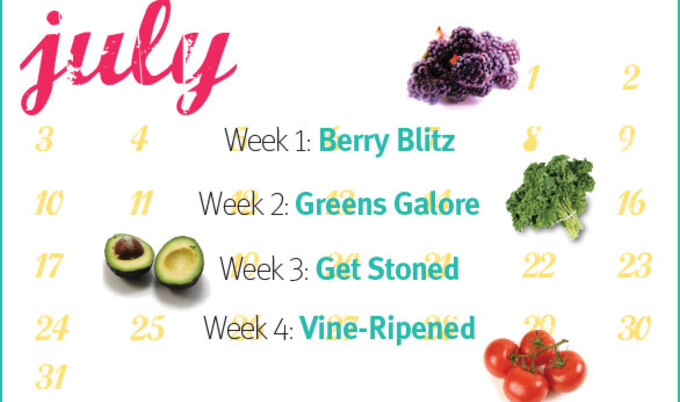 Simple Vegan Summer Recipes
Take advantage of peak summer produce with our month-long guide to fresh, warm-weather meals.
---
It's officially summer, and that means a few things. Farmers' markets all over the country are bursting with fresh, delicious produce at its peak. It also means that the days are long and hot, there are parties, barbecues, and holidays to celebrate, and the very last thing anyone wants to do is get stuck in the kitchen for hours on end. To make the most of short time and abundant, glorious produce, our staff created this month-long guide to simple summer recipes. Each week, we'll add another layer of deliciousness by focusing on a new group of fruits and veggies and featuring one easy, tasty recipe per day. From gobs of greens to the perfect peach, there's something new and yummy to be made every day. Here's to the best season of the year, and the healthiest, most delicious month ever!
Week 1: Berry Blitz
It's July, which means bountiful baskets of berries abound at the farmers' market, so fresh and juicy that not incorporating them into your daily meals should be punishable by law. Berries not only add pops of bright flavor to any dish, they're also high in antioxidants, meaning they're not only good but also good for you. Whether you visit a roadside stand or pick your own at a farm, try one of these summer-friendly, berry-filled recipes today!
Monday: Raw Berry Pie
Tuesday:
Avocado Salad with Raspberry Dressing
Wednesday:
Strawberry-Ricotta French Toast with Strawberry-Rhubarb Syrup
Thursday: Raspberry Mango Smoothie
Friday: Seasonal Berry Cobbler with Vanilla Bean Whipped Crème

Week 2: Greens Galore
When the mercury rises, our bodies seem to crave the freshness and nourishment of summertime produce. After a swim in the ocean or a bike ride through the park, we want smoothies and salads—not soups and stews. And few vegetables are more nutrient-dense and antioxidant-rich than dark, leafy greens such as kale (a VegNews staff favorite), spinach, Swiss chard, and collards. The challenge comes with the preparation, as most people wouldn't know Lacinato from Russian kale, let alone how to prepare it. With the five following recipes, you'll become as hopelessly addicted to greens as everyone on the VN staff is.

Monday:
Crunchy Kale Chips
Tuesday: Marinated Kale Salad
Wednesday: Rainbow Chard with Figs
Thursday: Raw Spinach Thyme Soup
Friday: Sunrise Smoothie with Collard Greens

Week 3: Get Stoned
Stone fruit, that is! Summer's stonefruit crop is why people write love songs. Peaches, nectarines, apricots, plums, pluots, cherries, and, yes, even avocadoes are everywhere this time of year. Juicy peaches hang lazily off tree branches, pert plums perch on windowsills, and fuzzy apricots are just waiting to be made into jam. Oh, and then there's the guacamole to be made with the ample avocadoes. Whatever your pleasure with stone fruit, we've drummed up a few utterly fantastic recipes that will leave you high—on healthy, nourishing food, of course.
Monday: Grilled Tempeh Skewers with Nectarines
Tuesday: Peach and Blackberry Parfait
Wednesday: Plum Salsa
Thursday: Peach Crisp
Friday: Ginger White Peach Bellinis
Week 4: Vine Ripened
In July, you can taste the warmth of sunshine in a just-picked, perfectly plump tomato and the earthy heartiness in a firm, vibrant zucchini. Whether you prefer sweet or snap, fresh peas are abundant this time of year, perfect for salads, easy soups, and more. If you haven't been a busy gardener this year, don't fret—your local farmers' market is the next best thing to picking these versatile veggies right off the vine.
Monday: Marinated Tomatoes
Tuesday: Spicy Peanut Green Beans
Wednesday: Eggplant & Zucchini Chips
Thursday: Garden-Fresh Ratatouille
Friday: Grilled Eggplant with Sesame Mint Sauce

Please support independent vegan media and get the very best in news, recipes, travel, beauty, products, and more.
Subscribe now to the world's #1 plant-based magazine!
Subscribe