Travel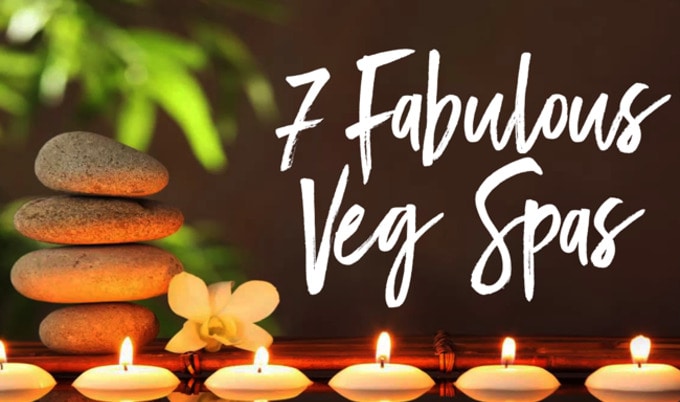 7 Veg-Friendly Spas (and Why We Need Them!)
Taking the time to treat yourself to a spa day—or week—is as important as getting your eight hours.
---
Health retreats have come a long way from the cornflakes-and-enema sanitoriums established by the likes of Dr. Kellogg and the Kloss family in the early 20th century. For the increasing numbers of people suffering from chronic stress, this is great news. The very definition of stress hints at its ability to cause illness, and the laundry list of symptoms is nothing to sniff at. It can kick-start migraines, activate high blood pressure, ignite ulcers, and even spawn irritable bowel syndrome. It's a wickedly clever malady in that it actually creates other ailments, aided and abetted by everyday calls-to-duty in our fast-paced, overextended—and sometimes overindulgent—21st century lives.
"The epidemic of chronic stress seems relatively new," says Elissa Epel, PhD, an assistant professor of health psychology and stress researcher at the University of California, San Francisco. "But stressors are embedded into our modern lifestyles. For most of us, we work longer hours, and have fewer hours to be with others and help others." She says that this stress-induced disconnect has even contributed to the obesity epidemic. "We have fewer hours to be active, which counters the stress response. Fewer minutes to shop and prepare meals, so we eat heavily processed food that we can eat on the go," says Epel. "More stress hormones, more calories in, less calories out."
Epel says social connection and feeling compassion for others are important counters to stress, but if we can't find the time to socialize with friends and family, it isn't very likely we're going to find time to haul our fatigued bodies to the gym for therapeutic exercise sessions. For workaholic basket cases, setting aside a week—or two or even three—to unwind and rejuvenate mentally, physically, and spiritually is just what the doctor ordered.
Finding the perfect place to unwind shouldn't cause you more stress than it relieves. Here are some tried-and-true veg-friendly getaways:
Hippocrates Health Institute
West Palm Beach, Fla.
Price per week: $2,400-$6,350 (includes 2 meals daily, fresh juice 3 times daily, and some amenities)
Cuisine: Organic, raw, vegan
Ambience: Casual, charming
Amenities: Individual health consultations, skin and bodywork treatments, colonics, fitness classes, sauna, ozonated whirlpool, sea salt pond
Optimum Health Institute
San Diego, Calif., and Austin, Texas
Price per week: $755-$3,315 (all inclusive)
Cuisine: Organic, live, raw, vegetarian
Ambience: Upscale
Amenities: Food-preparation classes, prayer, organic gardening, fasting
Rancho La Puerta
Tecate, Mexico
Price per week: $2,795-$4,380 (all inclusive)
Cuisine: Organic, mostly vegetarian
Ambience: Upscale
Amenities: Group hikes, yoga, cooking classes, full-service spa, organic gardens, evening workshops
Tanglewood Wellness Center
Correos Bejuco, Entrenga, Panama
Price per week: $900-$2,505 (all inclusive)
Cuisine: Organic, living, vegan
Ambience: Natural and organic
Amenities: Nutrition and wellness counseling, reiki, living-foods workshop, supervised fasting
The Farm At San Benito
Lipa City, Batangas, Philippines
Price per week: $717-$5,490 (includes breakfast and some amenities)
Cuisine: Buffet-style raw, vegan
Ambience: Upscale and secluded
Amenities: Massage, lymphatic drainage, reflexology, aromatherapy, facials, yoga, tai chi, chi gong, zen meditation, vegan
Tierras Enamoradas
San Lorenzo, Costa Rica
Price per week: $432-$508 (includes one meal daily and some amenities)
Cuisine: Vegetarian, vegan
Ambience: Casual, pet-friendly
Amenities: Pool, Jacuzzi, horseback riding, rafting, hiking, restaurant
Tree of Life
Patagonia, Ariz.
Price per week: $1,410-$2,054 (all inclusive)
Cuisine: Buffet-style organic, live, vegan
Ambience: Minimalist
Amenities: Sunset fire ceremonies, evening meditations, spiritual gardening, food preparation classes, hot tubs
Please support independent vegan media and get the very best in news, recipes, travel, beauty, products, and more.
Subscribe now to the world's #1 plant-based magazine!
Subscribe
Give a Gift