Food + Recipes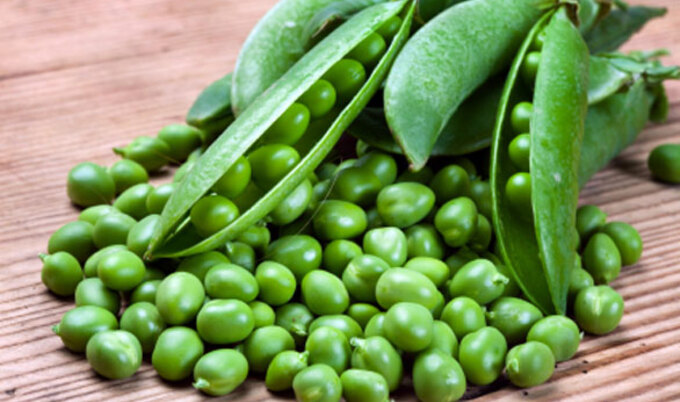 5 Simple Diet Swaps
As the new year gets going, it's time to revamp winter menus with simple, healthy substitutions that don't skimp on flavor.
---
For many of us, the holidays are a time to bust out our most-treasured recipes, transform our homes into cookie factories, and indulge in the year's most decadent desserts. These time-honored traditions make the long, cold winter nights infinitely more bearable (and delicious!), but come January—after each of the day's six meals has been served with a glass of Champagne and a side of chocolate—it's time to clean house. Sugar, vegan margarine, and soy nog might have been their own food groups for the last two months, but the times they are a changin'. By using a few simple swaps in the kitchen, it's possible to create truly satisfying meals that pack tons of nutrition without resorting to eating miso soup every night of the week. Here are our top five simple kitchen substitutions to help get your year off to a healthy, delicious start.

Peas, Please!
If you're like us, frozen peas are typically used more frequently in your home for icing injuries than they are for actual cooking. But beyond busting bruises, these simple, inexpensive staples make excellent sneaky additions. For extra-nutritious pesto, add 1 cup of frozen peas to your favorite recipe, and reduce the amount of oil you use. Instead of loading your morning smoothie with avocado, try a combination of frozen peas and apple juice to reap the green smoothie benefits without the luscious avocado fat.

Calling All Cauliflower
You've probably already tried swapping out mashed potatoes with steamed cauliflower for a different take on the cold-weather favorite, but the cruciferous star's reach doesn't stop there. Instead of seitan cutlets, try slicing cauliflower like you would a loaf of bread, then either baking or sautéing cauliflower steaks for a toothsome main course. These make a perfect vehicle for your favorite savory sauce.

Go Bananas
There's a reason that bananas have been used in vegan baking for as long baking's been around—they're basically perfect. Doing double duty by replacing eggs and adding a nutritious boost to baked goods, bananas are tried-and-true staples in a vegan baker's kitchen. For other applications, frozen bananas come in handy in myriad recipes. Sub them for ice in smoothies for added fiber, or process them until smooth in a food processor and use the resulting magical substance instead of yogurt in parfaits, instead of agave nectar on top of oatmeal, or enjoy straight up in place of your nightly soy ice cream!

Chia, Comin' Atcha
We can't deny it anymore. Chia seeds are everywhere, and—gulp—we're into them. At first we were skeptical of the tiny seeds that transform into a tapioca-like pudding when wet, but we've been convinced of their culinary competence. Chia pudding (like these from VN columnist Gena Hamshaw) couldn't be easier to make, is endlessly customizable, and offers a generous dose of omega-3s. Try it instead of your standard oatmeal in the morning or add seeds to smoothies, soy yogurt, or baked goods to up your intake of protein, omega-3s, and antioxidants. To channel your inner chia spy, mix ground seeds with water to create a stellar, cholesterol-free egg substitute for baking.
Pile on Potatoes
Usually, white potatoes get lumped onto the lists of "foods to avoid." Served straight up, sweet potatoes certainly offer more vitamins than their paler counterparts, but we're not talking about simply taking fork to spud here. When steamed and blended, white potatoes, especially Yukon gold, create a base for soups, sauces, and casseroles that's nutritionally superior to cups of coconut milk and mounds of vegan margarine, plus the taste is downright dairy-like. Test out this tasty theory in Mac 'n' Cheese.
Want more of today's best plant-based news, recipes, and lifestyle?
Get our award-winning magazine!
Subscribe