News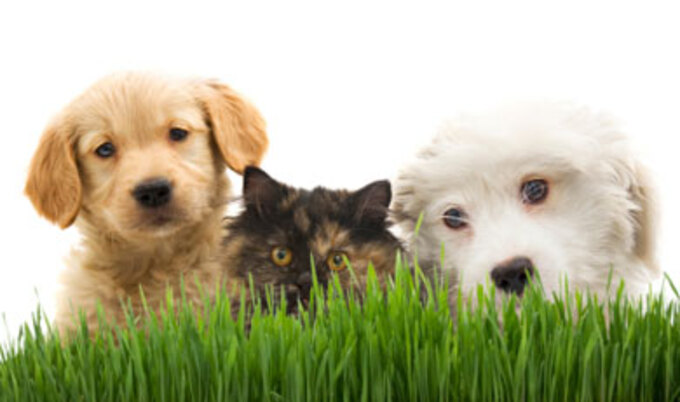 7 Spectacular Ways to Make a Difference for Animals
Celebrate Make a Difference Day by helping out some critters.
October 23, 2012
---
October 27 marks Make a Difference Day, a designated day that welcomes all gestures of kindness and philanthropic effort. There's no bad way to make a difference—soup kitchens, volunteering, or tutoring kids after school—but this year, we want to focus on our furry and feathered friends. We fall in love with our tail-wagging best friends, but what about the other voiceless animals that want to feel as much love as the family pooch? Here are seven great ways to improve the lives of animals ranging from homeless cats to circus elephants that will only take a little of your October 27.
1. Play online games. You heard me right! Justin Bieber and Ellen DeGeneres have recently backed the beyond brilliant game Joy Kingdom, which allows people to play a Facebook-based game while helping out real animals. Every time you earn "joy," Sojo Studios (the gaming company behind Joy Kingdom) will contribute to The Humane Society of the United States, Best Friends Animal Society, and Farm Sanctuary, thanks to DeGeneres and Bieber's support. Joy Kingdom is taking multi-tasking (and being charitable) to a new dimension.
2. Got a friend's birthday coming up? Or want to get a jumpstart on your holiday shopping? Maybe you just want to treat yourself to a little something-something. Check out leather-free luxury retailer Matt and Nat to outfit your winter-weather wardrobe. Japanese Paper Damon bag in cognac? Yes, please. With a 100-percent recycled nylon lining and the most affordable high-end vegan leather around, you cannot go wrong. Opting for faux-leather instead of animal hide makes your fashion sense kinder and free from animal-cruelty.
3. Peruse change.org and see how many petitions you can find to sign that stand for a great cause. Currently, ilovedogs.com writer Laura Goldman is putting together thousands of John Hancock's to release a sick and elderly elephant, Sarah, from the Ringling Brothers Circus. So far, Goldman has garnered more than 14,000 supporters and you could be the one that helps this petition meet its 25,000-signature goal. Animal-welfare group Mercy For Animals is also asking change.org visitors to back its petition against Burger King to stop torturing dairy cows at its supplier's farm, Bettencourt Dairies.
4. Swap your ultra extravagant dinner out on the town with a donation to the charity of your choice. We're really loving all of the work that The Vampire Diaries actor Ian Somerhalder is doing for his namesake charity and animal-rescue, The Ian Somerhalder Foundation, for all it is doing for the animals, youth, and environment. The animal-friendly actor's foundation aims to empower the youth overcoming behavioral problems through interspecies interaction as well as help animals that have been mistreated, abandoned, and abused.
5. Find a local shelter and volunteer in whatever department bests suits your skills. Help all of the forgotten kitties and pups, not to mention all of the other shelter creatures, and make their day brighter. Note: If you just so happen to fall in love with one of the animals and end up adopting, don't blame us. We're just going to say we-told-you-so right now.
6. Visit an animal sanctuary. Lucky for these animals, they have already been rescued from slaughterhouses and abuse, but that doesn't mean they don't need more affection from visitors. Plus, on most sanctuaries' websites, you can search for volunteer and intern opportunities.
7. Last but not least, encourage your friends to go vegan for a day (or more!). Also, if you have not made the meat- and dairy-free commitment yet, now is the best time to do it. Meat-free days don't only belong on Mondays—going vegan on Make a Difference Day will help you live up to the national holiday's name in more ways than one. Already eating plant-based? Take your love for animals beyond the plate by making sure to update your makeup and skincare products so that they are vegan-friendly, too.
Extend your generosity and open your heart to the animals that can't ask for help but need it so immensely. It's easy to make a difference for animals today and every day!
Want more of today's best plant-based news, recipes, and lifestyle?
Get our award-winning magazine!
Subscribe