News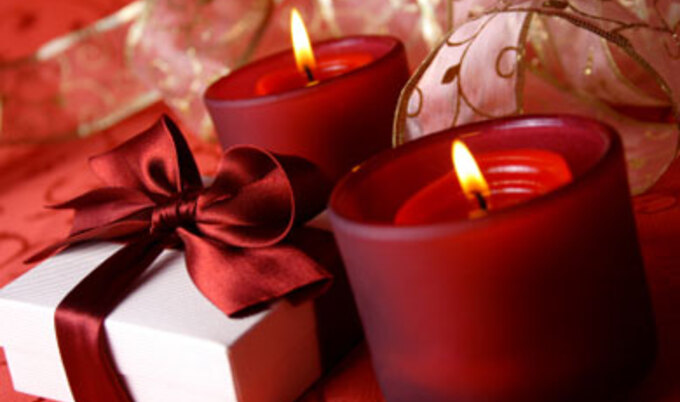 25 Fabulous Gifts Under $25
Are you not a Scrooge, but also not into splurging? Check out this handy list of cruelty-free, wallet-friendly gifts for everyone on your list.
December 17, 2012
---
Gift shopping can be overwhelming—long lines, icy wind, and too many people on your shopping list to remember. Last week, VegNews.com published an article on the perfect presents for penny pinchers to big spenders, and now it's time to follow it up with a list of the 25 best gifts to buy under $25. These thrifty-gifties and knick-knacks can serve as wow-worthy stocking stuffers, Secret Santa surprises, and low-key presents to friends and family.
1. The Peaceable Forest by Kosa Ely is a beautifully designed and written children's book for animal-loving tots. But be prepared: this nighttime story will pull on your heartstrings, but only in a good way! This book advocates for peace and a gentle way of living—a great way to instill good ethics in the leaders of the future. ($14.06)
2. Eco-friendly jewelry is not hard to find thanks to online retailers like Etsy. Starlight Woods makes fashionable and trendy jewels that are handmade from materials such as fallen tree branches—these re-purposed black and white chevron-patterned studs are made from just exactly that! ($19.50)
3. Obsessive Confection Disorder does many things right, but one of its best inventions is ooey-gooey caramels. One of our favorites is the Vanilla Bean Sea Salt Caramel Bars. These sweet and salty bites of goodness have spot-on taste and are made from high-quality ingredients. ($10)
4. Vegan health and wellness guru Kris Carr has done it again with her latest tome, Crazy Sexy Kitchen. This book offers 150 nutritious and delicious recipes for every sort of cook. If you know someone in need of a lifestyle makeover, Kris Carr is here to help! ($19.42)
5. An alarm clock powered by H20? It is true. This Bedol Water Clock will help save money on your loved one's electric bill, not to mention save some pollution. The modern look of the clock will go with any bedroom, and also serves as a last-resort water bottle (kidding). ($19)
6. Etsy-based BlackRabbet makes a gorgeous reclaimed pine photo frame that any nostalgic friend or family member would cherish. The framemaker is donating half of all profits from December 1 to 24 to Atlanta Toys for Tots to top it all off. You're gift giving twice with this purchase. Boom. ($25)
7. This is glittery gold star bobby pin is perfect for the glamour-obsessed girl in the house. Its retailer—Catbird NYC—says it's "Guaranteed to make you feel fancy whenever it's pinned to your hair," and we have to agree. The festive pin is made from real glass with a silver lining. ($18)
8. Running out of ideas for your special someone? Does he or she love beer? If so, buy a pack of their favorite cruelty-free beer and wrap the bottles up in newspaper to fill up his Christmas stocking. Check out VegNews' Guide to Vegan Beer to help find the perfect lager or pale ale.
9. Sometimes the perfect present is one no one is expecting. With a stainless steel straw like the one from reuseit.com, you will give just that—and the recipient of this environmentally friendly item will love how sustainable it is. Now if they could only make a crazy straw in sterling silver…. ($9.95)
10. Hurraw!'s organic, vegan, and raw coconut oil-based lip balm is a hit with the VN staff. We recommend the Earl Grey flavor, since it one-ups conventional cherry flavors with lip-smacking sophistication. Plus, who wouldn't want to have kissable lips that taste like afternoon tea? ($3.79)
11. Give your little one a biodegradable lunchbox to tote to school and make all of the other kids in the cafeteria want to be just as eco-friendly. This adorable apple-shaped sandwich carrier by Boskop is made in Germany and comes in fuji red and granny smith green. ($15)
12. If you're trying to lay low on the holiday shopping this year, donate to an animal-welfare and refuge organization such as Farm Sanctuary. Even a $20 donation is greatly appreciated and will be used to make a once-abused farm animal feel healthy and loved.
13. If you know a girly girl into self-manis and pedis, polish by Ginger + Liz will definitely win her over. The soft violet shade called I'm So Over Him is fast drying, chip-resistant, vegan, and toxin-free. No formaldehyde in this glossy bottle! ($12)
14. We recommend taste-testing everything from Allison's Gourmet's online store, but the company's Classic Almond Toffee is one masterful confection we highly recommend. This dairy-free organic delight is as buttery smooth as your grandmother's homemade toffee batch but with added crunchy almonds. ($15)
15. A pair of simple yet sparkly studs is a timeless present. And an affordable pair that still look chic, high-quality, and receive rave-reviews like Anthropologie's Pave Posts (available in pink, black, moss, brown, clear, and lilac) is even better. These studs are little globes full of diamond lookalikes and pair nicely with any outfit. From casual jeans and sneakers to the classic little black dress, these posts will give you some additional glamour. ($24)
16. Do you know a guitar player who is always losing his picks? This Pick Punch from Uncommon Goods will let your favorite musician make a pick out of anything—even an expired license! There needn't be a reason to buy picks ever again when you can make one with this smart, handy contraption. ($25)
17. The reusable KeepCup will let you keep your venti dirty soy chai (that means an extra-large chai tea with soymilk and a shot of espresso if you don't speak Starbucks) toasty all day. Made out of all the safe stuff, even the packing for this latté holder is made from recycled paper and printed with soy inks. We recommend the middle-sized 12-ounce out of the 8- and 16-ounce variety, and we think Goldilocks would agree. ($14)
18. See #8, but this time it's all about the vegan chardonnays and sauvignon blancs!
19. Fancy tea is required for a fancy Christmas, don't you agree? Harney & Sons has an amazing seasonal blend including Holiday, which is melding of black tea, warm spices, and zesty citrus; as well as White Christmas, which combines light white tea with warm vanilla, and sweet almonds. Tea is essential to a well-rounded holiday; you might as well make it festive too! ($21)
20. The VN staff cannot get enough of Miyoko Schinner's gourmet and aged dairy-free nut cheeses. If you want to learn how to master the art of cheese-making, look no further than Schinner's book of secrets, Artisan Vegan Cheese. ($13.57)
21. Author Raleigh Briggs has thoughtfully created the ultimate how-to guide, Make Your Place, for all of the nesters looking to make their homes more sustainable and become DIY-savvy. If you want to give all of the tips for a green household to a homemaker in need, this book will be tremendously appreciated. Good-bye poisonous and toxic fumes; hello essential oils! ($9.95)
22. Another great stocking stuffer is all-natural By Nieves bath salt that allows for relaxation and rejuvenation after the crazy family-packed holidays. Made from healing Epsom and sea salt, as well as kelp, rosemary, lavender, and Virginia cedar, to soften and hydrate your skin from the cold and dry weather outside. A meditation CD wouldn't hurt to accompany this luxurious bath salt. ($18)
23. Infinity scarves trump regular scarves for their never-ending warmth, and an infinity scarf-company that donates a good portion of its profits to The Humane Society of the United States and National Brain Tumor Society makes it even better. Enter EcoShag's canary yellow cotton blend jersey scarf that is as cozy as it is stylish. Plus, infinity scarves can double up as hoods during any surprise snowstorms! ($24.50)
24. The Swedish company Happy Socks knows its foot apparel. Scandinavia is known for its colorful fashion, and these socks are no exception. The Stripe Half Sock is made from mostly cotton and boldly combines blue, pink, and yellow all in one. Just like mom always said, you can never have too many pairs of socks. Or some nugget of wisdom. ($12)
25. Does the man in your life take it shaken, not stirred? These whiskey stones by Polar Stones are handcrafted in Canada and allow for whiskey (or any other beverage) to stay cool without becoming watered down. Plus, the stones have been tumbled so they won't scratch your glasses or flake off in your Maker's Mark. ($20)
Now go and fill up every stocking and Dutch clog as if you were Kris Kringle himself!
Please support independent vegan media and get the very best in news, recipes, travel, beauty, products, and more.
Subscribe now to the world's #1 plant-based magazine!
Subscribe
Give a Gift