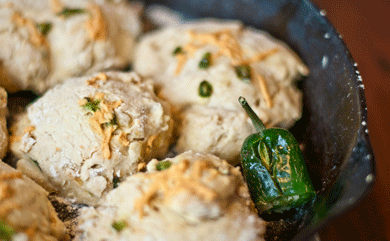 Add a little spice to your vegan spread with this kicked-up version of a classic.
December 2, 2012
What you need:
2 cups flour, plus extra
1 tablespoon baking powder
1-½ teaspoons salt
1 tablespoon nutritional yeast
⅓ cup cold vegan margarine
1 cup unsweetened, plain soymilk or almond milk
1 cup vegan cheddar cheese shreds, divided (Howell suggests Daiya)
1 tablespoon jalapeño pepper, diced, divided
1-¼ cups onion, small diced
What you do:
Preheat oven to 425 degrees. In a medium mixing bowl, combine flour, baking powder, salt, and nutritional yeast. Add margarine and combine with flour, using a fork. Add milk and mix with fork. The batter should be sticky to the touch.
Fold in 1/2 cup cheese, 1/2 tablespoon jalapeño, and onions and mix well. On a floured surface, sprinkle on remaining cheese and peppers. Place dough on the surface and roll until dough is covered on all sides by flour, cheese, and peppers.
Using hands, pull 2 to 4 ounce portions of dough (roughly the size of a deck of cards) and roll into a ball. Roll in flour, shaking off excess, and place on a nonstick cooking sheet. Bake for 13 to 15 minutes. Serve warm.