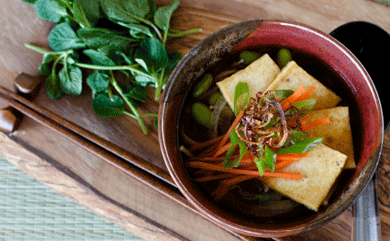 Tofu and rice noodles make this Asian-inspired soup a meal in itself, and a kick of hot sauce will keep you extra warm on cold winter nights.
February 5, 2012
Adjust the heat in this hearty noodle soup by adding more or less hot sauce. The fresh lime and ginger bring pops of flavor to this incredible pot.
Serves 4
What you need:
8 ounces rice noodles
1 tablespoon vegetable oil
1 yellow onion, halved lengthwise and thinly sliced
2 garlic cloves, minced
2 teaspoons grated fresh ginger
2 tablespoons hoisin sauce
2 tablespoons soy sauce
5 cups vegetable broth or water
3/4 cup seitan or extra-firm tofu, cut into 2-inch x 1/4-inch strips
2 tablespoons rice vinegar
2 teaspoons Asian hot sauce
3 scallions, minced
1 cup fresh bean sprouts
1 cup chopped fresh cilantro
What you do:
In a pot of boiling water, cook noodles until tender. Drain, rinse under cold water, and set aside.
In a large pot over medium-high heat, heat oil. Add onion, cover, and cook 5 minutes to soften. Stir in garlic and ginger and cook 30 seconds. Stir in hoisin sauce and soy sauce. Add broth and bring to a boil. Reduce heat to low and simmer 15 minutes.
Stir in seitan, reserved noodles, rice vinegar, and hot sauce, and simmer 5 minutes to heat through and develop the flavors. To serve, ladle into bowls and top each serving with scallions, bean sprouts, and cilantro. Serve hot.