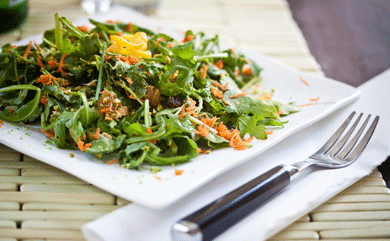 This salad is ridiculously easy, yet looks and tastes very complex.
March 11, 2012
The base of the dressing—a mixture of avocado, carrot, and hummus—takes this salad from bland to bold.
Serves 4
What you need:
For the dressing:
Juice and zest of 1 lime
2 tablespoons hummus
1/2 ripe avocado, mashed
1 tablespoon finely minced chives
1 medium carrot, finely shredded
1/8 teaspoon salt
Freshly ground black pepper, to taste
For the salad:
3 cups arugula
1/4 cup golden raisins
2 tablespoons crushed pistachios
What you do:
In a medium bowl, whisk together all dressing ingredients until smooth. Gently toss dressing with arugula.
Divide dressed arugula in bowls and top with raisins and pistachios.
Photo coutesy of Allyson Kramer