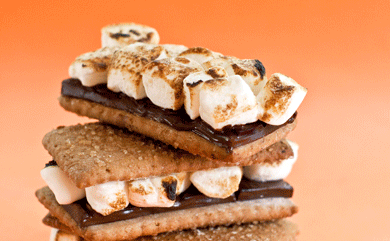 The world's most famous camping dessert gets the tropical treatment when vegan marshmallows, chocolate, and graham crackers are topped with grill-kissed strawberries and bananas.
April 29, 2012
My friends, the Great Outdoors just got a whole lot sweeter! Strawberries and bananas complement grilled s'mores for a unique and delicious dessert.
Makes 4 s'mores
What you need:
4 to 8 medium to large strawberries, whole
2 bananas, cut in half and then halved lengthwise
Canola oil, for brushing
4 vegan graham crackers, broken in half
4 thin squares vegan chocolate or vegan chocolate sauce
4 vegan marshmallows
What you do:
Heat the grill to medium. Lightly brush strawberries and bananas with oil. Using either a grilling screen or skewering over a naked grate, grill strawberries for 3 to 4 minutes, turning a few times until grill marks form; for the bananas, grill for 4 to 6 minutes until lightly darkened. Cut strawberries into slices and bananas into strips.
Using a long stick or barbecue fork, toast marshmallows over direct heat of grate until golden brown.
To assemble s'mores, start with graham cracker as base. Add a chocolate slice, marshmallow, strawberry slices, and banana strips, and top with other half of graham cracker.
Photo courtesy of Hannah Kaminsky