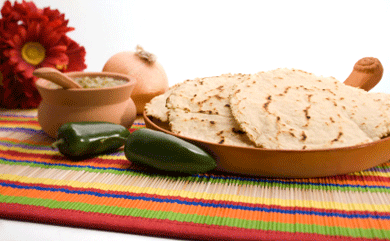 These crispy, crunchy chips are perfect for dips of all shades and flavors.
April 30, 2012
Dusted with nutritional yeast, salt, and spices, these customizable chips can't be found in your local grocery store.
Makes 48 chips
What you need:
12 corn tortillas cut into quarters
1/2 cup safflower oil
1 teaspoon salt
1 teaspoon chili powder
1 tablespoon nutritional yeast
1 teaspoon paprika
1 teaspoon chipotle powder
What you do:
In a medium skillet over medium-high heat, heat oil until hot and simmering. Place tortilla wedges so that they do not overlap and cook until browned. Flip and repeat on other side, then place chips in a paper towel-covered bowl. Dust chips with salt and herbs.
Chef's Tip: Test your first batch to see what texture you want to create. I like mine still slightly chewy so crispy with a hint of softness.