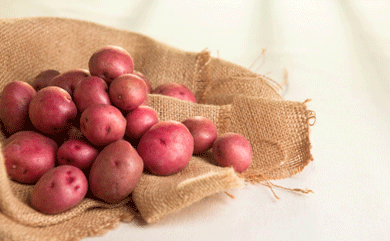 Take breakfast potatoes to another level with the addition of spicy, tangy vegan chorizo.
April 30, 2012
This hearty, warm dish can be served alongside a tofu scramble at brunch or all on its own.
Serves 4
What you need:
1/2 cup safflower oil, divided
2 red potatoes, diced large
1/2 cup medium-diced onions
1/2 teaspoon coriander
1 teaspoon dried basil
1/2 teaspoon ground cumin
1 teaspoon chili powder
1 6-ounce package vegan chorizo
Salt, to taste
What you do:
In a skillet over medium-high heat, heat 1/4 cup oil until hot and simmering. Add potatoes, cover, and cook until potatoes are soft, 7 to 10 minutes.
Add onions, coriander, basil, cumin, and chili powder. Reduce heat to medium-low and cook uncovered for 5 to 10 minutes or until potatoes are crispy.
While potatoes are cooking, in a small skillet over high heat, heat remaining oil until hot and simmering. Add chorizo, cook until heated through, and remove from heat. Fold into potato mixture and salt to taste. Serve immediately.