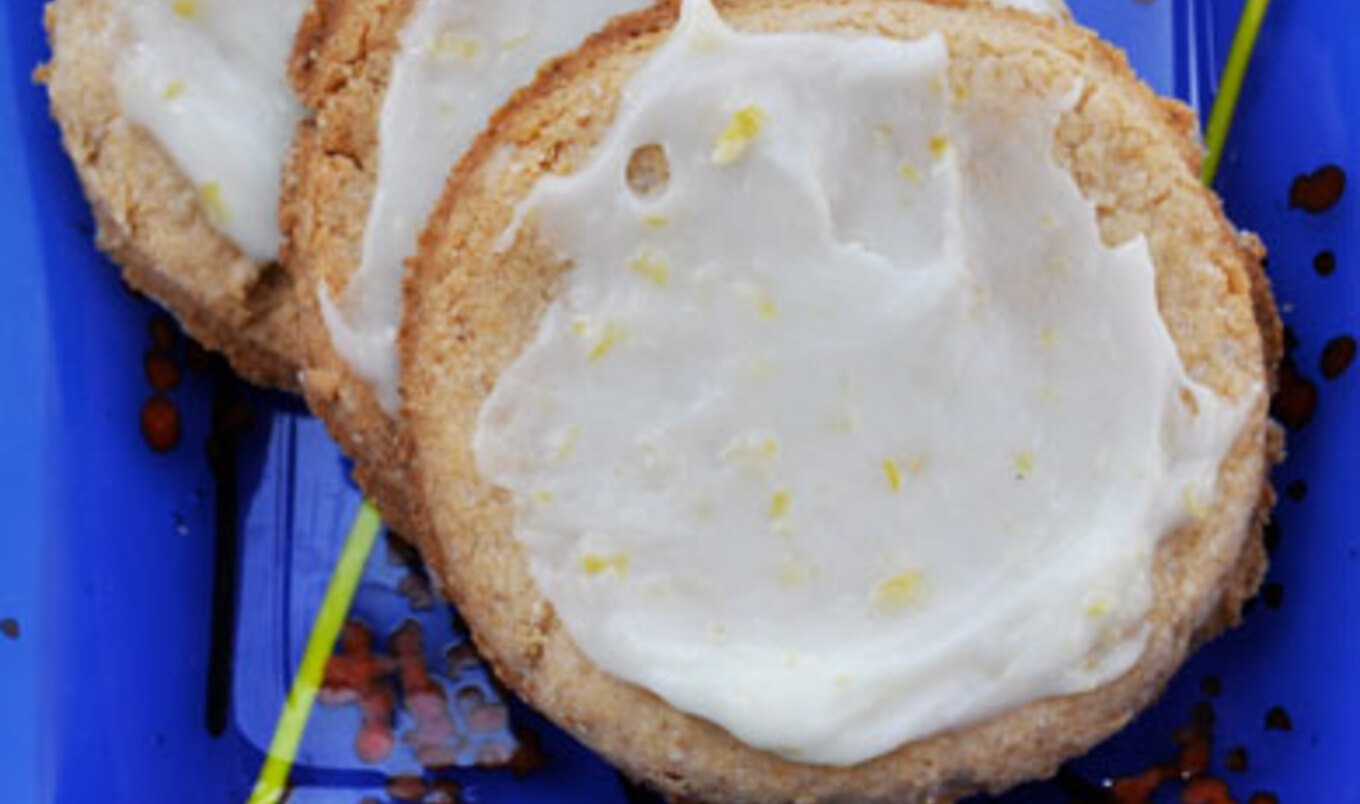 Whether it's a bakesale or potluck, everyone will clamor for these citrusy, allergy-free cookies.
May 27, 2012
Lemon adds a light citrusy flavor to balance the sweetness in this yummy, crowd-pleasing dessert.
Makes 36 cookies
What you need:
For the cookies:
1/2 cup coconut oil
1/2 cup sugar
1/4 cup applesauce
1-1/4 teaspoons baking powder, divided
1-1/2 cups gluten-free oat flour
1/2 cup coconut flour
1/4 teaspoon salt
2 tablespoons vanilla coconut yogurt
Zest of a 1/2 lemon
For the frosting:
1 tablespoon coconut oil
1 tablespoon vanilla-flavored coconut yogurt
Zest of a 1/2 lemon
1 cup powdered sugar
What you do:
For the cookies, in a large bowl, thoroughly combine coconut oil and sugar. In a separate bowl, combine applesauce with 1/4 teaspoon baking powder then add to coconut oil mixture.
In a medium bowl, whisk together oat flour, coconut flour, remaining baking powder, and salt. Slowly mix dry ingredients into wet, then mix in yogurt and lemon zest.
Shape dough into a disk, wrap in plastic wrap or store in a covered container, and refrigerate for at least an hour.
Preheat oven to 350 degrees and grease a cookie sheet. Dust work surface and rolling pin with oat flour. Roll dough out to 1/8-inch thick and cut with cookie cutters. Place On prepared baking sheet, place cookies and bake for 13 to 15 minutes or until golden. Cool completely before frosting.
For the frosting, in a food processor or bowl, combine coconut oil and yogurt. Add lemon zest and powdered sugar and blend until smooth.
Photo courtesy of Kim Lutz
Chef's Tip: Using coconut flour adds extra nutrition to these oat-flour cookies. If you don't need them to be gluten-free, you can substitute all-purpose flour for both flours if you prefer.