Food + Recipes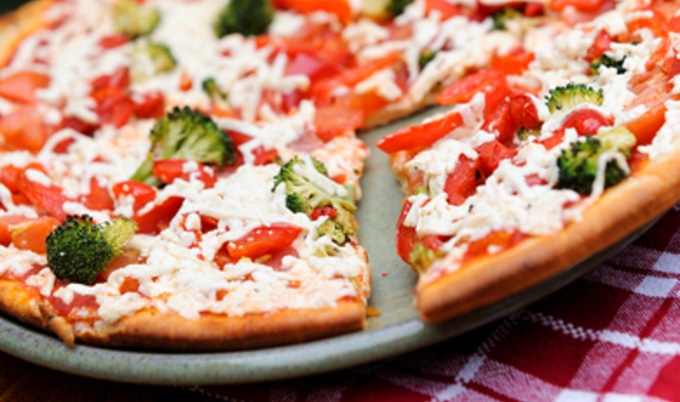 11 Places to Scarf a Slice on Vegan Pizza Day
That's right—not only is vegan pizza on the map, it has its own holiday! Chow down with these killer specials.
---
June 30 will be no ordinary Saturday. No, no, far from it. Gather your candles and incense—it will be a time to build a shrine in your living room to the almighty culinary entity known as vegan pizza. Now in its second year, Vegan Pizza Day, devised by vegan blogger Quarrygirl and Dan Reed of Chicago Vegan Foods, is a time to stop and reflect about the things that really matter in life, like bread, tomato sauce, and (dairy-free) cheese. Even better, a bevy of pizza parlors are making the deal even meltier by mustering up special days to commemorate the VPD spirit. So read F$%k Yeah Vegan Pizza until the drool is flowing, and then try one, or many, of these 11 ways to make the most of this monumental occasion.
1. Source, San Francisco, CA. Customers who mention Vegansaurus or Quarrygirl will get 10 percent off of an array of specialty pizzas just for VPD. Try the Vegansaurus Pie, with pink sauce, faux bacon and chicken, sautéed onion, kale, and bell peppers, or the Quarrygirl Pie, with olive oil, artichoke tapenade, faux chicken, and muerte hot sauce. As a bonus, there's even a peach dessert pie, and all of the pizzas can be made gluten-free.
2. Portobello, Portland, OR. This snazzy eatery is all-vegan and already renowned for its plant-based Italian cuisine, but expect surprising flavors on its extended VPD menu—in addition to the already-scrumptious preexisting pizzas, such as Spicy Arrabiata (with cashew cream, chili-fennel marinara sauce, spicy meatless sausage, peppers, and fresh basil).
3. Mohawk Bend, Los Angeles, CA. You may remember Mohawk Bend from our vegan bar rundown a few months back—it's a vegan-friendly lounge with an impressive array of beers on tap and a mouthwatering menu. Now, it has revitalized its pizza menu with crazy concoctions such as a bánh mì pizza with Sriracha aioli and tofu, or the Asparagus & Potato Pizza, with caramelized onions, garlic, and leek purée. And, alongside Two Boots, Masa, and LA Pizza Company, it will be a part of the legendary-sounding Echo Park Vegan Pizza Crawl!
4. The Karma Free Pizza Company, London, UK. VPD is truly a global holiday! For our Brit buds, The Karma Free Pizza Company in Harrow, London, is offering one regular-size pizza and a side of garlic bread for £10. All of their pizzas can be made with vegan cheese, so load up on toppings such as artichoke, roasted eggplant, asparagus, pine nuts, or vegan pepperoni to handpick your own pie.
5. Paulie Gee's, Brooklyn, NY. Come Saturday, feast on the Paulie Vee, a creation just for Vegan Pizza Day that features a harmonious trifecta of roasted beets, beet greens, and creamy cashew ricotta. Even if you can't make it this weekend, check out Paulie Gee's special vegan menu the other 364 days of the year, which has inventive options like the Vegan Grapeful Dead, topped with baby spinach, olive oil, nutritional yeast, and pickled grapes.
6. Red Tomato Pizza House, Berkeley, CA. Mamma effing Mia, four words. Vegan. Stuffed. Crust. Pizza. Big props to Vegansaurus for unearthing this heavenly creation and even offering a photo of it for us to salivate over while we make plans to guiltlessly eat an entire vegan cheese-laden pie ourselves while watching season two of The X-Files. You know, just to embody the holiday spirit.
7. Blackbird Pizzeria, Philadelphia, PA. If you know anything about eating food at all, you know that pizza's steadfast companion is hot sauce. The masterminds behind Philly-based eatery Blackbird, wise souls, know this too. Which is why they will be serving vegan buffalo-wing pizza in celebration of VPD. This plan is Mensa status.
8. Beretta, San Francisco, CA. Only a few blocks from the VegNews HQ, Beretta is ever-crowded for good reason—it has some of the best bites and cocktails in town. We love the offerings there any day of the week, but we're bracing ourselves for the special pie for June 30th. Think broccolini, onion, ginger, olives, capers, and tomatoes, sprinkled generously amongst stretchy, gooey vegan cheese.
9. Slice of Vegas Pizza, Las Vegas, NV. This sleek new pizza joint in Sin City is celebrating all things vegan by offering a buy one, get one free deal on its vegan pizzas. The house special comes with marinated zucchini, squash, red onion, roasted pepper, eggplant, and mozzarella Daiya.
10. Patxi's, San Francisco, CA. This Northern California chain's vegan deep-dish pizza is something of a legend among local herbivores, with its rich and tangy tomato sauce and more-than-generous cheese filling. To commemorate VPD, all Patxi's locations are offering a free thin-crust vegan pizza with the purchase of each 14-inch deep-dish pizza.
11. Tomato Joe's, Santa Clarita, CA. Enjoy 20 percent off of all vegan fare at this surprisingly veg-friendly Southern California pizzeria, which has oodles of vegan meats (Italian sausage, pepperoni, chicken, and chorizo!) and dairy-free cheese. Plus, choose from four different crusts, including their signature beer-batter crust made with local Wolf Creek Hefeweizen.
These are just a few of the many restaurants nationwide (and beyond) that are offering special deals and pies for Vegan Pizza Day. Be sure to check out the event's Facebook page or Twitter feed for more information on cheesy-awesome happenings taking place in your area.
Please support independent vegan media and get the very best in news, recipes, travel, beauty, products, and more.
Subscribe now to the world's #1 plant-based magazine!
Subscribe