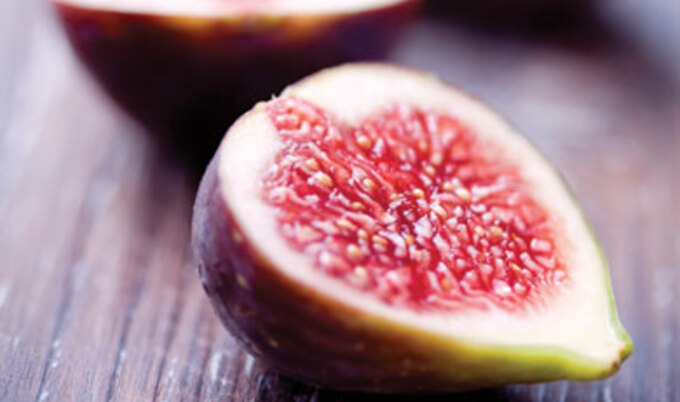 Balsamic Fig Jam
This tasty, sweet-and-savory spread is great on crackers, toast, biscuits or scones.
Balsamic vinegar cuts the sweetness of figs for a preserve that's perfect with cream cheese or atop tofu steaks.
Makes 4 half-pint jars
What you need:
1-1/2 pounds ripe figs
3 cups evaporated cane juice
1 cup apple juice
1/2 cup fresh lemon juice
1/2 cup balsamic vinegar
Jars with lids and rings
Boiling water bath canner (or a large stock pot with lid) with rack
Canning tongs
Wide-mouth funnel
What you do:
In a large pot with a tight-fitting lid, place all ingredients and stir to combine. Cover and refrigerate for at least four hours, or overnight.
Uncover, stir, and place on stove over medium-high heat. Bring to a boil, then reduce to low, cover, and simmer for 90 minutes, stirring occasionally. Use a potato masher to break up any remaining large pieces of fig, then remove from heat.
Ladle preserves into sterilized jars, allowing 1/2-inch of space below the top. Wipe off any excess jam from top of jar with a clean towel, seat lid on top, and tighten rings.
Using canning tongs, place sealed jars onto rack in canning pot-bath, making sure that jars are covered by at least 2 inches of water. Boil for 10 minutes, then carefully remove each jar and place it in a safe place to cool overnight.
Once cool, check to make sure lids are sealed by pressing top of center of lid. If it makes a popping sound, then it is not sealed. Once lids are sealed, loosen rings and dry off any excess moisture. Replace rings and apply a label or tie on a gift tag.
Chef's Tip: New to canning? Check out this easy guide to canning preserves.
Try these other delicious preserves recipes!
Plum Basil Jam
Heirloom Tomato & Roasted Red Pepper Preserves
Want more of today's best plant-based news, recipes, and lifestyle?
Get our award-winning magazine!
Subscribe