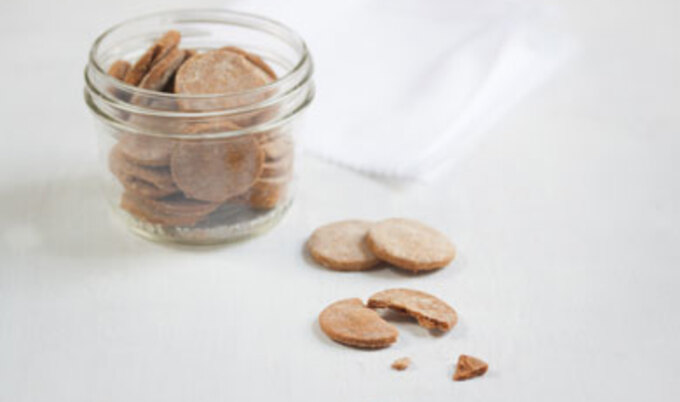 Gluten-Free Cheesy Crackers
These crackers have a delectable cheesy flavor and a crispy crunch, making them the perfect accompaniment for a packed lunch.
September 3, 2012
Your kids won't miss Goldfish thanks to the nutritional yeast in these gluten-free crackers.
Makes about 100 crackers
What you need:
2 cups chickpea flour
1 cup sorghum flour, plus more for rolling
1/2 cup potato starch
1 teaspoon garlic powder
3/4 cups nutritional yeast
1 teaspoon xanthan gum
1-1/2 teaspoons salt
1/3 cup olive oil
1 cup cold water
What you do:
Preheat oven to 350 degrees. In a large bowl, whisk together chickpea flour, sorghum flour, potato starch, garlic powder, nutritional yeast, xanthan gum, and salt. Using a fork, stir in olive oil and water until dough becomes workable.
Dust a clean work surface with flour and roll out dough to 1/4 inch thick. Using a 1-inch circular cookie cutter, cut out crackers and transfer to an ungreased cookie sheet.
Bake for 30 minutes and let cool completely before serving. Store up to one week in an airtight container.
Love vegan food and cooking as much as we do?
Get the BEST, editor-tested recipes inside every issue of VegNews Magazine. Find out why VegNews is the world's #1 plant-based magazine by subscribing today!