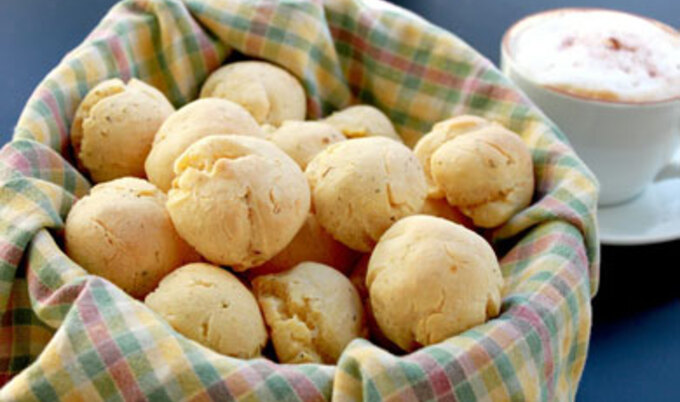 Brazilian Cheese Bread
This warm, gooey, cheesy Brazilian bread is totally dairy and soy-free.
Makes 28 puffs
What you need:
1 pound Yukon Gold potatoes, peeled and chopped
6-1/3 cups water, divided
2 cups tapioca flour
1⁄4 cup nutritional yeast
2 teaspoons salt, divided
1⁄2 teaspoon baking powder
1 tablespoon dried oregano (optional)
1⁄2 cup vegan mozzarella cheese shreds
1⁄3 cup canola oil
What you do:
Preheat oven to 350 degrees. Line a baking sheet with parchment paper.
In a small saucepan over high heat, add 6 cups water, 1 teaspoon salt, and potatoes. Cook until tender. Drain and mash potatoes.
In a small bowl, add tapioca flour, nutritional yeast, salt, baking powder, and oregano and whisk well.
In a large bowl, add cheese, remaining 1/3 cup water, and oil. Add mashed potatoes, mix together, and let cool.
Combine wet and dry ingredients to make a soft, smooth dough.
Roll dough in 1-1⁄4-inch balls and transfer to prepared baking sheet. Bake rolls for 30 to 35 minutes until puffed up and lightly golden. Serve hot.
Chef's Tip: You can keep the dough in the fridge for 2 days or freeze dough balls before baking for up to 3 months.
Love vegan food and cooking as much as we do?
Get the BEST, editor-tested recipes inside every issue of VegNews Magazine. Find out why VegNews is the world's #1 plant-based magazine by subscribing today!
Subscribe