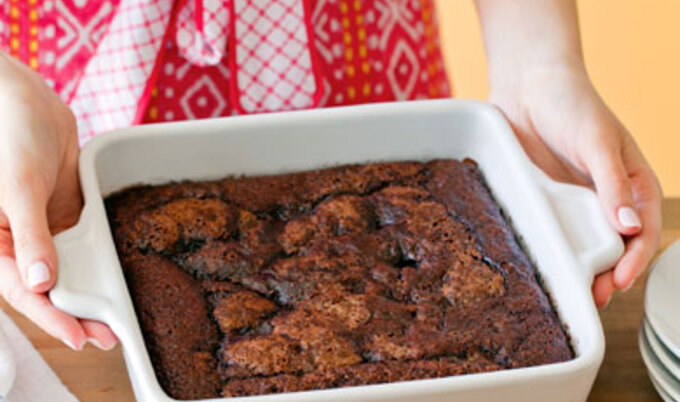 Cookbook Sneak Preview: Hot-Fudge-on-the-Bottom Cake
What's better than hot fudge? Chocolate cake with a gooey layer of hot fudge inside.
Makes 1 cake
What you need:
For the cake:
1 cup flour
3/4 cup sugar
2 tablespoons unsweetened cocoa powder
2 teaspoons baking powder
1/2 teaspoon salt
1/2 cup almond milk
3 tablespoons canola oil
1 teaspoon vanilla
For the fudge:
1/2 cup brown sugar
1/2 cup sugar
1/4 cup unsweetened cocoa powder
1-1/2 cups boiling water
What you do:
1. For the cake, preheat oven to 350 degrees. Lightly grease an 8-inch square cake pan. In a large bowl, whisk together flour, sugar, cocoa, baking powder, and salt. In a separate bowl, whisk together milk, oil, and vanilla. Pour wet mixture into dry mixture and whisk until just combined. Do not overmix. Spread batter into prepared pan.
2. For the fudge, in a small bowl, whisk together brown sugar, sugar, and cocoa. Sprinkle mixture over cake batter in pan. Slowly pour boiling water evenly over batter. Do not stir. Bake for 45 minutes. Let cool for 25 minutes before serving.
Check out more of Chloe's treats from the brand-new Chloe's Desserts!
Mojito Chocolate Chip Cookies
Vegan Tiramisu Pancakes
Enter the VegNews Dessert Contest with Chloe Coscarelli for a chance to win a KitchenAid Mixer and the opportunity to have Chloe create your dream vegan dessert!