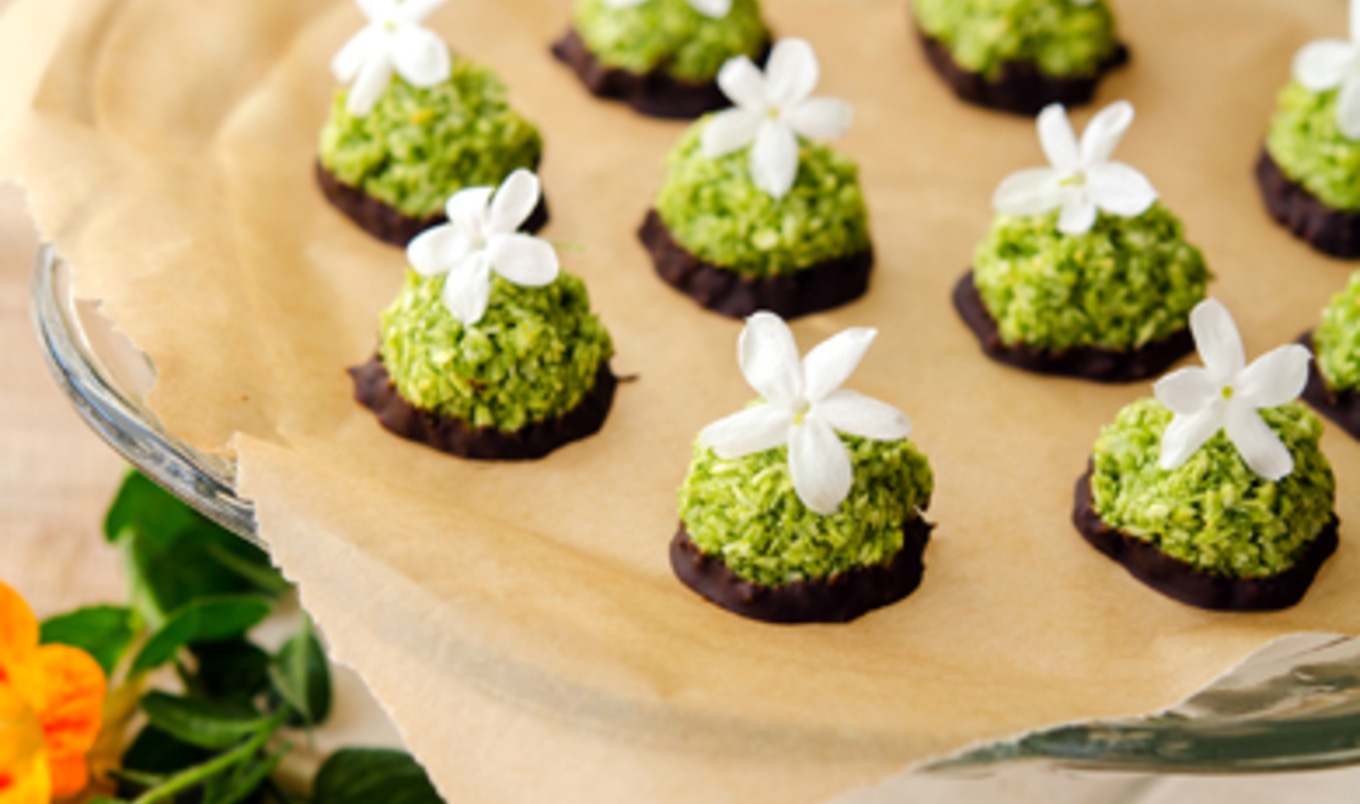 These macaroons embody spring and are an easy way to sneak some greens into your dessert.
March 26, 2013
Makes 20 to 24 macaroons
What you need:
For the macaroons:
1 cup non-dairy milk
1 cup lightly packed baby spinach
1/4 cup sugar
2 teaspoons vanilla
2-1/2 cups unsweetened shredded coconut
1/4 cup flour
1/8 teaspoon salt
20 to 24 very small flowers, i.e. Citrus Blossoms, Jasmine, etc., for garnish
For the chocolate dip:
1 tablespoon boiling water
1/4 cup vegan chocolate chips
What you do:
Preheat oven to 350 degrees and line a baking sheet with parchment paper. For the macaroons, in a food processor, add milk, spinach, sugar, and vanilla and process for 1 minute or until completely smooth. In a medium-sized bowl, whisk together coconut, flour, and salt. Add spinach mixture and stir together until evenly incorporated.
Round mixture into 1 tablespoon-sized balls, then press onto baking sheet about 1 inch apart. Bake for 12 to 15 minutes or until bottom of macaroons are lighty golden. Remove from oven and transfer to a cooling rack for 30 minutes.
For the chocolate dip, in a small bowl, stir together boiling water and chocolate chips until a smooth sauce forms. Using the same baking sheet and parchment paper, dip each macaroon about a 1/4-inch into chocolate dip. Let excess chocolate drip off before placing macaroon on sheet. Refrigerate until ready to serve, topping each with a flower for decoration.