Food + Recipes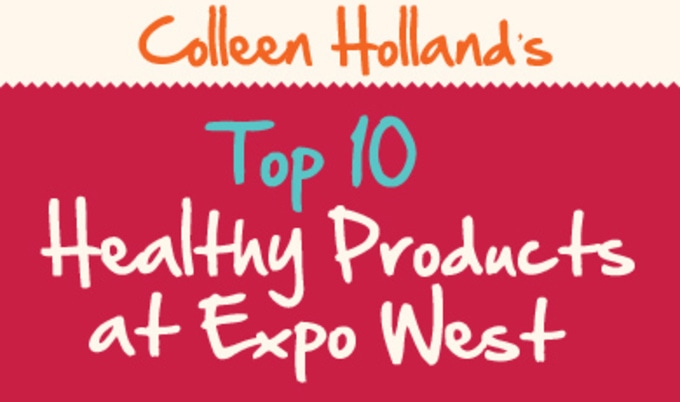 The Top 10 Healthy Vegan Products at Expo West
Amidst the ice cream, cookies, chips, and cheese, VegNews' Colleen Holland shares her top 10 healthy vegan products at the world's largest natural food event.
---
It's called Natural Products Expo West, and it's become a tradition for the VegNews staff. It's our job to keep our finger on the pulse of new products and trends, and there is no better place to do it than Anaheim, CA's annual love fest for the natural food industry. And this is no small event—with more than 63,000 attendees and 2,500 exhibitors, it's a must-attend show for anyone who works in the world of natural foods.
But just how natural is today's Natural Products show? Don't get me wrong—I love piping hot cheese pizza, coconut ice cream, and dairy-free cookies in every flavor. And even though these are excellent foods to show how incredible the vegan lifestyle is, I know that we should all be striving to eat a plant-based diet of mostly unprocessed foods. So this year, I meandered the aisles of this massive show with a different lens, a lens of what's new and exciting for those wanting healthy vegan food. It wasn't easy amongst the sea of decidedly unhealthy fare, but I somehow found my way. Here I give you my top 10 picks.
Kale Krunch Superfood by Alive & Radiant
Kale chips are all the rage these days, and for good reason. They're a healthy alternative to flour-based chips and crackers, and they're packed with nutrient-rich ingredients like kale, cashews, and nutritional yeast. I adore all the kale chips by Oakland-based Alive & Radiant, so was thrilled to sample the company's new organic Kale Krunch Superfood at the show. Debuting this spring, these raw and gluten-free chips are made with kale, spirulina, and chia seed. If only I could refrain from eating the whole bag …
Organic Juices by Odwalla
Juicing is more popular than ever, and I find there's no better way to jumpstart my day than with a cocktail of fresh fruit and vegetables. Odwalla, which can be credited with bringing bottled juices to the mainstream in the '80s, is keeping up with current trends by launching an organic line called Garden Organics (given the concentrated nature of juice, starting with organic produce is ideal). With flavors like Carrot Beet Ginger (my favorite), Carrot Apple Berry, and Carrot Apple Mango, you can now get a high-quality blend without always having to make your own.
Raw Juice by Forager Project
Speaking of Odwalla, one of the original co-founders is making a comeback with a new line of raw juices for those who demand only the very best in their blends. At the same level as BluePrintJuice or Pressed Juicery, these cold-pressed juices are GMO-free and made with all-organic ingredients including cucumbers, kale, lime, beets, sprouted broccoli, and flax. The juices will be pricier than Odwalla or Naked Juice, but it's as close as it gets to making your own.
Alt Energy Bars by Lärabar
Energy bars are big business, but they can be as calorie-dense and sugar-filled as their candy bar counterparts. Thankfully, healthy energy bars are now widely available, often made with just dried fruit and nuts. Lärabar has taken it a step further with its new Alt bar ("Alt" stands for "alternative"), which not only features Lärabar's signature blend of dates and almonds or peanuts, but now includes pea protein for an extra dose of plant-based nutrition. In flavors like Lemon Pound Cake, Peanut Butter Cookie, and Cinnamon Apple Crisp, it's never been easier to fuel your body with a healthy store-bought snack. Who needs whey?
Caramel Sea Salt Macaroons by Hail Merry
I am a huge fan of all things Hail Merry. This mostly raw dessert company has elevated the standards for healthy sweets, and I can find their desserts pretty much anywhere. Let's just say I've had more than my fair share of Chocolate Mint Miracle Tarts and Seasoned Raw Pecans. But now they've done it again, this time with a dehydrated caramel and sea salt-flavored macaroon that tastes like it's filled with butter, sugar, and rich caramel. I don't know how they do it, but if this is what a healthy dessert tastes like, I'm sold. Don't miss the new Strawberry Almond Macaroons as well.
Raspberry Detox Superfood Cereal by Living Intentions
Each year, I've watched Living Intentions' booth get bigger and bigger, and I'm amazed at the presence this raw-food company has. It's at the forefront of uncooked snacks and sweets in the market, and the products are nothing short of spectacular. I already love its flagship product, Gone Nuts (I can't get enough of the White Chocolate Cashews, Almonds, and Cacao Nibs), but now breakfast will never be the same with the new raspberry cluster cereal made with milk thistle and red beet root. Add a splash of homemade almond milk, and this sweet and hearty blend makes the perfect morning meal.
Organic Beans by Pacific Natural Foods
I am so used to buying beans in a can that I had to do a double-take when walking by these beans in a box. I am surprised it's never been done before, given how much easier they are to store after opening. The Baked Beans, Refried Pinto Beans, and Refried Black Beans with Green Chiles were all delicious, and I like the idea of ditching the metal can for more eco-friendly packaging. I'm sold.
Organic Quinoa Salads by Dr. McDougall's Right Foods
The king of healthy vegan eating lends his name to a line of low-fat, on-the-go foods. Count on John McDougall, an MD who believes that much disease can be prevented or reversed with a plant-based diet, to ensure that these convenience foods contain an appropriate amount of both oil and salt. As someone who doesn't like to sacrifice flavor for nutrition, I was delighted by these delicious new whole grain salads in flavors like Black Bean, Pistachio Citrus, Tomato Pine Nut, and Curry Almond. Made with organic quinoa, simply pour on hot water, and your meal is ready in minutes.
Vega One Bar by Vega
For years, I equated protein powder with bodybuilding, chalk, and a funky aftertaste, but Vega has changed all of that. After adding a scoop to my morning smoothie (chocolate Vega One + coconut water + frozen bananas + strawberries = heaven), the added nutrition I receive from the all-vegan formula helps me feel healthier than ever. Now they've pulled together all the protein, antioxidants, omega-3s, and probiotics of the powder into an energy bar to create the Vega One Bar—which comes in Chocolate Almond, Chocolate Cherry, and Double Chocolate. Oh, and the bars are then dipped in dark chocolate. Healthy has never tasted better.
Cracked Pepper Hummus by Lilly's
Hummus may not be the most exciting new product, but I find that really good hummus is hard to find. Enter Lilly's, which happens to be the favorite bean dip of celeb Alicia Silverstone—and if it's good enough for Alicia, it's good enough for me. This is seriously good hummus: smooth and flavorful with a great nutrition profile. Available in a rainbow of flavors (everything from Roasted Garlic to Smoked Tomato & Basil), the company's brand-new Cracked Pepper had me lingering at the booth far longer than was appropriate. Once you try Lilly's, your baby carrots will never be the same.
Sampling new vegan products never gets old for VegNews' co-founder Colleen Holland. Discover more of her favorite food finds by following her on Facebook here!
Want more of today's best plant-based news, recipes, and lifestyle?
Get our award-winning magazine!
Subscribe