News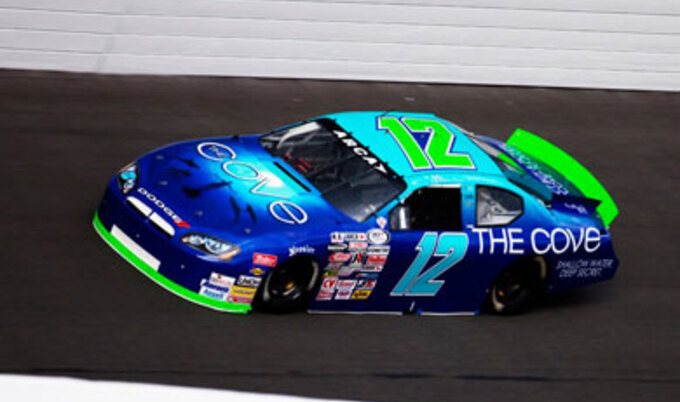 Earth Day Interview with NASCAR's Vegan Leilani Münter
The vegan racecar driver on being carbon-free, her VegNation plans for 2013, and a sneak peek of her new movie from the director of The Cove.
April 21, 2013
---
VegNews: How did you get involved in driving racecars?
Leilani Münter: While studying biology at the University of California at San Diego, I went to a racing school and caught the eye of a local race team owner because I was the fastest driver on the track that day. We had a short conversation, and he encouraged me to pursue racing professionally. Nine months later, I landed my first sponsor and I was off to the races!
VN: Had you ever driven a car fast before? How does one go from Southern California freeways to fastest car on the track?
LM: I have always been an adrenaline junkie; I like to do things that get my heart pumping. Nothing can make me feel more alive than when I am on the edge. As Kurt Vonnegut once said, "We have to continually be jumping off cliffs and developing our wings on the way down." I started scuba diving in high school; I like snowboarding, skydiving, bungee jumping; and I have always had a lead foot.
VN: What a story. Obviously driving fast cars uses—some would argue wastes—gas and pollutes the Earth, yet you are the "carbon-free girl." Do tell!
LM: I realize on the surface it seems those two worlds don't go together, but for me they are endlessly intertwined. The racecar is what gives me a voice to spread awareness to 75 million race fans. I am a big believer in not preaching to the choir. Who is going to change the minds of those who don't agree with us if we only speak to those who already do?
VN: Fair enough. I just can't help think about the carbon footprint …
LM: No one is free of a carbon footprint, whether you drive a car to work or fly on airplanes to environmental conferences. Since 2007, to address the unavoidable emissions of my racecar, I have been adopting an acre of rainforest every time I sit in a car.
In my personal life, I do everything I can to set a good example for the race fans by reducing my carbon footprint as much as possible. I compost my food scraps, have a veggie garden and a rainwater collection system, I use solar lighting, and am installing solar panels. Soon I will be buying an electric car as my personal vehicle. And I am vegan, and have been vegetarian almost my entire life.
I educate them about the UN study that showed that more greenhouse gas emissions come from raising animals for food than all the planes, trains, cars, SUVs, ships—and racecars—in the world combined. And that meat is much more demanding on natural resources than a plant-based diet—an inconvenient truth for meat eaters, indeed. Not to mention that it is an industry that abuses billions of animals every year.
Another very important note: if I stopped racing, it would not take a racecar off the grid—I would simply be replaced by another driver, likely one who doesn't go out of his or her way to take care of the environment; is not offsetting with rainforest credits; and is not promoting green technologies at the racetrack. I would lose my ability to talk to, and hopefully win over, some of the millions race fans about green living.
John Mackey of Whole Foods Market said something similar to me: people criticize his stores for selling meat—but if he was replaced as CEO, whoever took his place probably wouldn't be as conscious of animal issues as he is. So you walk the talk; lead by example. 
VN: What other messages do to give your fans?
LM: That I am an avid activist. I have lobbied for clean energy on Capitol Hill since 2008; I made two trips to the Gulf in 2010 after the oil spill, and I spent weeks in Taiji, Japan documenting the dolphin slaughter exposed in the Academy Award winning documentary The Cove. 
VN: I believe VegNews readers will appreciate your efforts to educate NASCAR fans to reduce their carbon footprint. I know that racecar teams rely on sponsorships to get cars on the track. How does this "evil necessity" play a role with you?
LM: Thanks for asking. I work only with environmentally conscious partners, and at the track I have represented solar energy, wind power, LED lighting, recycled paper, and last year, at Daytona, I drove the first ever ocean awareness race car sporting the colors of The Cove. Additionally, more than once I have walked away from big money sponsorships from environmentally destructive companies. This has kept me from being in a racecar on a regular basis.
VN: I don't understand. What does it take to get a car on a track?
LM: For me to go to a major televised race with a quality team can take upwards of $100,000. That is the expense to get the racecar on the track, which includes the race team, the engine, equipment, the pit crew, wrap for the race car, racing suit, etc. And the costs increase as you move up. There is additional expense if I want to have a trackside display for outreach to the fans, which can be a very effective way to reach them. When I ran a clean energy racecar at Kansas Speedway in 2010, we had a trackside display, and over the course of the weekend we had 30,000 NASCAR fans come through my tent to talk about clean energy and our dependence on oil. I am doing my part on and off the track and hope that my actions encourage others to join in.
VN: That's great. Tell me about your VegNation vegan-themed racecar that you are trying to get on the track in 2013?
LM: The goal of the VegNation race car is to show America that a plant-based diet is a win-win for human health, animals, and our planet. We are raising funds to get the VegNation racecar to a major 2013 ARCA race which will be televised on SPEED Channel, available in more than 80 million North American homes.
VN: And there is also a side-project associated with this, correct?
LM: Yes. Just like at the Kansas Speedway, we hope to also have a trackside display with a vegan chef giving away food to the race fans so they can try tasty vegan food, maybe for the first time in their lives. I think one of the common misconceptions that meat eaters have of vegans is they think we just eat salad all day long. If they could try the food for themselves, I think they will be impressed and it will help blow the lid off that stereotype.
VN: Back to the VegNation car. VegNews is proud to be a sponsor.
LM: Yes, thank you! We are actively seeking partners to join us make this historic car a reality. One Percent for the Planet is hosting a web page collecting tax deductible donations for the VegNation race car, and we are offering stickers on the car for larger donors, who we have dubbed our "Plant-inum" sponsors!
VN: You supported The Cove and you have also done work in movies. Any plans on the horizon to be in any films?
LM: I am working with the director of The Cove, Louie Psihoyos, and Oceanic Preservation Society on their new film. It is about the anthropocene, or 6th mass extinction, that we are now living through. It's an exciting eco-thriller documentary, set to come out in 2014. They ran a successful Kickstarter campaign last year to fund part of the movie; people can get a sneak peek of what we are up to The Heist's Kickstarter page. 
Learn more about Leilani and her work.
Please support independent vegan media and get the very best in news, recipes, travel, beauty, products, and more.
Subscribe now to the world's #1 plant-based magazine!
Subscribe