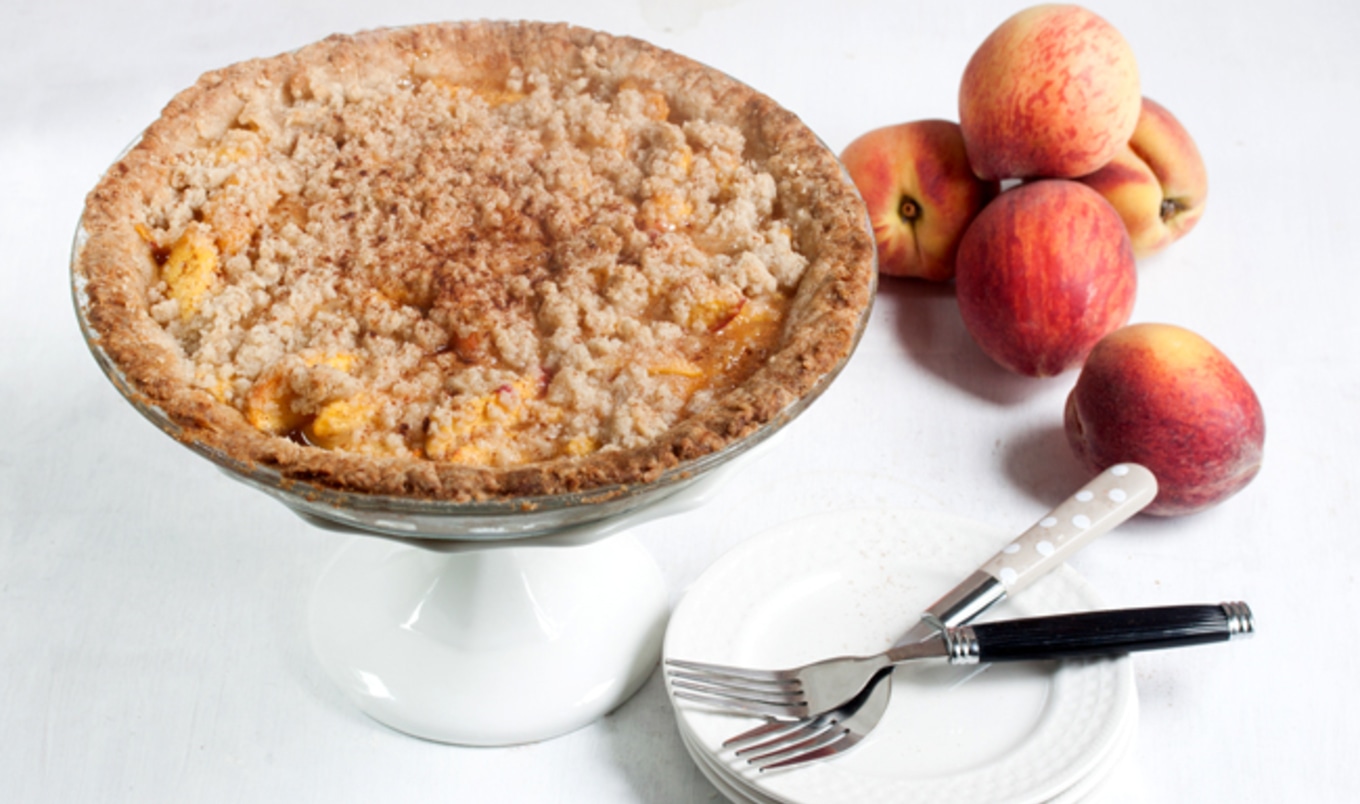 Just in time for peach season, this delectable dessert is a perfect ending to a summery meal.
June 13, 2013
Serves 6
What you need:
For the crust:
3/4 cup vegan shortening, divided
1-1/4 cups sorghum flour
1/2 cup arrowroot starch
1/4 cup tapioca starch
1 teaspoon xanthan gum
1/2 teaspoon salt
1/4 cup sugar
3 tablespoons fresh lemon juice
1 tablespoon water
For the filling:
8 peaches, peeled and sliced
1 tablespoon fresh lime juice
1/4 cup arrowroot starch
1/4 cup sugar
1/4 cup brown sugar
2 tablespoons sorghum flour
1 teaspoon ground cinnamon
What you do:
1. Preheat oven to 415 degrees. Lightly grease a standard-size pie pan with 1/2 teaspoon shortening. In a medium bowl, whisk together sorghum flour, arrowroot, tapioca, xanthan gum, salt, and sugar until combined. Add in remaining shortening, 1 tablespoon at a time, using a pastry blender to evenly incorporate until crumbly.
2. Using a fork, stir in lemon juice gently until mixture turns into large crumbles. Reserve 3/4 cup of crumble mixture for pie topping. Add water to remaining dough mixture and mix with a fork until it becomes a slightly sticky dough.
3. Lightly flour hands with sorghum flour and shape dough into a disk. Wrap in parchment paper or plastic cling wrap and chill in freezer for 10 to 15 minutes. Once cold, place dough in between two sheets of plastic wrap and roll until about 1/2-inch thick, or large enough to cover pie pan. Using bottom section of plastic wrap, gently flip dough into bottom of prepared pie pan and press gently to shape to fit the pan. Using a fork, pinch top of crust to lip of pie pan. Poke several holes in crust and bake for 10 minutes.
4. While pie is baking, prepare filling. To prepare filling, place peaches and lime juice into a fine mesh strainer and toss lightly. Let drain about 5 minutes.
5. Transfer peaches to a medium bowl. In a separate bowl, mix remaining filling ingredients until combined. Add peaches, toss just until mixed, and place into baked pie crust. Top with reserved crumble mix and bake for 10 minutes. Reduce heat to 350 degrees and bake for additional 30 to 35 minutes, or until crust is golden brown and top is bubbly. Let cool completely before transferring to refrigerator.